English
Skip to main content
RYA Courses in Dorset
Poole Harbour   
REF:

PBCPD2
• Powerboat driving courses from Poole Harbour
• Two day RYA certified courses covering Levels 1 & 2
• Learn essential boat craft skills out on the water
• Perfect for beginners and those with some experience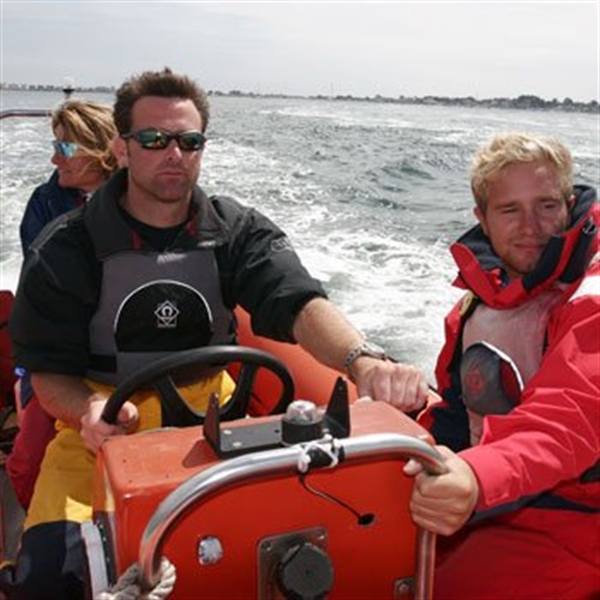 What's Included
Two-day RYA Level 1 & 2 Powerboat Courses
• Learn to drive and handle a powerboat to RYA Level 2 certification standard
• The courses are taught on a 3:1 basis, giving plenty of time for each driver
• Courses start at 9.15am finish at approximately 4pm
• Certificate upon successful completion of the course
• You may be eligible for the International Certificate of Competence after completing this course

Topics include:
• Launch and recovery, preparation of boat and crew, boat handling, picking up and securing to a mooring buoy, leaving and coming alongside, being towed, anchoring, man overboard, high speed manoeuvres and basic navigation
• The second day of the course will cover more advanced manoeuvres at higher speeds and other topics
What Can I Expect
These two-day Level 1 & 2 RYA Powerboating courses are a great opportunity to have fun learning the basic seamanship skills you need to handle a powerboat safely - and at the same time to gain a useful qualification from the Royal Yachting Association.

Courses take place in the sheltered waters of Poole Harbour in Dorset. It's one of Europe's finest harbours offering a perfect environment for an introduction to the art of driving a powerful boat and an ideal place to build up confidence.

Day one and you embark on Level 1 of the power boating course, where you'll learn how to control a powerboat in some of the most common situations faced by mariners. Following a boat safety briefing, you go aboard for instruction covering several basic manoeuvres, such as coming alongside, picking up buoys, mooring and "man overboard" procedure. You will practice each of these several times to ensure you are comfortable and confident.

In the afternoon, the lessons continue out on the water with training on general seamanship including awareness of other boat users and the International Regulation for Prevention of Collisions at Sea. You'll learn how to predict tides and their effect on your speed and course. There's also work on weather conditions and how they affect the handling of your craft, as well as ropework including tying knots.

The next day it's back to the marina for your second day of training. You will be going more in-depth into power boating, learning more advanced manoeuvres and driving the powerboat at higher speeds. All these elements are essential parts of the RYA Powerboat Level 2 curriculum. It includes a final practical assessment in which you will be required to perform each of the manoeuvres learned during the course, in order to obtain the International Certificate of Competence, as well as the RYA Levels 1 & 2 qualification.

All the RYA qualified instructors are experienced professionals and know how to introduce their students to safe and enjoyable boat driving. The marina is in a superb location near to Poole and offers the ideal training ground for you to hone your powerboat driving skills, with loads of hands on boat time too, as the vast majority of tuition is done whilst out on the water.
Availability
• Powerboat courses are offered throughout the year
• Two day courses generally operate Thursday-Friday or Saturday-Sunday
• Other days may be offered subject to sufficient notice and availability
Location
• Poole Harbour, Dorset
Suitable For
• Minimum age 16
• Suitable clothing for the weather should be worn, with flat-soled shoes that you don't mind getting wet
• Shorts and t-shirts are suitable for summer; tracksuits and sweatshirts for cooler days
• You will be provided with waterproofs and in summer you should bring sun screen, sunglasses and a hat
• You will need to bring your own towels
Spectators
• The course is not suitable for spectators
• The operator has a well equipped base with a full range of facilities such as changing rooms, showers, toilets and cafe
• Many other junior and adult sailing courses are hosted there, making for a lively and enjoyable atmosphere
• Lunch at the centre may be ordered in advance; there is also a restaurant at Poole Quay, convenient for those taking the course
Anything Else
• Poole has a wide range of accommodation options, from campsites and guest houses to excellent hotels
• The operator can recommend a number of good value bed and breakfast establishments and can also provide accommodation on-site in bunkhouses
Reviews
Average Rating 4
Total Reviews 1
Recommend to Friend 0

Our instructor Ali was really cool. She was informative and safety conscious but fun and friendly at the same time. The best thing was being good enough to pass and get the RYA official certificate after just two days.
D Wood
{{reviews.text}}
{{reviews.user.username}} RYA Courses in Dorset
RYA Levels 1 & 2 - Two Day Course
Total Price
£
315.00