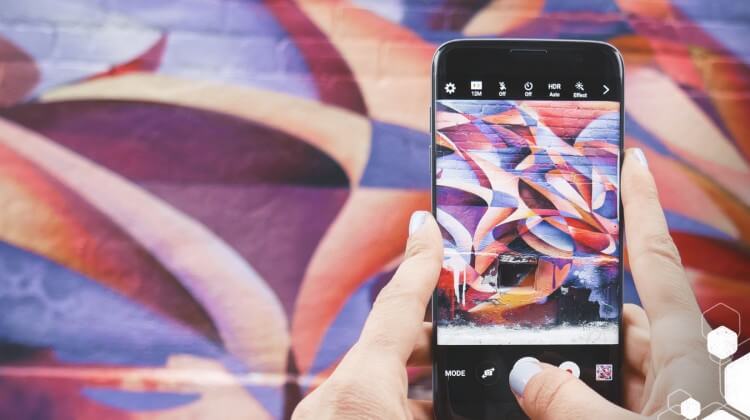 Remember those days when being the popular kid was all about having the newest Nike trainers or the latest Nintendo game? Well, forget about that, those days are gone and past, dear readers. Nowadays, your "popularity-o-meter" is directly linked to the amount of followers and likes you have in Instagram, and the secret for that is taking a good amount of amazing pictures. Wondering how to do that? Here's our IntoTheBlue guide to how to take the best Instagram photos!
Which phones take the best photos?
First things first, one of the most important things to take into account if you want people to see (and love) your photos is choosing a phone that can take high quality pictures in the first place! "Because choosing a good phone wasn't hard enough already!" we hear you saying, but don't worry, we've got you covered! According to recent articles made by a couple of tech expert magazines such as TechAdvisor or Ephotozine, the phones that take the best pictures are, in no specific order, the Samsung Galaxy 8, HTC U11, iPhone 7 Plus and Google Pixel. Word of advice! They don't come off cheap, but then again to get great results, you need great tools.
Which themes are the most popular?
Alright, it's time to get to work! So there you are, with your new and fancy phone, ready to jump straight into the world of Instagram fame, but which types of photos do people really like? Are there any specific themes that catches more attention? The answer is "it depends".
In general terms, travel pictures, urban scenes, delicious looking food, fashion or pet pictures are some of the most popular and reoccurring themes among instagrammers. Having said that, it is important to remember that it's not easy as posting a photo from your last trip to Europe or what you had for breakfast this morning. The photo has to capture an emotion or to tell a story, all done with a great composition. Also, your Instagram feed will be a reflection of who you are as a person, so make sure to know which can of things you want to show to the world!
What makes a good photo composition?
As we mentioned above, composition is one of the keys to success in Instagram, but what exactly do we mean when we talk about photo composition? Normally, pictures have one clear point of interest, whether it may be a mountain, yourself or a pair of sunglasses. The primary goal of a good composition is to draw the viewer's eyes directly to the main subject of the photo.
There are a few tricks to perfect your composition technique. The most important one is the Rule of Thirds, considered the golden rule of photography and one of the first things you learn when taking photography lessons. It consists of using a 9 square grid (normally your phone will have this option available) to help you identify the important parts of the photo. Theory says that putting the points of interest on the intersections or along the lines will make the image look more balanced and natural for the eye.
Experimenting with different angles and perspectives is another way of finding new compositions for your pictures. Also, don't be scared of using props or any other objects to your advantage! You will never know what sort of amazing picture you'll end up with.
Which colour palette should I use?
The answer is… All of them! Choosing the right color palette is a huge factor in Instagram, as they can make the difference between a good picture or an average picture. For example, cold tones are often used for landscape or nature photos, while neutral tones (black, white, brown…) tend to be used for "home related themes" such as food pictures, fashion or lifestyle.
Although many experts encourage you to play with different color palettes until you find your own style, it seems there are a few tricks to help you drive more attention to your photos. According to a study made about Instagram, images with blue colors receive more likes than those with red colors and pictures with a single predominant color are better versus those with multiple colors. So be sure to experiment and see what works for you!
What about lightning?
How many times have you taken an amazing selfie or a scenery photo only to realise that the light was absolutely terrible and not upload-worthy? The same applies for Instagram pictures! No amount of post editing and filters will save an image with poor light. The best way to avoid this is to use natural light and stay away from any sources of artificial light that could alter the photography.
Something else to take into account is the time you're taking the photo. Generally speaking, photographers and instagrammers love to take pictures around the "golden hour", also known as magic hour, which is considered to have the best lightning. The golden hour refers to that first hour of light after sunrise and the last hour of light before sunset.
Anything I should avoid when publishing my photos in Instagram?
Yes, we know. Instagram can be a bit confusing sometimes, especially for those of you who just started, and you might not be aware of what to avoid to not make a fool of yourself. Don't worry! Here's a crash course of the big dont's of Instagram pictures.
Avoid using the zoom function: If you want to a close-up picture, just get close!
Quality over quantity: Don't post dozens of photos in a single day, nobody likes getting flooded with content from the same person.
Keep the editing simple: Overdone pics tend to look a bit unnatural.
Don't get obsessed with likes: At the end of the day, Instagram is mean to be fun!
Don't give up! Success comes for those who are consistent and put in the work, so be patient!
Photo editing and filters: Yes or No?
The answer is "yes, but…". Most popular instagrammers will agree that photo editing apps are a better option than just using Instagram's own filters, as these tend to lower the general quality of the picture and over saturate them. If you're going for a professional approach for your Instagram account, we definitely recommend that you download these apps. If you're still determined to experiment with Instagram's filters, then we suggest you try those with a more natural looking to it and don't forget to tweak it!
What are the best photo editing apps?
We already know that most professional instagrammers use photo editing apps to enhance their photos, but which ones are the best in the market? There are literally hundreds of them out there! We'll be talking about our two favourites: VSCO and SnapSeed, both available for Android and iPhone.
VSCO is probably the most popular photo editing among Instagrammers. It offers some of the most beautiful and elegant presets and filters for pictures and it's really easy to use! We recommend you pick your favourite filters and stick with them to keep a consistent and cohesive gallery.
In the other hand we have SnapSeed, which could be considered the multiuse-all-purpose photo editing app. Apart from the usual crop, rotate and adjust features, SnapSeed also offers new original tools like a brush tool to brighten or darken your photo or being able to remove any people from the background. Sounds really handy, that's for sure!
And there you have it, everyone! The definitive guide to become the next Instagram star. Just don't forget about us next time you're getting paid to travel all around the world taking beautiful pictures!