English
Skip to main content
Blacksmith Courses near Margate
Quex Park, Birchington   
REF:

BPBLK1
Hosted by tool forging specialist Spike
Farm estate venue just 15mins from Margate
Learn to forge metal & make knives
One and two-day courses available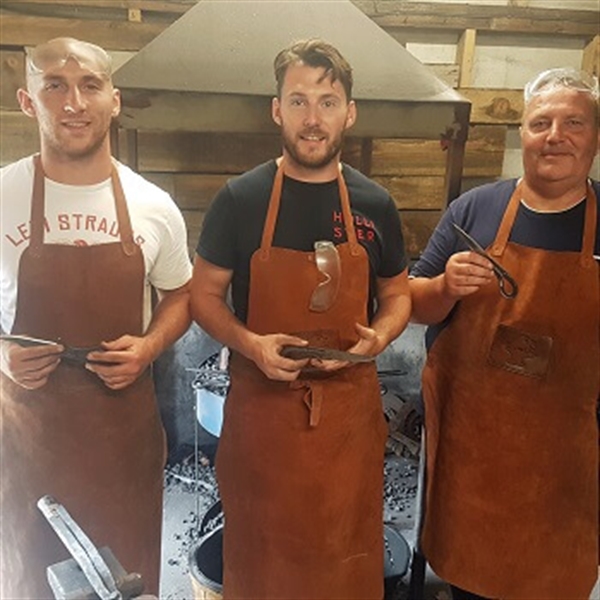 What's Included
One or two-day blacksmithing experiences
Learn how to use a traditional coke forge as well as more modern tools such as belt grinders
Break for lunch (not included) please bring a packed lunch
Tea and coffee are available throughout the day
All materials, tools and safety equipment is provided
You will form part of a small group of up to 4 students
One day vouchers are valid for one day knife making or basic blacksmithing
Basic Blacksmithing (One Day)
Learn the basics of forging
Create your choice of decorative pieces for your home or garden
Examples include a fire poker, hanging basket bracket, bottle opener, keyring, ladle, trivet etc
Knife Making (One Day)
Make your own viking knife to last a lifetime
Learn about the fine details of a knife, how they are made along with the history of forging knives
Tuition on the techniques used to sharpen and hone blades and how to effectively heat treat them
Knife Making (Two Day)
Opt for the two day course and you will make a full sized kitchen knife with a wooden handle for use around the home
What Can I Expect
Knife-making and blacksmith courses near Margate! Spend a day or two at the Bearded Pig Forge at Birchington-on-Sea and learn all about the amazing things you can forge out of metal.
Blacksmith Spike runs his courses in a very laid-back and relaxed way. There's absolutely no pressure and zero metal working experience is required. It's all about hands-on learning by rolling your sleeves up and getting stuck in, getting a feel for what working the hot metal is all about.
The forge is situated on Quex Park, an 1800-acre farm estate near Birchington-on-Sea and just 15-minutes from the North Kent coast at Margate. It's a superb location, with everything from the farm shop and garden centre, to the kids' play barns and the maize maze - not forgetting the tea shop and cafe.
We are offering three different blacksmithery workshops for you at Birchington with Spike. You can opt for the basic blacksmith one day experience for an introduction, or orientate yourself to the specific skill of knife-making on a one or two-day course. No experience is needed for any of them!
Spike, who is super knowledgeable when it comes to the history and science behind blacksmithing, will be with you every step of the way. On the basic blacksmithing session, pupils often make things like fire pokers, hanging basket brackets and bottle openers - all artistic and useful at the same time.
For the one-day knife making course you will most likely make a Viking knife, which is a classic hunting-style knife with a wrap-around handle. On the two-day course, you can forge a much more detailed specimen, going as far as fashioning a lovely wooden handle for your kitchen or bushcraft blade.
Making tools is Spike's speciality and passion, so you're bound to learn an awful lot during your time at the forge. And, as many guests on these blacksmith courses near Margate have said : 'Spike is a genuinely nice bloke' too!
Availability
Courses operate on Fridays, Saturdays and Sundays throughout the year
Sessions start at 09:30 finishing at approximately 16:00
Dates are subject to availability
Due to popularity it is recommended you book 8-12 weeks in advance for this experience
Location
Quex Park, Birchington, North Kent
Suitable For
Minimum age 18
Suitable non-flammable clothing and sturdy closed-toe footwear should be worn
Spectators
Not suitable for spectators Blacksmith Courses near Margate
One Day Knife Making or Basic Blacksmithing
Total Price
£
150.00