English
Skip to main content
Ultimate Helicopter Training Goodwood
Goodwood Aerodrome   
REF:

ELEXC2
Two x one-hour helicopter training flights
Practice hovering, sideways flight & circuits
In a two or a four-seater helicopter
The ideal gift for budding helicopter pilots!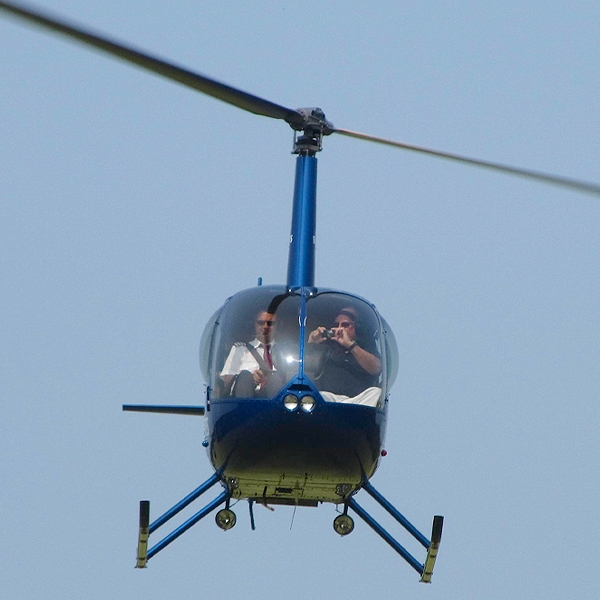 What's Included
Two full one-hour helicopter flight training lessons

Lessons are taken in a 2-seater Cabri G2 or 4-seater Robinson R44 helicopter

Hands on control alongside a highly experienced flying instructors
Full and comprehensive flight briefings
Insight and experience into hovering, backward and sideways flight and circuits
Refreshments are included
Allow between 4-6 hours on site for this experience
Complimentary premium gift packaging from Into the Blue
What Can I Expect
Top-notch helicopter pilot training out of Goodwood! If you're interested in flying helicopters, these ultimate helicopter training packages at this famous West Sussex venue are the ones for you.
We are offering training deals that give you two x one-hour flights in either a two seat or a four-seat helicopter. Both packages include comprehensive pre- and post-flight briefings and lessons are conducted as proper training flights, to give you a real insight into what preparing for your private pilot's licence is all about.
The idea is for budding pilots to immerse themselves in the world of rotary aviation at this renowned Goodwood helicopter school. All pilot instructors are high-time commercial pilot instructors and the school is licensed through the CAA as an Aircraft Operator Certificate holder and an Approved Training Organisation (ATO).
Established at White Waltham in 1995, Goodwood has been home since 2001. Hangar 3 at this West Sussex base has plenty of space for the school's impressive fleet of choppers, which includes Robinson, Bell, Agusta, Eurocopter, Leonardo and Guimbal helis.
You have the choice between the two seater Guimbal Cabri G2, or the four seater Robinson R44. Both are world-leading training aircraft and hundreds of pilots have qualified flying these stable and very capable machines.
All training is totally geared to you. Most participants choose to fly once in the morning and then again in the afternoon, giving you plenty of time to digest all that you've learnt and then put it into practice. Expect to be trying the demanding tasks of hovering, sideways flight and clocking up the take-offs and landings by doing circuits.
Yes, it's quite expensive, but if you're into choppers, a helicopter training package at Goodwood is an amazing present and an investment that could lead to a private or even a commercial helicopter pilot licence.
Availability
Flights operate 7 days a week, subject to availability and weather conditions
Location
Goodwood Aerodrome in Chichester, West Sussex
Suitable For
Minimum age 14
Under 18s must be accompanied on site by an adult
Maximum weight of 17 stone
You must be tall enough to reach the pedals (if you can reach the pedals in a car this is a good guide)
Maximum height 6'4''
Spectators
Friends and family are very welcome to come along
The flying school offers a comfortable lounge with views across the airfield
Four Seater Flights: One interested observer may be able to accompany you for your flight as a passenger, at the pilots discretion and subject to weight limits on the day
Anything Else
Goodwood Aerodrome is a busy and lively airfield with lots of interesting things to see during your visit Ultimate Helicopter Training Goodwood
Ultimate Helicopter Training-2 Seater
Total Price
£
899.00