English
Skip to main content
Helicopter Lessons Goodwood
Goodwood Aerodrome   
REF:

HLGW23
• Helicopter lessons at historic Goodwood Aerodrome
• Learn all the basic heli moves including hovering
• 30 & 60min flights in 2 or 4-seater choppers
• Great location with viewing room for friends & family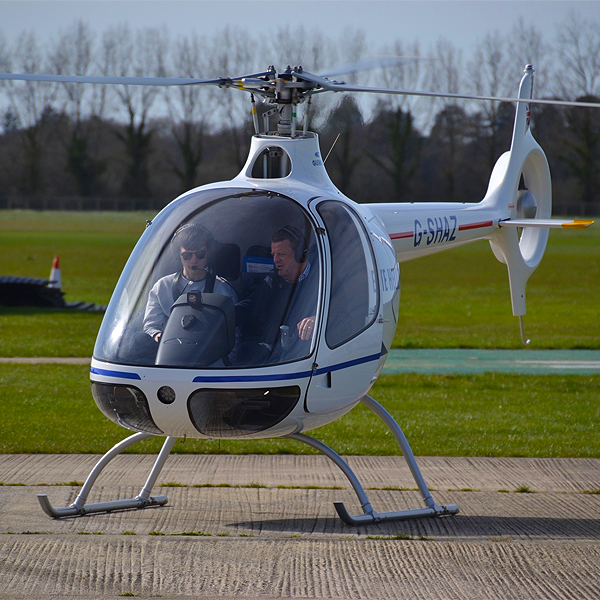 What's Included
Trial flying lesson in a 2-seater Cabri G2 or 4-seater Robinson R44 helicopter
Your lesson will begin with a briefing and introduction to the helicopter and the use of its controls
The instructor will handle takeoff and once airborne will give you the opportunity to take control and fly the helicopter yourself
As you return to the airfield you will attempt the hover manoeuvre for friends and family to see before landing
Flight time quoted is from engine start up to shut down
If you're after more time in the chopper, go for the Ultimate Goodwood Helicopter experience for a taste of proper pilot training!
What Can I Expect
Enjoy a taster helicopter flight at Goodwood! Take one legendary location and a shiny helicopter (complete, of course, with a highly qualified instructor pilot) and you've got yourself a fantastic aerial experience.
We are offering 30 and 60-minute flight durations in either two-seater Guimbal Cabri or four-seater Robinson R44 helicopters. You will be taking off from this fantastic centre based in the heart of the historic Goodwood complex in West Sussex. The aerodrome originally started life as RAF Westhampnett, serving as an American airbase in the Second World War. Nowadays the atmosphere is a lot more relaxed at this busy, but friendly airport.
Your helicopter lesson will be hosted by this leading heli charter and flight training organisation. This long-established operator is based at Goodwood's hangar three. The school is CAA licensed, with their own helicopters being flown by their own pilots who know the local area really well.
That's why you can expect a really warm welcome from the Goodwood team and a professional approach to helicopter flying. Get ready to learn a lot about rotary aviation, whilst having fun at the same time. Friends and family who come to watch you on your lesson are also well-looked after, as they'll be invited into the clubhouse overlooking the apron to watch you on your lesson.
As you head out to the helipad, you'll be shown around the chopper. When safely installed inside, your instructor will explain the controls and the effects they have on the helicopter. Once airborne and in the open skies above Goodwood and the Chichester area, you'll be invited to take over the controls - a thorough highlight of the experience.
On your way back to the airfield, you'll have a go at one of the most essential but difficult heli moves to master - the hover. As your chopper dances from left to right just above the ground, your nearest and dearest watching nearby will be able to make the most of the close-up photo opportunity. Book now for fantastic helicopter lessons out of glorious Goodwood!
Availability
Flights operate 7 days a week, subject to availability and weather conditions
Location
Goodwood Aerodrome in Chichester, West Sussex.
Suitable For
Maximum weight of 17 stone
You must be tall enough to reach the pedals (if you can reach the pedals in a car this is a good guide)
Maximum height 6'4''
Spectators
Friends and family are very welcome to come along
The flying school offers a comfortable lounge with views across the airfield
Four Seater Flights: One interested observer may be able to accompany you for your flight as a passenger, at the pilots discretion and subject to weight limits on the day
Anything Else
Goodwood Aerodrome is a busy and lively airfield with lots of interesting things to see during your visit
Reviews
Average Rating 4
Total Reviews 3
Recommend to Friend 2

Superb experience - very friendly staff and great pilot. Thoroughly enjoyed it and would highly recommend it
John Gardner
We booked the 60min flying lesson for our Son. Everyone at Elite were so welcoming, friendly and helpful. We were invited to the viewing room and supplied with tea and coffee while our Son was having his lesson. The pilot was friendly and knowledgable and my Son thoroughly enjoyed his flight.
D.Ridley
Service rating - excellent: Into the Blue were really good. They contacted us about the company we had booked going into liquidation. They immediately sent us an email informing us we could exchange the voucher for another company or activity to the same amount. Excellent service, would recommend to anyone.Product rating - good: Booked an hours helicopter lesson with Into the Blue for my husbands 50th birthday surprise. He absolutely loved it! His instructor at Goodwood Aerodrome was excellent. He took his time and explained everything clearly and took his time. If we had the money, he'd do it again and again...
Customer Review from Feefo,
{{reviews.text}}
{{reviews.user.username}} Helicopter Lessons Goodwood
30 Minute 2 Seater Helicopter Lesson
Total Price
£
229.00