English
Skip to main content
Combine Harvester Driving Wiltshire
Devizes, Wiltshire   
REF:

ROWCH1
Drive a John Deere harvester for 45-minutes
This is a 9l, six cylinder, twin-turbo machine
Try the GPS, yield mapping auto steer
Raise the auger, open the grain tank & more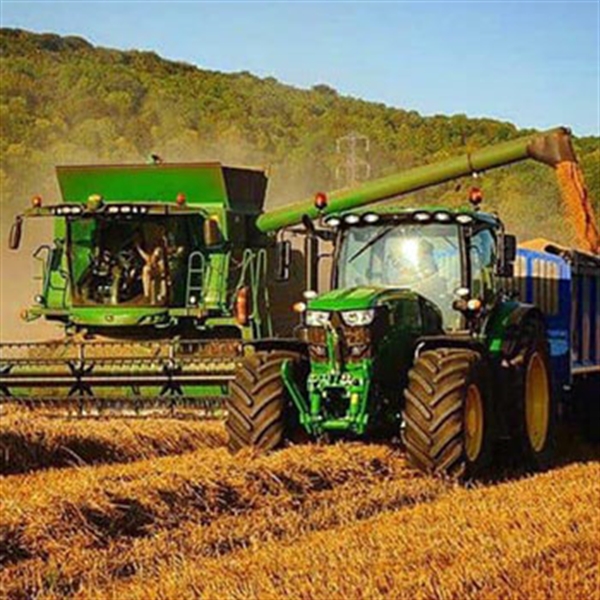 What's Included
Drive a John Deere T660 Hillmaster Combine Harvester
The vehicle boasts a state of the art cab and is fully equipped with the latest GPS, yield mapping and auto steer technology
Welcome, introduction and safety briefing
Talk through the machinery with your instructor with an introduction to the controls
1:1 instruction and guidance whilst driving
Navigate around a specially designed course and field (weather dependent)
Start the threshing machine and learn how to alter the settings
Opportunity to open the grain tank and control the unloading auger
Experiences last approximately one hour with 45 minutes drive time
Specification
John Deere T660 Hill Master
2012 Model
15 tonne machine
2.5 tonne cutting head
John Deere 9lite 6 cylinder twin turbo diesel engine
Max 370 horse power
What Can I Expect
Drive a combine harvester in Wiltshire! Yep, you did read that right. We have found someone willing to let you have a go in their very expensive combine harvesting machine. And it's as impressive as you'll have always imagined!
The John Deere T600 Hillmaster is a total harvesting overlord. This huge machine means business. Sitting pretty with that distinctive bright green and yellow John Deere livery, this combine weighs in at 15 tons. The cutting head is a whopping 25ft wide and weighs 2.5 tons alone.
Under the bonnet (do combine harvesters even have bonnets?) is a 9l, six cylinder, twin-turbo engine worthy of any supercar. All that torque and power combines to be a super-efficient harvesting machine out in the fields of this training farm near Devizes in Wiltshire.
Just getting up close to one of these behemoths is impressive, so imagine the excitement when you climb into that cab. Spacious, comfortable and full of driver aids such as GPS, yield mapping and auto steer, it's an amazing office!
As well as driving this Wiltshire's training school's combine harvester, you'll also learn more about the controls. Hear the clatter of the thresher when you start it up. Learn how to raise and lower the cutting head. Open up the 'bomb doors' of the vast grain tank behind your cab and have a go at rotating the auger (that's the orientable 'pipe' that loads the grain into the grain trailer).
You'll also be shown the GPS functions, auto steer technology and yield mapping abilities of these John Deeres, which make the long, tiring and intense job of harvesting a lot easier. Oh and you can raise the whole machine up and down, which is very cool too!
A word of advice if you want to drive a combine harvester in Wiltshire: make sure you get booked in well in advance, as these agricultural plant experiences are hugely popular - and they are not available at harvest time, as the John Deere six series is doing its day job of reaping what has been sown in the fields of Devizes!
Availability
Selected weekday dates between January and June
Generally 2 dates available per month
Due to popularity please book in advance to avoid disappointment
Suitable For
Minimum age 16
Under 18s must be accompanied on site by an adult
A good general level of fitness is required
Participants should be able to climb the steps to get on board
Spectators
Spectators are welcome
Please note: dogs are not permitted on site
Anything Else
Please note this is a driving experience and participants will not be cutting crops
Reviews
Average Rating 5
Total Reviews 3
Recommend to Friend 3

Brilliant experience. Luke was a great instructor and I learnt a lot of interesting facts. Even with all the technology the drivers still need a lot of skill - even greater respect to them now. Would definitely recommend.
Keith
I'd always wanted to drive a combine and this was a great experience, covering all the technical aspects of the machine as well as being able to drive it around and operate all the controls and functions. Luke was a very knowledgeable and professional instructor who gave us a tour of the other equipment they use and train on, and would recommend anyone looking to take the harvester or tractor driving experience
Julian Humphreys
A fascinating look into the modern combine harvester. The operator Luke certainly knew his machine and it was interesting to see the features that make harvesting more efficient. The machine was surprisingly easy to drive and manoeuvre. A very enjoyable experience.
Mark Hubbard
{{reviews.text}}
{{reviews.user.username}} Combine Harvester Driving Wiltshire
Combine Harvester Driving Experience
Total Price
£
145.00