English
Skip to main content
Quad Trekking in Cheshire
Catton Hall, Frodsham   
REF:

QDB6ML
• Choose from 'Regular' or extended 'Ultimate' treks
• 200 acres of fields and woodland trials to explore
• 40 mins from Chester, Manchester and Liverpool
• Available for individuals or groups of up to 16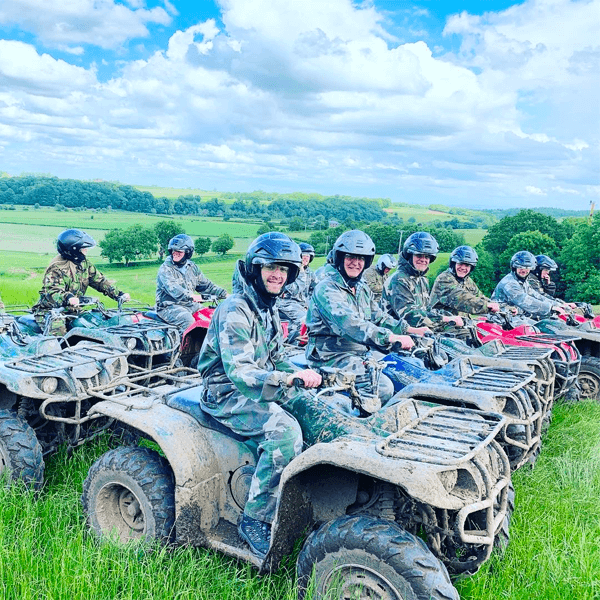 What's Included
• Safety briefing and introduction to the bikes
• Journey through 200 acres of woodland tracks, streams, rolling fields and the famous man-made sand dune!
• Choose from a 40-minute trek covering 6 miles or a 60-minute session covering 9 miles
• You'll usually be joining a small group of riders led by a qualified instructor
• Helmets and overalls are provided
• The whole experience may last one and a half to two hours in total
What Can I Expect
Choose quad biking in Cheshire for a real country adventure this year. Whether you're a beginner biker, or a seasoned pro, this is the perfect way to test your skills.
With our two packages - Quad Trek and Ultimate Quad Biking - you'll experience Cheshire from a whole new point of view. Located at the beautiful Catton Hall and boasting some 200 acres of landscape to explore. From open fields and dense woodland, to swamps, mud and a purpose-made sand dune, this isn't your ordinary jaunt in the park. Be prepared for an action-packed, epic outdoor escapade through the rural Cheshire countryside with these fabulously fun quad biking packages.
Before each session, you'll be given a brief safety talk, then kitted out in overalls and helmet. After that it's time to go wheel-to-wheel with your fellow quad-biking buddies as you race your ATV around the tricky Cheshire trails. Each group is accompanied by a qualified instructor, so you can be sure you're in the best hands at all times.
Our Quad Trek is a six mile, 40-minute exploration covering all the key terrains. This is the ideal option for newcomers to quad biking, taking you through your paces and giving you a hands-on insight into this exhilarating sport.
If you're feeling more confident, consider our Ultimate Quad Trek - not for the fainthearted! A gruelling nine mile, one-hour quad bike battle awaits those daring enough to attempt it. It's a great way to build on your quad control skills and is a brilliant introduction to extreme quad biking in this stunning Cheshire setting.
Whichever experience you opt for, you're guaranteed a fantastic day out with family or friends. And you'll surely earn your just rewards after your thrilling quad session, as you round off the day in the cosy Scandinavian Lodge, a log cabin offering a fully stocked bar, refreshments and lovely views over the surrounding Cheshire scenery - and a great place for spectators to await your quad biking return too.
Why not try quad biking in Cheshire to put a grin on your face and get your blood pumping. Courses run all year round, so prepare for some serious All Terrain Vehicle action Cheshire-style with these unforgettable quad-based activities.
Availability
• Sessions run on most Saturdays all year round
• Dates and session times are subject to availability
Location
• Frodsham, Cheshire
• Conveniently located just 30 minutes from Chester, Manchester and Liverpool
Suitable For
• Minimum age 18
• Maximum weight is 17 stones
Spectators
• Spectators are welcome, but views of the trek are limited as riders will head off into the countryside!
Anything Else
• Please ensure you wear suitable outdoor clothing and sturdy footwear that you don't mind getting wet and muddy
• The Lodge offers good views of the surrounding grounds and has a bar, refreshments and toilet facilities
Reviews
Average Rating 4
Total Reviews 2
Recommend to Friend 2

I would highly recommend this to anyone, I enjoyed it very much, the instructor was very good, the course was good, the actual grounds where amazing, .
Yvonne Taylor
Safe and well run experience, great fun and just the right amount of time on the bike.
Gaz
{{reviews.text}}
{{reviews.user.username}} Quad Trekking in Cheshire
40 Minute Quad Trek
Total Price
£
59.00