English
Skip to main content
Couples Superstar Singers
Recording Studios Nationwide   
REF:

SUPCPS
A recording experience for two people
Tips from an experienced producer
Take home a souvenir recording
Choose from hundreds of backing tracks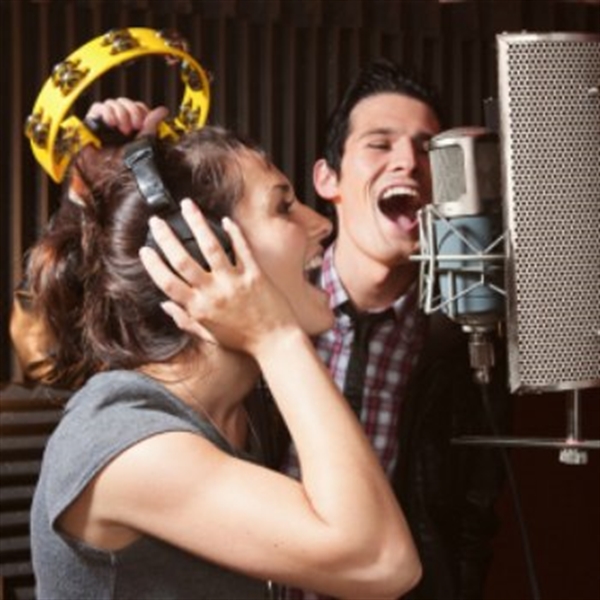 What's Included
You will both record your own voices singing your favourite song together
Allow up to 1.5 hours for the experience
An experienced producer will assist you throughout
A CD recording of your recordings to take home with you
What Can I Expect
Grab your glitterball and give your vocal chords some stretching ready for our couples' music experience days around the UK! This experience opens the door to professional studios, recording your very own duet with the one you love. This day out with a difference will see if you've got what it takes to be a star behind the mike.
Over the decades there have been some classic songs from famous couples and these music and recording experience days give you the chance to warble like the best of them. We're thinking Kylie and Jason, John Lennon and Yoko Ono, Sonny and Cher, Ike and Tina Turner. Or, for the more vocally inspired, why not put your accent mimicry skills to the test by belting out that seminal crooner tune, Renee and Renato's 'Save Your Love'...?
For your romantic recording day you can choose to sing whichever songs take your fancy. Make it a real musical experience with golden oldies from back in the day, or rock out to your favourite pop, R'n'B or disco anthems like a true choral couple. The session takes place in a proper pro recording studio at locations throughout the UK, where you'll find out just what it's like to be a superstar singing duo. Expert sound engineers will record your voices and, with clever post-production gadgetry on hand, you'll soon be a couple singing sweetly in tune.
Your time at the studios allows you and your partner to record at least one song together and if you prove to be one-take wonders, you might even have chance to put down two tracks on disc. If you need a bit of practice holding a note though, you have as many takes as you need to get the sound, tone and timing right.
After your recording experience together, the music and sound engineer on the day will add the finishing tweaks and touches to the mix, while you and your loved one relax in the chill out area just like proper pop stars. Depending on the studio, you may even have time to take a CD cover shot to adorn the sleeve of the CD you get to take home with you!
These recording experience days make fantastic presents for music lovers of all ages and are a wonderful way to celebrate and encapsulate a special occasion such as an anniversary or birthday. Bring along your favourite singing partner for a day of fun-filled melodies and harmonies and take home an original CD of your favourite songs performed in an entirely new way. Or, for more music experience days and other cool musical gift ideas, check out our main gifts section.
Availability
Sessions are available at selected times throughout the year
Most studios operate 10am until 10pm and all dates are subject to availability
Location
Birmingham  Midlands
Bradford  West Yorkshire
Bristol  Avon*
Cambridge

 

City

 

Centre  Cambridgeshire
Chichester  West Sussex
Crewe  Cheshire
Cuddlington  Bucks
Edinburgh  Scotland
Essex  Loughton
Gateshead  Tyne & Wear
Hampshire  Southampton
Heywood  Greater Manchester
Hull  East Yorkshire
Kettering  Northants
Liverpool  Merseyside
Milton  Cambridgeshire
Pontypridd  South Wales
Potton  Bedfordshire
Radford  Coventry
Royston  Hertfordshire
Ripley  Derbyshire
Somerset

 

Kewstoke
Sudbury  Suffolk
Truro  Cornwall
Willesden

 

Green London
Locations are subject to change
*  Session lasts for  one hour.  Editing is completed remotely and files will be sent via an online transfer  
Suitable For
Under 16's must be accompanied by an adult
Spectators
Spectators are welcome and up to two are allowed per couple
Anything Else
Backing tracks at theSomerset location are charged at between £1.50 and £3.00 per track should you wish to record a song not available in their existing stock
Reviews
Average Rating 5
Total Reviews 6
Recommend to Friend 6

Had a great time. Sing It were great - explained everything and we're really patient and determined to get a good quality recording. The final recording sounded great. Into the Blue were also very helpful and prompt when I had to contact their customer service.
Nigel Bowen
My sister and I had such a fantastic time at the singers experience. We felt very professional in the sound booth. Phil was excellent. He explained everything and showed us how he mixed our vocals together. Would highly recommend
Holly Fox
Brilliant time at the recording studio in Thame. Phil the guy that ran the morning was fantastic with us and the children and we had lots of fun! As a bad singer it was not scary at all and I loved the experience! We were made to feel very relaxed and I'd do it again like a shot even though I still hate the sound of my voice! Lovely to have a keepsake of our fave songs too and it was so interesting being talked through the whole process of making a recording. Thanks so much x
Gemma Gardner
I had a fantastic experience. The recording studio was explained to me and I was taken through the equipment. Pat at the studio was great and worked hard to ensure my song was as good as it could be. I would thoroughly recommend this experience and this studio to anyone interested in recording as the approach is very professional and enjoyable.
Michaela
We had a fun couple of hours. Julian was our host - he was great, made it fun and enjoyable and was very patient!
Sheila Humphreys
{{reviews.text}}
{{reviews.user.username}} Couples Superstar Singers
Couples Superstar Singer
Total Price
£
69.00