English
Skip to main content
Flying Lessons Lake District
Carlisle Airport, Cumbria   
REF:

TFLCU3
• Take off from Carlisle Airport
• Cruise at 2000ft over the local sights and coast
• Visit the Solway Aviation Museum on site
• A small & friendly family-run centre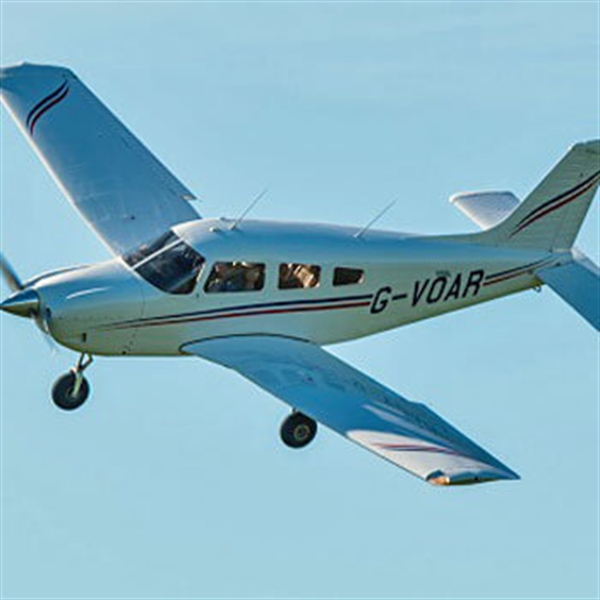 What's Included
Trial flying lesson in a 2-seater Robin or 4-seater Warrior aircraft
30 and 60 minute flights are available
Welcome, introduction and pre-flight briefing
Your pilot will fly you out of the airfield before giving you the chance to take the controls yourself
After the flight you will be presented with a personalised certificate
What Can I Expect
A small and friendly location for your flying lesson in Carlisle! Here's your chance to experience the exhilaration of flying at this family-run school and aeroclub based out of Carlisle Airport, with a trio of flight options available.
You will receive training in either a two seater Robin aircraft or a four seater Piper Warrior (depending on the voucher chosen) from expert instructors headed up by Chief Flying Instructor (CFI), examiner and owner Alan Rayson. Alan has clocked up many thousands of flying hours and loved his job teaching lessons so much, that he started this, his own school in Carlisle, with his wife Helen!
So what can you expect on the big day? After a warm welcome from the operations team, you will have a brief introduction to the light aircraft you'll be flying in, before your designated lesson instructor here at Carlisle helps you into the cockpit before running through the pre-flight checks. Once ready for take off you'll taxi along the tarmac runway, increase the speed and before you know it, the nose lifts up and you're smoothly climbing with the Cumbrian countryside falling away beneath you.
All aircraft used are dual-controlled, so once stable you will take control under the supervision of your instructor. In normal weather conditions you cruise at around 2000ft over Carlisle and depending on the duration of your lesson, you might be flying over such sights such as Hadrian's Wall, the Solway Coast and the stunning Lake District.
In essence, we think that if you take your flying lessons at Carlisle it's a great airport to fly from and this school is definitely one of the friendliest you'll find in the Cumbria area. At some point during your lesson you may even be lucky enough to meet a VIP member of the flying team here at Carlisle. His name is Farrokh and he loves feeling the wind beneath his wings and has completed hundreds of flying hours, but never at the controls…
Availability
Flights take place on weekends and weekdays throughout the year, weather permitting
Dates and session times are subject to availability
IntotheBlue offer a selection of nationwide
flying lessons
at airfields and flying clubs around the UK.
Location
Carlisle Airport, Cumbria
Suitable For
Minimum age is 14
Maximum height is 6'4"
Maximum weight is 14 stone for 2 seater aircraft
4 seater flights allow an additional guest (at pilots discretion) to accompany you on the flight, observing from the rear seat
The maximum weight for a 4 seater flight is 25 stone (split if additional guests accompany)
Photographic ID may be requested
Spectators
Spectators are welcome
There is a Cafe at the airfield
Nearby pubs can be recommended by the flying school
Framed photos of the experience can be purchased from the school for an additional charge
The airport is also home to the Solway Aviation Museum which has a number of aircraft on display
Anything Else
Dogs are not permitted on site 
Reviews
Average Rating 5
Total Reviews 14
Recommend to Friend 13

Thoroughly enjoyed this flying experience! The chap, Alan, who was the instructor was very friendly and helped make the experience what it was. I'd certainly recommend this!
Mitchel
Just what I was expecting, Alan the instructor was excellent made me feel at ease, no pressure what so ever.. more to come.
Mark
Took my first flying lesson yesterday, it was amazing. Super present idea. Would highly recommend.
Nicola Simpson
I was made very welcome by reception and my instructor at Carlisle Airport. It was a great experience and I can highly recommend it.
New Flyer
Awesome experience, really enjoyed the flight and the chance to fly the plane myself.
Harry Harrison
{{reviews.text}}
{{reviews.user.username}} Flying Lessons Lake District
30 minute 2 seater Flying Lesson
Total Price
£
135.00