English
Skip to main content
Truck vs Supercar Experience
Nationwide Locations   
REF:

X16TVS
• Drive a truck & a supercar too
• A 10-15 minute driving session in the HGV
• Three or four laps driving your choice of supercar
• Personalised certificate of achievement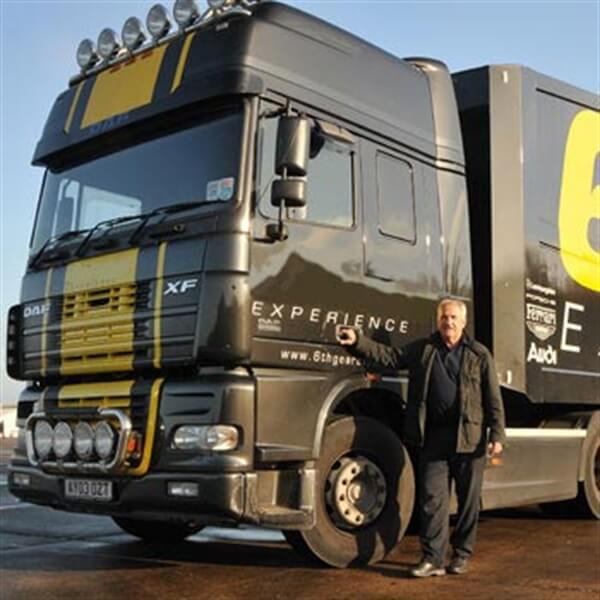 What's Included
• Drive a 480bhp DAF XF truck and race car trailer or DAF CF Car Transporter
• Driver registration and welcome
• Introduction to your
truck driving
instructor
• A 10-15 minute truck driving session which includes a short safety briefing
• Three or four laps (approximately 6 miles) driving your choice of supercar from the list below
• Personalised certificate of achievement
• Please allow for approximately two hours onsite
• Supercars include an Ariel Atom, Audi R8, Aston Martin V8 Vantage, Ferrari 360, Porsche 997 Turbo, BMW i8, Nissan GT-R, Jaugar F-Type R and Lamborghini Gallardo
What Can I Expect
Mixing up the big tyres with the slicks on this Supercar vs Truck Challenge! This inspired combination will see you driving both a full sized HGV truck and a glamorous supercar at your choice of different driving grounds across the UK.

Of course, both drives are completely different. The truck is big, bulky and a real challenge to get to grips with, as you sit high above the road in your proper trucker's seat. Then there's the supercar that's incredibly low to the ground (be prepared for being just centimetres from the tarmac!) and very, very fast, so it'll be interesting to see which vehicle you'll prefer, in a kind of motoring equivalent of a hare and tortoise style encounter!

This unique chunky truck versus funky supercar challenge experience is available at various venues, all of which are top-notch driving centres, well away from the congestion of the public roads. Which is perhaps just as well, as you'll be in a truck towering over all the other cars without an HGV licence (and don't worry, it's not needed for this challenge as you'll be driving the truck on private roads).

You will be driving one of the automatic DAF trucks used as a car transporter, on the perimeter roads around the circuit, whilst the spin out in the supercar will take place on the actual track. Both different zones of play, but both utterly brilliant in their own way. Which sports car you want to drive is up to you and there's a fine selection to choose from, including the Ariel Atom, the Porsche 997, Lamborghini Gallardo and more.

Your truck challenge session will see you enjoying 15 minutes of truckin' with a fully qualified HGV instructor next to you in the cab and three laps around the smooth tarmac of the race track in the supercar you've chosen. Just don't forgot your Yorkie bar for the truck and those swanky sunglasses for the supercar bit!
Availability
• Available on weekdays from March to November
• A £25 upgrade can be paid to include weekend availability (payable direct)
Location
Elvington, York
Dunsfold Park, Surrey
Perranporth Driving Centre, Cornwall
Three Sisters Circuit
Suitable For
• Minimum age is 17
• All drivers must hold a full valid UK driving licence
• Maximum weight is 18 stone
• Minimum height is 5ft 4"
• Maximum height is 6'6''
Spectators
• Please note, a maximum of 3 spectators may accompany you to the truck circuit
• Additional spectators are not permitted to watch from a distance for safety reasons
• Any spectators under the age of 16 must be accompanied by an adult (other than the participant)
• There is no photography service at the truck circuit so feel free to bring your own photography equipment
Anything Else
• Optional collision damage can be purchased on the day for £25
• There is no photography service at the truck circuit so feel free to bring your own photography equipment
Reviews
Average Rating 4
Total Reviews 11
Recommend to Friend 10

I went on the 6th gear driving experience on saturday the 5th nov. Driving the car i loved and the photos were great. However i felt very rushed when i came to driving the truck. This is what i was most looking forward too. I was the last to drive and it was running 30 so miuntes late. By the time it was my turned the guys were packing away and i felt i was not given a proper truck experience. I was even rushed when it came to choosing my photo as they were trying to pack away. I was left very down hearted.
Michael farmer
Very good experience - particularly the chance to drive and reverse an HGV. Very good instructors. We booked double experiences so we had plenty of time driving. Just be prepared clothing wise - it rained all the time we were there and although there was shelter, make sure you are prepared for rain.
David Monkhouse
Overall experience was fantastic - it exceeded my anticipation! Only niggle was a slightly rude and abrupt who 'supervised' me during my super at experience - he seemed to have left his sense of humour at home, which was a shame.
Sam Bullen
Fantastic day out. Would recommend this for anyone. Very professional polite and easy to talk to company. Everyone was very pleasant and helpful. One of the best days out I have ever had
Simon linford
This was a present, so in terms of value for money, I have no idea! In terms of enjoyment....it was FAB! I don't think I will be swapping jobs any time sooner to be a trucker, but I may need to find somebody super rich to provide me with a Supercar!! Drove the Ferrari f430, and I loved it! The instructors were all really friendly and put you at ease! Great time had, just wish it had lasted longer!!
Claire S
{{reviews.text}}
{{reviews.user.username}}