English
Skip to main content
Tank Driving Newcastle
near Newcastle upon Tyne
REF:

TVTNK1
 15-ton FV432 tank driving near Newcastle
 When not driving, be a passenger in the crew cabin
 Small group & exclusive sessions offered
 Visit the amazing collection of military vehicles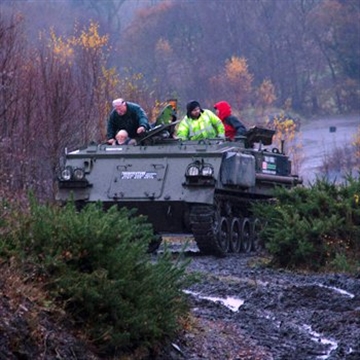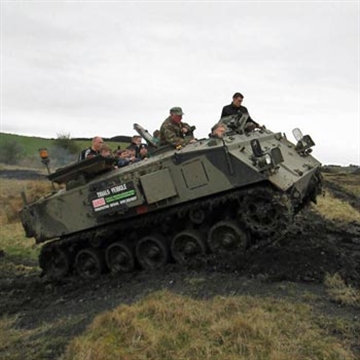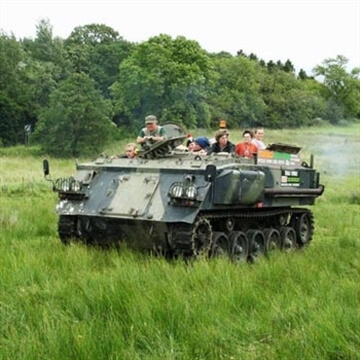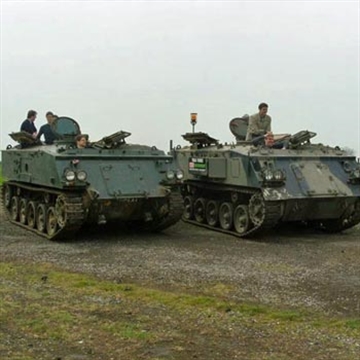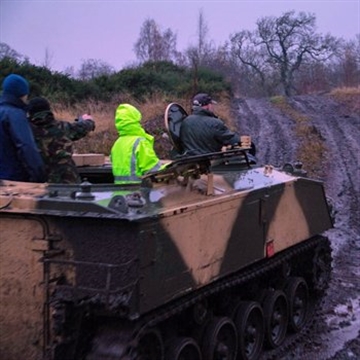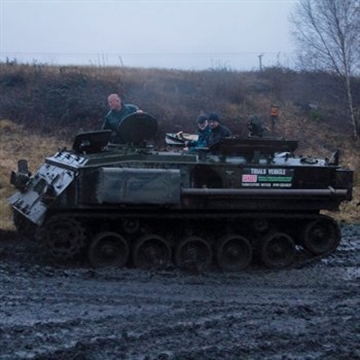 What's Included
Drive an ex Army FV432 AFV (Armoured Fighting Vehicle)
When not driving, you'll experience the ride of a soldier in the crew compartment
Introductory talk, learning about the history of the vehicle and how it works
Familiarisation session lasting around 15 minutes, your instructor will explain the use and function of the steering levers and controls
Master gentle turns and reversing and keeping the tank straight on a kilometre of road before tackling the cross country course

Tackle some of the most exciting tank terrain in the UK

  

You will form part of a small group 3 participants for this experience
Opportunity to tour the centres vehicle collection which include a Saracen 6x6 APC, M2 Bridging Ferry, Stalwart and Chieftain Main Battle Tank (housed at a separate location)
A guided tour of the military vehicles
Allow approximately one and a half hours on site for this experience

Tank Driving Experience
60 minute session with approximately 20 minutes personal drive time

When not driving you will ride as a passenger
Exclusive Tank Driving for Two
Private tank driving experience for two people
60 minute session with approximately 20 minutes personal drive time each
Ride as a passenger when not at the controls
What Can I Expect
Tank driving near Newcastle - fun, laughter, mud and dirt! We are offering a taster tank session for you, with a shared small group or an exclusive option for two. Locations are rotated (as trundling around in tanks does take its toll on the ground), but all are within 40-minutes of Newcastle and very easy to get to. 
The tank you'll be driving is a FV432 AFV (that's Armoured Fighting Vehicle, don't you know) and it is, relatively speaking, a light tank, weighing in at…15 tonnes!
Unique to this Newcastle tank experience is the fact that your pre-drive briefing is done in another FV432. So, whilst one tank is engaged in operations on the terrain, a second is parked up so you can explore all the controls in a static setting. Just getting in the driver's hatch is a bit of an obstacle course, as you either wriggle through from the crew compartment or climb in via the roof and down into the driving position.
And don't forget, it's all levers and brakes here - and there's no power assistance either. So, it's a combination of brute strength and control needed to guide your fully-tracked tank across the Northumbrian terrain. Your instructor will be taking up the vehicle commander position, overseeing you lot, the infantry. And when you're not driving, you will be a passenger in the FV432's crew compartment.
Back at base, you will be invited for a little look around the workshop, which houses an eclectic collection of military vehicles. There are some rarities in there too, including an M2 Bridging Ferry capable of carrying your FV432 on its back - and it's the only one of its kind in the North East.
Tank driving in Newcastle is with a great bunch of people. They love anything military (and preferably turbocharged) and seem to actually enjoy taking engines out of tanks in their workshop almost as much as they do taking guests out to drive them!
Availability
Selected weekends throughout the year, weekdays may be requested and are subject to minimum numbers being met for an experience to run
Dates and session times are subject to availability and weather conditions
Location
Tank driving takes place at several different sites all located within a 40 minute drive from Newcastle
Full details of the specific site for your experience will be provided when booking your date
Suitable For
Minimum age 15
Under 18s must be accompanied by a participating or spectating adult
Good upper body strength is required to operate the (non power assisted) steering levers
Participants with a chest size larger than 56" may have difficulty accessing these vehicles
Not suitable if you have back, neck or heart problems or during pregnancy
Shared experiences require a minimum of 2 participants to take place, if minimum numbers are not being reached your date will be rescheduled
Spectators
Spectators are welcome to join the introductory talk, ride as a passenger and view the centres vehicle collection for an additional charge of £25 per person (£15 for ages 8-15)