English
Skip to main content
Tank Driving Leicestershire
near Market Harborough   
REF:

TNKTAS
• Drive a 17 tonne FV432 armoured personnel carrier
• Choose from Tasters or longer Driving Experiences
• Free entry to the onsite military museum
• Friendly team of instructors who just love tanks!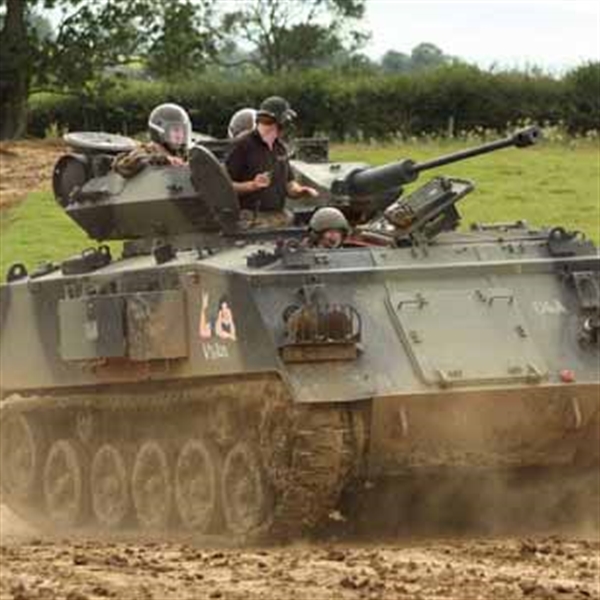 What's Included
Tank Driving Taster
• A one hour tank driving experience
• You will learn how to drive a 17.5 ton FV432
• Welcome and briefing
• Two laps of hands-on driving time, approximately 15 minutes and 4 laps as a passenger
• FREE entry to the museum displaying a large military vehicle collection
• Use of a helmet for the experience (tank suits not currently provided for H&S reasons)
• You will form part of a group of three participants (currently 2 people for social distancing but subject to change)

Tank Driving Experience
• A 1:1 45 minute tank driving experience
• You will learn how to drive a 17.5 ton FV432
• Welcome and briefing
• Four laps of hands-on driving time, approximately 30 minutes
• Weather permitting you will have the opportunity to use more a challenging course
• FREE entry to the museum displaying a large military vehicle collection
• Use of a tank suit and helmet for the experience
What Can I Expect
Get behind the controls of a serious piece of military machinery when you go tank driving around Leicestershire! You'll develop a new found respect for our boys and girls in the army as you learn how to get to grips with this battle behemoth and explore the ultra-high tech gadgetry that makes tank driving such a skilled activity.
Both the one to one and the small group tank driving sessions in Leicestershire start with a full kit-out including the battle suit and army helmet, so you look and feel the part for your forthcoming tactical challenges. Then you'll get to meet your instructor and see the inside of your tank, complete with full battle-zone livery for the first time. Clamber inside the turret and see inside this monster of an FV432.
Then it's your turn in the driver's seat and your first mission is to complete a lap with the hatches open. You'll be able to see what's ahead and around you. You'll come to terms with the controls of your tank, and be able to concentrate on where you're headed. This is your first chance to feel how the tank reacts and moves in your hands.
Your second lap is much more authentic, as you wind down the seat and close the tank's hatch, so you're driving in combat conditions with only the periscope to guide you. This is a real test of judgement, direction and confidence which is also where your tank driving skills will really start to develop. The Leicestershire track is great for offering a whole range of landscapes, and is a fantastic experience for military novices and seasoned navigators alike.
Those on the Tank Taster experience will take it in turns to drive and as the session is shared with two others and you will be a passenger for the four laps when you're not at the controls. The big advantage of the Tank Driving Experience is that it is on a one to one basis exclusive to you, as well as offering four driving laps. The four laps will consist of two laps with the hatches open and two laps with the hatches closed and by now you'll be feeling much more at home in the heavy duty confines of your tank, so expect to be flying around the track (well, as much as these 17.5 ton full-tracked beasts can!), putting those gigantic engines to good use.
If you're a military-minded guy or girl, interested in warfare, heavy-tracked motor vehicles, or even just someone looking for a fun and unusual day out, then you can't go wrong with these fully-loaded tank track days. With free entry to the fascinating onsite military vehicle museum included, you can enjoy a marvellously mechanical day out and learn all there is to know about tank driving. Leicestershire's centre offers bumps, dirt tracks and water obstacles all ready to test your tank skills to the max, so go in there guns blazing for a real army experience.
Availability
Tank Driving Taster
• Sundays and selected Wednesdays from April to October
• Saturdays are available for groups of three or more

Tank Driving Experience
• Saturdays, Sundays and selected Wednesdays April to October
• Please note this activity is weather dependant


Location
• Market Harborough on the Leicestershire/Northants border
Suitable For
• Minimum age is 16
• Maximum weight is 22 stone
• Maximum height is 6'4''
• Minimum height is 4ft
• No driving experience or licence is required
Spectators
• Visitors are welcome for a small charge payable on the day
• Up to four spectators for the tank experience can ride as passengers for a fee of £25 per person (payable upon booking)*
• Minimum age for passengers is 8
• All passengers also gain FREE museum entry

* Passenger spaces have currently been reduced to two people and it is recommended that you pre-book passengers if required
Reviews
Average Rating 5
Total Reviews 112
Recommend to Friend 112

My friend and I both had an experience. When I rang up to book,I explained my friend had one too and we were told they we could share our experience and ride in the tank whilst the other person drove. My 12 year old son got to ride in the tank for an additional fee which made him very happy. Fantastic instructor, we experienced sun and rain. Photographer took some amazing shots which we ended up purchasing. A great and fun experience to share with a friend. The instructor took us round once, one person drove a lap, head out of the tank, then one lap of head in the tank and then a final lap of your own choice then we swapped the driver so my son went round 7 times! Museum was enjoyable too with quite a lot to see. Thoroughly enjoyed our experience.
Rachael Bradley
Very good! This was my wife's Christmas present. Thoroughly enjoyed it.
Joe Hawkins
Great fun and I had a personal experience, as I was on my own. The one negative with that being that I had 2 laps of driving myself, and no laps as a passenger. Maybe I didn't miss that much, but it made it seem very short. The museum is good and surprisingly big….it really added to the lovely experience. Not Bovington, but still worth a visit for Tank enthusiasts! Definitely recommend you try the driving experience!
Leigh Bodley
Excellent day out. Drove full track tank twice around circuit both in upper and lower seating position. Also brilliant military museum to look around afterwards.
Martin Hodges
Absolutely loved it!! The tank instructor was first rate!! I will add this though......my hearing isn't great - in fact i have to wear hearing aids - and the head phones i had to wear when driving were very quiet - AND they were only working on one channel!!......which made me have to concentrate uncomfortably hard to hear what he was telling me - which distracted from the enjoyment a little - but that was just bad luck that i should get the tank with dodgy headphones......but i still give it 10 out of 10......fantastic day!!!.......by bad hearing is no one else's fault!!
Steve Gentle
{{reviews.text}}
{{reviews.user.username}} Tank Driving Leicestershire
Tank Driving Taster
Total Price
£
99.00