English
Skip to main content
Skydiving Durham
Shotton Airfield, Durham   
REF:

TDMSKY
• Tandem parachuting near Durham
• Drop zone is at Shotton Airfield nr Peterlee
• This is the only skydive school in the North East
• Jump out of the plane at around 10,000ft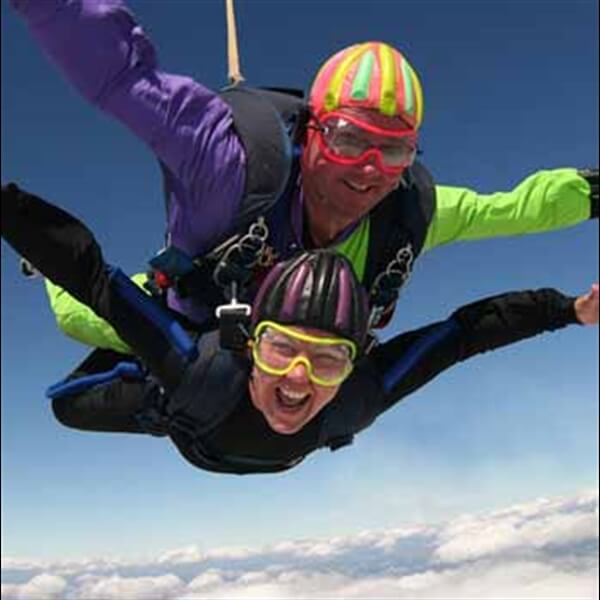 What's Included
• Welcome and safety briefing
• Receive instruction on how the jump will take place and landing procedures
• Allow up to 90 minutes preparation time for the jump
• One jump from the aircraft strapped to the instructor
• Jumpsuit, helmet, goggles and gloves are provided
• All jumps are weather dependent
• Participants should allow up to 5 hours on site from their booked arrival time
What Can I Expect
Our Skydiving Durham experiences let you go for that big leap! This small and friendly skydive centre just 10 miles from Durham is a fabulous place to make your first free-fall tandem jump into the blue.

Based at Shotton Airfield, on the Shotton Colliery site on the edge of Peterlee, this is actually the only skydiving school in the whole of the north east. It's also been noted as one of the best-equipped small airfields in the north. So, as you can imagine, this centre attracts hundreds of budding skydivers from the Durham area and beyond to have a go at throwing themselves out of a plane.

On arrival at the base, you'll be met by the skydive team and introduced to the instructors, before tackling your first challenge of the day: the Documentation, Orientation and Training programme. The next hour and a half is spent being taught all the basics you need to know to be safe in the air; from learning what to expect once you're in the plane and how to exit the aircraft, to the position to adopt during free fall and how to land safely.

You will then be taken up in the school's Grand Caravan aircraft. You and your fellow jumpers will be feeling the anticipation kick in almost as fast as you climb to a dizzying 10,000ft. With your harness on, you'll be attached to your tandem instructor and before you know it you're on the ledge of the aircraft looking down over the patchwork Durham countryside ready to go skydiving!

Subject to weather, skydiving at Durham is scheduled on midweek and weekend/bank holiday dates from mid-February to the third weekend in November. The vast majority of tandem skydivers get to train and jump on the same day here at Durham. Worth noting is that fact that this Durham skydive school offers free overnight camping and caravanning on the airfield!
Availability
• Febuary to March: Friday-Sunday
• April to October: Wednesday-Sunday plus Bank Holidays
• November: Friday-Sunday
• All jumps are subject to weather conditions and return visits may be required
Location
• Shotton Airfield, Durham
Suitable For
• Minimum age 16
• Weight limits are 15.5 stone for Men and 14.5 stone for Women
• All under 18's must have written parental consent
• A medical information form and declaration must be completed by all participants
• Medical advise should be taken should you have any doubts about any medical condition
• Maximum age 55
Spectators
• Spectators are welcome
• Cafe, bar and restaurant facilities on site
Anything Else
• An DVD is available to purchase on the day
• Comfortable warm clothing with trainers should be worn
• The 10,000ft jump guarantees a minimum height of 7,500ft as occasional cloud pressure or temperature may prevent the full height from being achieved Skydiving Durham
Tandem Skydive
Total Price
£
279.00