English
Skip to main content
Skydiving Cornwall
Perranporth Airfield, Saint Agnes    
REF:

TANCRN
• Tandems skydiving at Perranporth Airfield
• Amazing coast & country views as you jump
• Freefall over the Cornish coast from 10,000ft
• This school is family-owned and run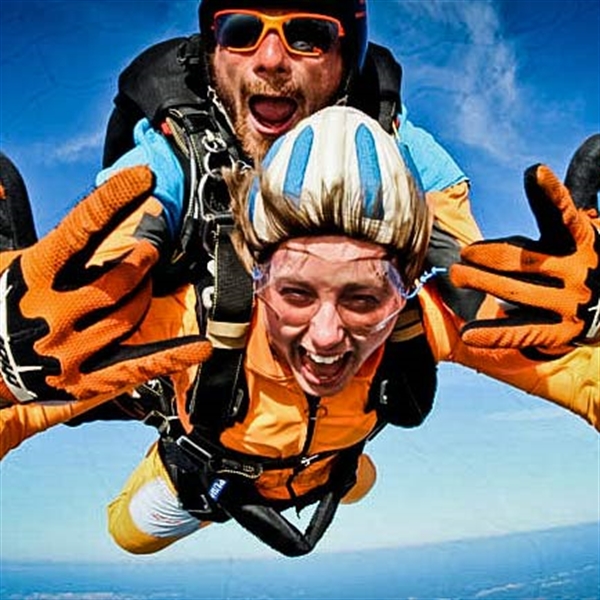 What's Included
Welcome, introduction and safety briefing
20 minute plane ride taking in the amazing views of Cornwall
Tandem experiences use a dual harness and you jump attached to an instructor
Enjoy the sensation of freefall - 0-120mph in 10 seconds!
The instructor opens your parachute at around 5,000ft
Enjoy around 5 minutes under canopy with views of the local area and beyond
Tandem jump certificate
What Can I Expect
Where to skydive? Cornwall has to be top of the list in the UK surely? With the Atlantic Ocean on one side and the English Channel on the other, pluck up the courage to do a tandem skydive in Cornwall and you'll be treated to amazing coastal views. This is skydiving Cornish style and it all happens at Perranporth Airport between St Agnes and Newquay. 
We are offering vouchers for tandem skydives out of Perranporth. That's the one where you are harnessed together with an instructor and there's no long training session before you go, just a clear and concise safety briefing.
You're sure to get incredible views as you sit in the crew plane for the nerve-wracking 20 minute flight to your jump altitude. Maybe the wonderful aerial panoramas of the blue, blue sea and the beaches will calm your nerves? Or maybe you'll prefer not to look and just listen to the words of encouragement from your skydiving instructor instead?
After exiting the plane at 10,000ft, lap up your 10 seconds of absolute freefall, before the parachute is deployed and you float gently back down to earth, admiring those panoramas above Perranporth as you go.
As if the location wasn't stunning enough already, this Cornish parachute school secured the right to use the beach as an actual active drop zone in 2015 - how mad is that? What's more, it's the only beach DZ (that's skydiver lingo for drop zone) in the whole country. That privilege is only reserved for skilled solo jumpers though, so you will be landing on the clifftop drop zone.
And what we love most about this skydive school in Cornwall (apart from the setting!) is the fact that it is a family run concern, with instructors who have clocked up in excess of 22,000 jumps - including being the first trio to jump Everest! Time to book your skydive slot at Perranporth.
Availability
• Fridays, Saturdays and Sundays, March to November
• Dates are subject to availability and weather conditions
Location
Perranporth Airfield, Saint Agnes, Cornwall
Suitable For
• Minimum age 16 (parental consent needed for age 16/17)
• A medical information and declaration form must be completed before your jump
• Weight restrictions are subject to height and BMI (see below for examples)  Please enquire if you are unsure on specific weights
5ft - max weight 10 stone
5ft 3ins - max weight 11 sone 1lb
5ft 5ins - max weight 11 stone 11lb
5ft 7ins - max weight 12 stone 7lb
6ft - max weight 14 stone 6lb
6ft 2ins - max weight 15 stone 4lb
Spectators
• Spectators are welcome to come along and watch the action
Anything Else
• DVDs and/or photographs of your skydive can be purchased when making your booking for an additional charge Skydiving Cornwall
Tandem Jump
Total Price
£
259.00