English
Skip to main content
Segway Edinburgh
Fife   
REF:

CESEGE
• Segway in 50 acres of countryside by River Ore
• Farm setting between Glenrothes & Kirkcaldy
• This trek gives you around 50mins of ride time
• Maximum Segway group size of six people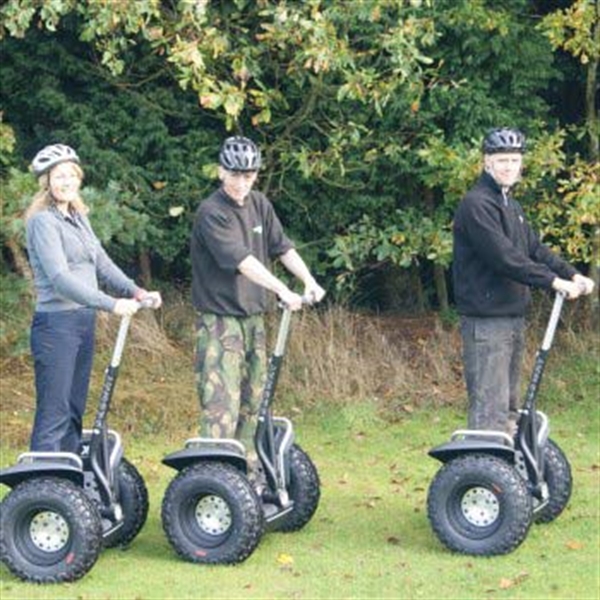 What's Included
The Segway Trek
• A 1 hour experience with approximately 50 minutes driving time
• Basic instruction and a safety briefing is included
• Trek around some of the 20 hectare estate
• Helmets and safety equipment are provided for both experiences
• Group sessions can be booked with a maximum of 6 guests
What Can I Expect
Go for a slide on a Segway near Edinburgh! This outdoor centre in the heart of Mid-Fife has been organising activities and events since 1992 and now the team has taken on a new experience - the thrill of riding a personal transporter!

Just on the opposite side of the Firth of Forth to Edinburgh, this Segway venue is set within 50 acres of Scottish countryside alongside the River Ore. A former working farm, the land has been re-developed over time, so you will be Segwaying along tarmac paths, loose gravel tracks, tree-lined routes and mown grass pathways too. There is even a golf course, so you might find yourselves rolling past the greens!

Before you take on the challenges of this route not far from Edinburgh, you will meet your trusty Segway for the first time. We agree they look a little bit funny and when you stand on the footplate you want to immediately put a foot back down, or hold on to something to help you balance. But that's the beauty of this machine, all the clever gyroscopic gadgetry inside does all the balancing for you!

Once you trust yourself and the machine, you'll realise that if you are standing still with your body centred, you won't go anywhere, or fall off either. As soon as you lean forward a little, the transporter will start moving forward. The more you lean, the faster you go. There's no need to worry if you think you might not 'get it' as this friendly Edinburgh team will set the Segway in 'beginner' mode, so the speed is restricted to start off. Once you're more comfortable, the restricter is switched off and away you go!

This trek experience gives you roughly 50 minutes on the Segway. Edinburgh is not far away, so if you are staying in the city centre for a weekend this is a great little extra activity. If you're local and you fancy getting a group organised for some Segwaying fun, this venue between Glenrothes and Kirkcaldy is challenging, well-organised and, above all, fun.
Availability
• Experiences are available on selected weekends and weekdays throughout the year
Location
• The venue is located near Cluny in Fife
Suitable For
• Participants must be over 10 years old
• Under 16's must be accompanied by a participating adult
• Minimum height of 134cm (4'3")
• Minimum weight is 7 stone, maximum weight is 19.5 stone (weight is an important factor with a Segway as the drive ability is compromised when the rider is out of the stated weight requirements)
Spectators
• Spectators are welcome to watch the introduction
• Drinks and snacks can be purchased onsite
Anything Else
• If it is a cold day, it is advised that you wear gloves
• Suitable outdoor clothing and sturdy footwear is recommended
Reviews
Average Rating 5
Total Reviews 3
Recommend to Friend 3

the experience was excellent, staff was really good and very helpul
dilip
Really enjoyable experience.Would recommend this highly
Gillian Sutherland
Great fun, fabulous day.
Gail Gray
{{reviews.text}}
{{reviews.user.username}} Segway Edinburgh
Segway Trek
Total Price
£
35.00