English
Skip to main content
Light Sport Aircraft Lincolnshire
Saltby Airfield, Grantham   
REF:

MICL30
• Light sport aircraft flying near Grantham
• Fly from Saltby Airfield on the Leics/Lincs border
• A full range of lesson durations available
• One month club membership with all vouchers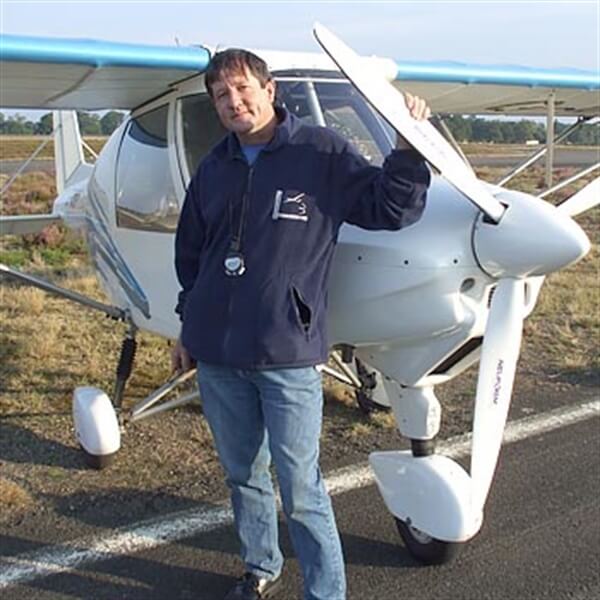 What's Included
• A trial flying lesson in a fixed wing light sport aircraft
• Welcome introduction and safety briefing
• Choose from a 30, 45 or 60 minute lesson
• One months temporary membership to the flying club
What Can I Expect
Get ready to soar over Saltby Airfield in a light sport aircraft! These flying lessons are technically in a microlight class of aircraft, but these amazing little planes look just like conventional light aircraft - just not as expensive to own and run!
If you don't know Saltby, it's an airfield that's gone from being a busy Second World War USAF base, to a tranquil rural airfield that is currently used for recreational flying and lessons today. Although the two main concrete runways remain, much of the original infrastructure has disappeared, but there are still little signs of Saltby's historic past that you might well be able to spot from the air.
Being situated in the East Midlands between Melton Mowbray and Grantham and only a short distance from the A1, Saltby Airfield is easily accessible from a wide area and it's picturesque too, lying in a lovely rural setting between Rutland Water and the Vale of Belvoir. The entrance to the airfield is off the single-track lane connecting the villages of Skillington and Sproxton and a warm welcome awaits at the comfortable and cosy clubhouse that boasts a log burning stove.
Although the flying school is small, the operation at Saltby is highly professional, specialising in teaching new aviators the skills needed to fly a light sport plane in a fun and relaxed atmosphere. The two seater Ikarus C42 aircraft is modern, well-equipped and has a heated cabin. Flying lessons at Saltby adhere to the strict rules and procedures required by the British Microlight Aircraft Association and all instructors are trained to the necessary CAA requirements, so you'll be in safe hands at this airfield.
All flight lessons include a ground briefing before you head out to the Ikarus and get ready to fly out of Saltby. Once you've climbed up and away from the airfield, it'll be your turn to take the controls and learn some of the basics of flying by completing some aerial exercises. Of course, you might prefer to take in the view and take some photos of the wonderful views, it's entirely up to you!
We are offering a full range of flight durations out of Salty airfield with 30, 45 and 60 minute lessons all available. Flying at this airfield tucked away near Grantham happens all year round, giving you plenty of time to book in for your session at a date and time of your choice once you've got your voucher.
Availability
• Weekdays and weekends throughout the year
• All flights are subject to availability and weather conditions
Location
• Saltby Airfield, Grantham, Lincolnshire
• Conveniently situated in the heart of the East Midlands, between Nottingham, Leicester, Grantham, Oakham and Stamford
Suitable For
• Minimum age 14
• Under 18s must be accompanied on the airfield by and adult
• Maximum weight 15 stone 7lbs (100kg)
• Maximum height 6ft 2 ins
• You may not fly if you are pregnant or under the influence of alcohol or drugs
• You must bring two forms of photographic ID on the day
Spectators
• Spectators are welcome
Anything Else
• Due to the lightweight nature of these modern sport aircraft they're actually classed as microlights
Reviews
Average Rating 5
Total Reviews 2
Recommend to Friend 2

Small friendly airfield. Able to help ourselves to tea and coffee. My mother and wife were taken to the control bus so they could see the comings and goings of the aircraft whilst I was flying. My pilot, Paddy, was extremely informative, helpful and polite. His enthusiasm for taking people out in his aircraft was evident. He loved his job, and loved sharing his aircraft. He very soon had me at the controls, and was calm and confident about my efforts to keep the aircraft airborne. He allowed me to keep control of the aircraft for most of the hour. A good day out, and a good experience.
mark
Absolutely fantastic! We recently bought our son a surprise one hour flying experience in a Light Sport Aircraft to celebrate his 50th birthday and it turned out to be the best present we could have given him. It was far more than just a quick flip around the local countryside and a hand shake. We first met with the pilot/owner of the aircraft in the clubhouse where our son was taken aside and given a good half hour's lecture on all the safety aspects of what he was about to experience, plus the theory side of flying an aircraft. He then accompanied the pilot to the hangars where he was given a hands-on talk on the mechanics of the craft, even helping to wheel it out onto the apron and making ready for take-off. Then came the best bit when he was finally airborne and receiving flying instructions, including taking control, guided by a man who obviously loved flying, and also his superb little 'plane. During the flight, there was the added bonus of passing over some glorious countryside and landmarks, including Belvoir Castle, and the weather could not have been kinder. Although it was billed as a one-hour event, the whole experience lasted far beyond that time, and our son has not stopped talking about it yet. So, it was definitely a great success as far as we were concerned.
Brian Bennett
{{reviews.text}}
{{reviews.user.username}} Light Sport Aircraft Lincolnshire
30 Minute Flight
Total Price
£
89.00