English
Skip to main content
Ancient Trails Pony Walking Dorset
Dorset   
REF:

TATCHD
Guided pony walks from Piddlehinton

Leisurely half and full-day treks

Discover Dorset with ponies by your side

A delicious Dorset ploughman's lunch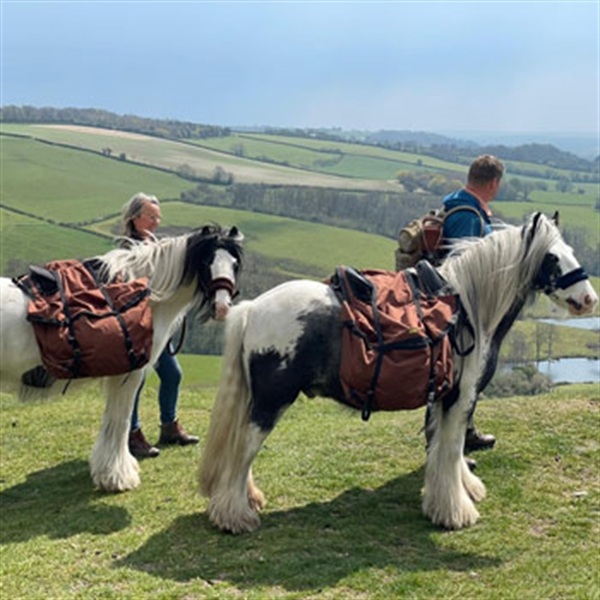 What's Included
Group pony walking session in the Dorset Countryside
Choose from a half day (3 or 3.5 hours), extended half day (4 or 4.5 hours) or full day (5 hours)
Meet at the base location to prepare for your adventure walking pack ponies
Introduction to the two ponies 
Learn how to pack the day's supplies onto your ponies before setting off on your walk
Walk along an ancient drovers' route into Dorset Area of Outstanding Natural Beauty
Lead the ponies as much or as little as your are comfortable with
Your guide will tell you stories and history of the trails and nature around you
On your return you will be shown how to unpack the ponies, help with their after care, feed them and release them into their field
Enjoy a picnic including artisan bread/savoury scones, local cheeses, handmade pickles, tomatoes, apples & watercress and drinks (cider, apple juice, tea or coffee) (during your walk on the full day experience and after your walk on the half day experiences)
Please note that this experience does not include riding the ponies
You will form part of a group of up to eight people, taking turns leading the ponies when walking
What Can I Expect
Discover the ancient trails when you go pony walking in Dorset! Leave the car parked up and walk with the adorable ponies in the most stunning parts of Dorset on these leisurely and rejuvenating guided treks with lunch included.
The couple who run these superb walks have literally done all the leg work for you. They have explored, uncovered, discovered and planned the very best routes for you to walk in their lovely corner of Dorset near Piddlehinton. They've also found the best walking buddies you could ever have - the ponies.
Evie and Bob are inseparable. They were adopted from the RSPCA and are living their best life in Dorset. At the first sign of the panniers coming out, the gypsy cobbler duo prick their ears up. This pair of ponies are the perfect companions for a walk and they love it.
Getting ready for a walk is all part of the experience. You'll learn some handy voice commands that the ponies know and you'll assist with the packing and preparation. There really is something quite liberating about taking only what you need for a day out.
And in fact, that's the whole aim of these pony walks. Positive, wholesome and energising in every way. These walks are a banquet for all the senses. Feast your eyes on the amazing scenery as you meander across heathland, breathe in that fresh aroma of the pine plantation and feel all warm inside when you give your pony walking buddy a cuddle!
Taste is also on the menu, with a ploughman's lunch inspired by the agricultural richness of Dorset. Your spread will include a selection of local cheeses, artisan breads, hand-made pickles and fresh seasonal produce too. And of course, freshly-baked scones will be in the basket too!
We are offering three, four, five and six-mile or extended walks with the ponies. Walking well-trodden paths from smuggler routes, to ancient tracks connecting farms and hamlets, these tranquil treks will open your mind and your heart. Pony walking in Dorset - where nothing beats going at one horsepower! 
Availability
Available on selected weekdays and Saturdays from April to October
If weather conditions are too hot or windy experiences will be rescheduled for an alternative date
Weekday walks begin at 10am 
Saturday walks begin at 11am
Half Day Experience
3 hour (3 miles): Tuesdays
3.5 hour (4 miles): Wednesdays
Extended Half Day Experience 
4 hour (5 miles): Thursdays
4.5 hour (6 miles): Fridays
Full Day Experience 
5 hour (approx. 10 miles): Saturdays
Location
Meeting point at Piddlehinton in Dorset
Please note that the walking routes vary and include heathland, woodland, fords, fields and trails with moderate steep sections in some parts
Suitable For
Minimum age 10
Under 16s must be accompanied by a particpating adult
Suitable for those with a moderate level of fitness
If you have any medical problems or disabilities that may affect your ability to take part please check this before making your booking
Spectators
Not suitable for spectators
Anything Else
If you have any dietary requirements for the picnic please make these known at the time of booking
Please wear comfortable outdoor clothing including long trousers and flat soled walking boots
Private groups of 6 people can be booked directly Ancient Trails Pony Walking Dorset
Half Day Pony Walking Experience
Total Price
£
49.00