English
Skip to main content
Outdoor Choice
Locations Nationwide   
REF:

ODV050
Choose from a wide choice of Outdoor Adventures
Locations across the UK
Option to top up your voucher on line
FREE premium packaging included worth £4.99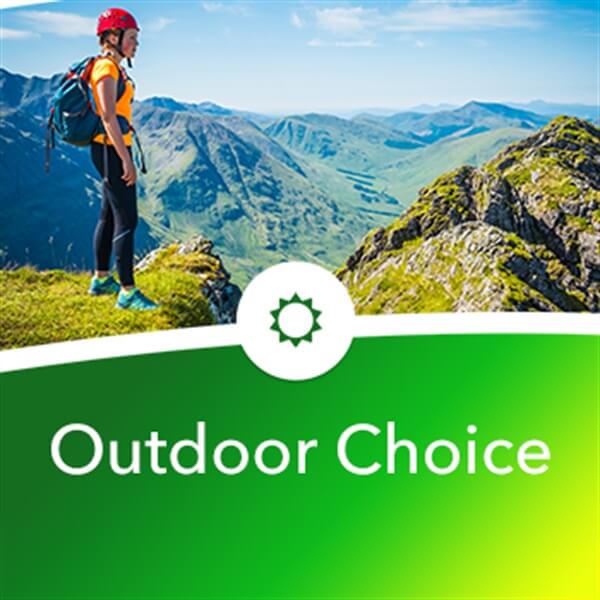 What's Included
These vouchers allow you to choose from a range of different outdoor experiences, including archery, bungee jumping and zorbing.
FREE premium packaging included worth £4.99
• Current range for £50 
Outdoor - Thrill
• Current range for £100 
Outdoor - Choice
• Current range for £150 
Outdoor - Adventure
What Can I Expect
Escape the humdrum with these top value adventure vouchers! Our Outdoor Choice Tokens give you the chance to go out and seize the day in the great outdoors. There's plenty of fun to be had courtesy of good old Mother Nature, with activities that truly bring the countryside alive.

Satisfaction factor is nearing maximum levels with these outdoor activities. Just imagine the elation you feel after conquering that steep rock face. Your sheer joy at hitting the bullseye. The delight of lighting that campsite fire just using sticks and kindling. The relief after landing safely back on the ground after your bungee jump. The sweet taste of your paintballing victory. And the glory of landing your first fish.

It has to be said, emotions will be running as high as the high ropes courses we offer. They're not all about big thrills and big adventure though. You could be heading off for a relaxing walk in the deepest countryside, or cycling along canal side tow paths. Maybe you'll choose to meet some furry friends and regal raptors with our collection of animal experiences - and you can even sponsor your favourite species for a year, if you're feeling particularly altruistic.

With all the sporty outdoor activities included on these choice vouchers, the equipment you need to get started is included in the cost of your experience. And of course, they're ideal for beginners, as all the tuition is offered. The instructors are qualified and experienced in their specialist fields. They love nothing better than getting newbies up and running trying a new sport or outdoor activity.

The beauty of these vouchers is that they are totally flexible. There's no need for the person buying the Outdoor Choice Token to select an adventure. You're buying a monetary amount in the form of a credit, so that the lucky recipient then gets the plum job of scrolling through our activities to pick the adventure experience they want to go on.

Adventure vouchers are available for £50, £100 and £150. Once registered, tokens can be exchanged online for any chosen activity (not just our outdoor ones) so there's going to be something to suit even the most difficult-to-buy-for person!
Anything Else
• Your voucher is exchangeable
• You will be able to select your chosen experience online after purchasing
• Exclusion dates may apply
• All dates are subject to availability
• Restrictions may apply and vary from experience to experience
• Please note the range of participating venues is subject to change
• Vouchers can be redeemed against any Into the Blue experience