English
Skip to main content
The Virtual Chocoholic
From the comfort of your own home   
REF:

MYVCM1
• Join the live truffle making online party!
• Hosted online by an expert chocolatier
• A ready-to-go kit delivered to your door
• Learn how to ganache, pipe & decorate truffles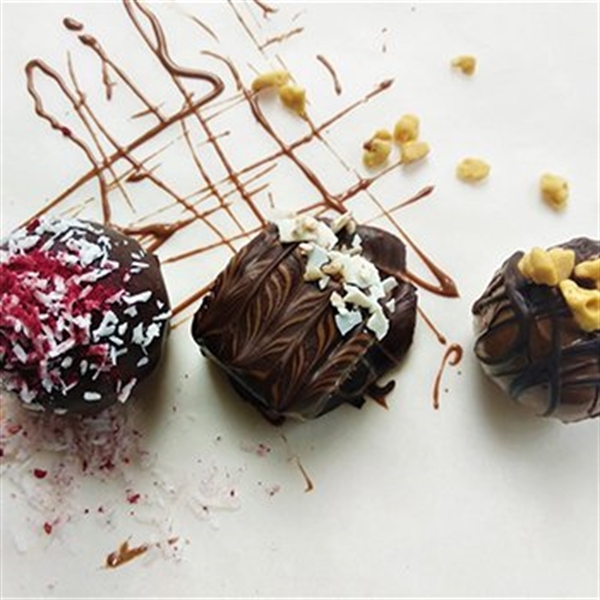 What's Included
• Enjoy an online, live streamed workshop
• Make delicious fresh cream chocolate truffles in the comfort of your own kitchen
• Learn new chocolate skills and be entertained by the charismatic chocolatier
• Learn how to mix your ganache, piping techniques and how to decorate using techniques such as marbling and caging
• Guide on flavour combinations you can craft from your kitchen cupboard
• Hints and tips for the workshop and an easy guide to tempering chocolate
• Live workshops last approximately one hour
• A truffle kit direct from the chocolatier, will be sent to your chosen address

Truffle Making Kit (per person)
• Ingredients to make approximately 12-18 truffles
• 250g Belgium Dark Chocolate
• 200g Belgium Milk Chocolate
• Decorations: Coconut, honeycomb cinder pieces, Berry Dust and White Chocolate Flakes
• 1 x piping bags
• 1 x parchment paper
• UK Postage is included


What Can I Expect
Stay connected to the cocoa with an online chocolate making workshop! If making delicious chocolate truffles is what online learning is all about, we want to be star pupil. Get going with the ganache, piping and decorating with a brilliantly entertaining chocolate making webinar.
Live and direct from the expert chocolatier's laboratory, you'll be joining in live for your online chocolate making experience. You'll be taking part from your own kitchen, learning how to make the tastiest truffles around.
In advance of your online class, you will have received your ready-to-go 'at home' chocolate making kit by courier. These neatly pre-packed kits will make around 12-18 truffles and the only ingredient you need to add is fresh cream or coconut cream.
During your one-hour online workshop your chocolate expert host will take you through truffle making one step at a time. Having tempered your chocolate beforehand (there's a step-by-step online blog for that!), you will then copy what your chocolatier host is doing to create your very own hand-crafted truffles.
Just like any good online party, there'll be lots of banter and loads of giggles, as you have a good time making chocolates via the wonders of online video sharing. You'll be shown how to whip up ganache, given the best insider tips on decorating, learn the best piping techniques and see how you can come up with some fabulous flavour combinations.
And of course, at the end of your online chocolate making session you've got a whole load of tasty truffles to scoff offline at your leisure! Get truffle making live and direct from your own home when you book your place on the best online chocolate party out there!
Availability
• Regular weekday and weekend dates at scheduled times of the day
Location
• From the comfort of your own kitchen
• Kits can only be delivered to to mainland UK
Suitable For
• All chocolate lovers!
Anything Else
• Once you have registered your voucher, follow the online instructions and you will receive a welcome email including:

• Equipment list (super simple stuff)
• Blog post: 'Easy guide to tempering chocolate'
• Details on how to join the Live Chocolate Truffle Making workshop
• Some quirky ideas to get your creativity flowing. Including crazy flavour combos, crafted from your own kitchen spice cupboard
• Your truffle kit, will be sent to your chosen address, directly from the chocolatier

Please note:
• You will need a good internet connection for this experience
• Sign up for a free zoom account
• You will need a device to stream the workshop (phone, tablet, laptop or computer)
• A device with a large screen is recommended so you can see the chocolatier clearly
• Tempering should be done prior to joining the workshop (instructions provided) The Virtual Chocoholic
Virtual Truffle Making Experience and Kit for One
Total Price
£
36.00