English
Skip to main content
Flying Lessons North Weald
North Weald Airfield, Essex   
REF:

NWF230
• Trial flying lessons from North Weald airfield
• CAA Approved Training Organisation
• Two and four seater aircraft available for lessons
• 'Air Experience' combines sightseeing & tuition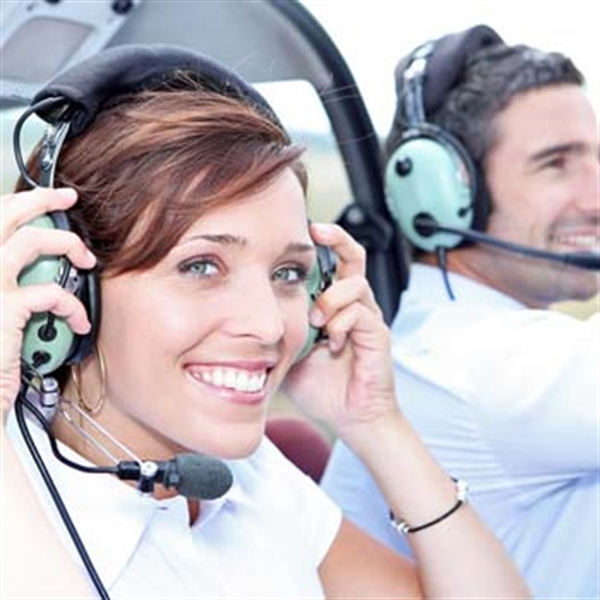 What's Included
Trial Lessons
• After a welcome and introduction your instructor will talk you through the pre-flight checks
• Options of 2 seater Cessna 152 or 4 seater Cessna 172
• Once airborne you will have the chance to take the controls and fly the aircraft
• All flight durations are from 'brakes on to brakes off'
• Instruction flying time will count towards your pilot licence training should you decide to start lessons

London Air Experience
• 60 Minute flight
• Although still a trial lesson you will have a more scenic tour taking in a range of interesting sites including The Thames Barrier, O2, Canary Wharf and the Olympic Park with views of the London Skyline
• Flights are taken in a four seater aircaft with one participant up front with the pilot and the other in the rear seat
• Experiences can be offered on a 1:1 basis in a 2 seater if required
• Please allow 1.5-2 hours on site for this experience
What Can I Expect
Aviation history and impeccable training combines on North Weald airfield flying lessons! This flying school is the only CAA Approved Training Organisation operating out of North Weald, so you'll be in good hands for your first foray into flight. What's more, it's a fantastic location…
Well-placed in the North Weald Bassett area of Essex, this airfield is steeped in aviation history and in fact, the whole aerodrome is Grade II listed, with one of the hangars dating back to 1927 and the Officer's Mess still standing. Flying started here way back in 1916 and North Weald was very much frontline in the Battle of the Britain. Home to squadrons from a multitude of allied countries, the RAF finally moved out in 1964.
But that didn't spell the end of flying at North Weald. Far from it, in fact. General Aviation quite literally took off here and today you might well encounter resident warbirds during your lesson, so don't be surprised if you taxi past a Kittyhawk, or have to give way to one of the GNAT display team coming in to land. And there's the fascinating North Weald Museum on-site too.
Facilities have been maintained to a superb standard too, with the imposing control tower overlooking the two concrete and one grass runway and a network of paved taxiways. This allows the flight training school to operate in all seasons at North Weald, flying 362 years of the year, seven days a week. Because of this, there is a dedicated instruction and operational team working year round at North Weald to train up budding pilots.
For your experiences it's all about an introduction to the wonders of flying over the Weald, with both two and four seater planes available. Lessons are carried out as though they were the first in your pilot flight training programme, including a full explanation of the aircraft and instrumentation in your pre-flight ground briefing - so you'll certainly feel prepared and ready to get airborne over North Weald!
As well as the usual 30 and 60 minute sessions at North Weald airfield, flying lessons can also be combined with sightseeing on the special Air Experience for two. You will still undertake flight training, but your flight path will take you to the Dartford Crossing to follow the Thames towards London, so your rear seat passenger gets a bird's eye view of the likes of the Thames Barrier, the O2 and the Olympic Park, returning to North Weald via Epping Forest.
Availability
• All flights are subject to weather conditions and air traffic control clearance

Trial Lessons
• Weekdays and weekends throughout the year

London Air Experience
• Selected Saturday afternoons and Sunday mornings
PLEASE NOTE:  This experience is fully booked until September (updated 22/04/22)
Location
• North Weald Airfield, Essex
Suitable For
• There is no minimum age however for flight time to count towards gaining your licence the minimum age is 14
• Under 18s must be accompanied by an adult on the airfield
• Photographic ID will be required on the day

Two Seater Restrictions
• Maximum weight 15 stone
• Maximum height 6ft 1 ins

Four Seater Restrictions
• Maximum weight 17 stone
• Maximum height 6ft 3ins
Spectators
• Spectators are welcome to attend and watch participants in flight with plenty of great photo opportunities
• Participants of the four seater experiences are allowed to bring an interested observer (min age 14) who can observe the lesson from the rear seat (at the discretion of the flight instructor and subject to weather conditions)
Anything Else
• Although time slots are allocated please be aware that aircraft lessons are subject to a number of factors which may cause delay to your scheduled time. Whilst every effort will be made to help keep you on time we ask for a degree of flexibility due to the nature of flying, air traffic delays and weather considerations
Reviews
Average Rating 5
Total Reviews 6
Recommend to Friend 6

A great experience, second to none.
Dave Edgell
What a brilliant experience! Flew out of North Weald and was great to share the experience with my young daughter who got to sit in the cockpit with me before take-off. Mark the pilot was great, and was fortunate with the weather to be able to see for miles! Got some great pics of some important places to me and felt like we were up there for ages. A lifelong dream fulfilled! Amazing day...thank you
Michael Hadjimichael
Everything better than expected
Andy Sheridan
Excellent. Thanks!!!
Arturas
Absolutely loved the experience. They were running a little late due to fog but that just meant that we had time to have food & drinks in the cafe. North Weald is a great location with so much going on & was brilliant as my little boy could watch me taking off & landing & was even allowed to look at the planes & sit in the cockpit etc which just made the whole day more special for us. The pilot was brilliant & I was amazed at how long I actually got to fly the plane for. I highly recommend it. I was bought it as a present & it was really different & very special
CJ Smith
{{reviews.text}}
{{reviews.user.username}} Flying Lessons North Weald
30 Minute 2 Seater Lesson
Total Price
£
89.00