English
Skip to main content
Helicopters Bournemouth
Bournemouth Airport   
REF:

HL30BH
• Helicopters at Bournemouth International Airport
• This heli school has an excellent reputation
• Four-seater Robinson choppers used for lessons
• See the Dorset country & coastline from the air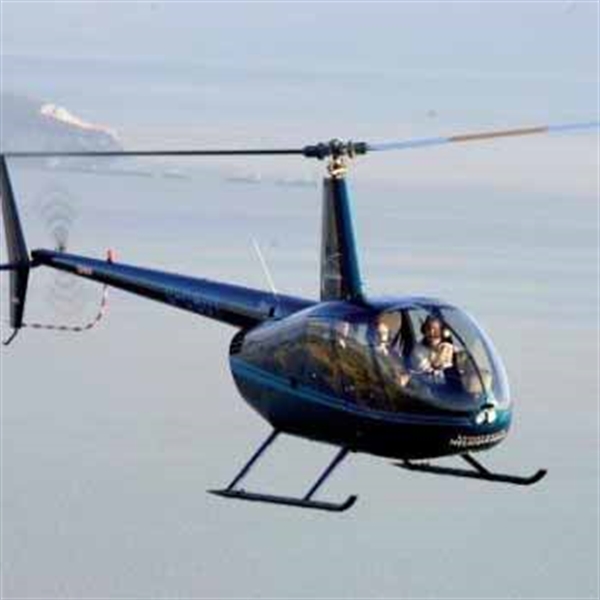 What's Included
Trial flying lesson in a 4-seater R44 helicopter
Pre flight briefing and safety checks
30 and 40-minute flights are available
Once airborne you will be given as much ''hands on'' flight time as possible
One observer may be able to enjoy the lesson from the rear seat, at the pilots discretion and subject to weight restriction
Complimentary premium gift packaging from Into The Blue
What Can I Expect
Hop onboard for some aerial fun with these helicopter lessons out of Bournemouth! This school offers 30 or 40-minute lessons in four-seater helicopters, which are maintained and flown from the bustling Bournemouth International Airport.
This centre was set up in 1994 by Gary Ellson. He became passionate about rotary flying after he himself took a trial flight in a heli. Gary then trained for his Private Pilot's Licence - and then bought a training school! Based on the west side of the airport amongst the other civil aviation operators, this school has gained an excellent reputation over the years.
Their policy is to constantly renew aircraft, so all of the fleet here is modern. Having used a variety of helis over the years, the company now has the four seater Robinson R44 as the main training aircraft. With its semi-rigid two-bladed main rotor and skid landing gear, the R44 has a long-standing reputation as one of the best four seater trainers used worldwide.
Before you get to see these flying machines close up, you will have an induction at the Bourne2Fly clubhouse - the main building of the school, with lounge, briefing room and student study area. Here you'll be introduced to your pilot instructor who will be hosting your experience. Once the safety briefing is done, you will head out to the helipad, which is, conveniently for your friends and family who want to watch, right in front of the clubhouse.
As you go through the pre-flight checks you will learn what each of the controls do and before you know it you are high above the airport. The main flight path is to head directly towards the Dorset coastline, routing down along the beach. If you live locally, an itinerary might be possible that allows flying over your house.
All flight durations on helicopter lessons in Bournemouth are based on from when the rotors start turning, to when they come to a halt and including any hover time (which is the one thing every budding helicopter pilot is eager to experience!). All experiences include 'hands on' time when you will be learning how to control the helicopter yourself. If you are really taken with helicopters, all lessons count towards your PPL-H licence that you can carry on with at this friendly school in a wonderful part of Dorset.
Availability
Weekday and weekend dates throughout the year
Flights are subject to availability and weather conditions
Location
• Bournemouth Airport
Suitable For
Maximum height is 6'4"
Maximum weight limit is 16 stone
Spectators
Spectators are welcome to come along and view your flight Helicopters Bournemouth
30-minute Four-seater Helicopter Flight
Total Price
£
359.00