English
Skip to main content
Flyers Choice
Locations Nationwide   
REF:

FCV050
Choose from a wide choice of Flying Experiences
Locations across the UK
Option to top up your voucher on line
FREE premium packaging included worth £4.99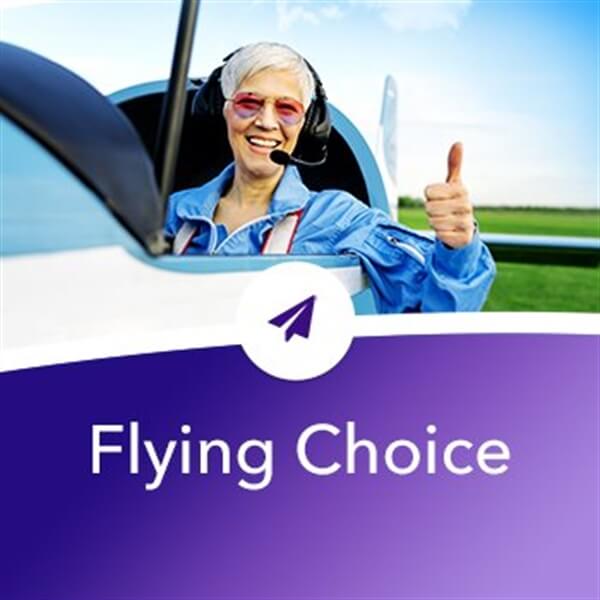 What's Included
These vouchers allow you to choose from a range of different flying driving experiences, including hands on lessons, sight seeing, simulators and more.
FREE premium packaging included worth £4.99
• Current range for
Flying - Thrill
• Current range for
Flying - Choice
• Current range for
Flying - Adventure
What Can I Expect
Reach for the skies with these flying vouchers! A Flyers Choice Token gives you the chance to get airborne with a huge range of flying gift experiences. From a hands on lesson where you take control, to scenic sightseeing flights, we've got loads of different ways for you to head up, up and away into the blue, blue sky.
Ever since time began, us humans have been fascinated by flight. These gifts bring all those aeronautical ambitions to life, in one simple voucher. The way it works it easy. Flying voucher holders browse our flying experiences and make a straight swap online, or you can use the value of the voucher towards a more expensive activity and top up the extra.
What's more, lucky wannabe aviators get to choose just which aircraft to fly in. It could be soaring above the rolling hills in a glider, getting whirly in a helicopter, feeling the wind in your face on an open-cockpit microlight flight, or floating serenely over that glorious patchwork of fields in a hot air balloon.
You don't even have to leave the ground to get those high-flying sensations. Simulator experiences are some of our most popular flying presents, where you get to sit in the captain's seat and be at the helm of anything from a military plane, to a large commercial airliner. And you get to fly the magnificent machine pretty much wherever you want, as this is the virtual world of flying after all.
It's also true to say that we have one of the most comprehensive collection of flying gifts out there. We've got flying schools located at airfields and aerodromes around the country, so no-one will have to travel very far for their aerial adventure. And there are lots of options for flight durations as well, whether you dip your toe in with a 10 minute heli hover, or go for the pack of lessons on the road to becoming a qualified pilot - Ray Ban aviator shades and all!
Our flying vouchers are available to buy online in £50, £100 and £150 amounts. Don't forget, they are all totally flexible and can actually be put towards any IntotheBlue experience day.
Anything Else
• Vouchers can be redeemed against any Into the Blue experience
• You will be able to select your chosen experience after purchasing
• Exclusion dates may apply
• All dates are subject to availability
• Restrictions may apply and vary from experience to experience
• Please note the range of participating venues is subject to change Flyers Choice
Flying Thrills
Total Price
£
50.00