English
Skip to main content
Flight Simulator Glasgow
Glasgow International Airport   
REF:

SIMLE3
• Flight simulator training at Glasgow Airport
• Learn how to virtually fly on these 1:1 sessions
• Excellent in-cockpit training by qualified pilots
• Each experience is geared towards the student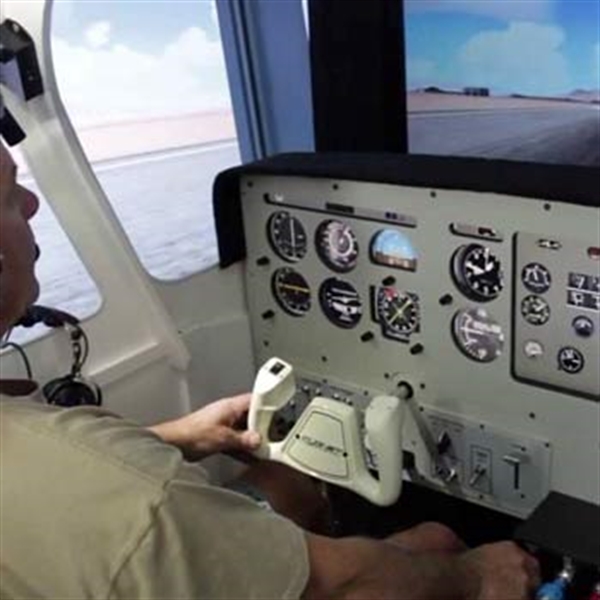 What's Included
• A flight simulator session for 30, 45 or 60 minutes
• The simulator is generally configured to replicate a single engine Cessna 172 or twin engine Piper Seneca
• One to one tuition by a commercially qualified pilot
• Learn the basic controls used by todays airline pilots to safely fly you to your destination
• The simulators are fixed base and do not move
What Can I Expect
Rainy day in Scotland and you want to fly? No problem, book in for a session on the flight simulator in Glasgow! Bad weather won't stop play here at this flight training school based at Glasgow International Airport, so you can clock up hours at the controls all year round.

This Glasgow Airport flight simulator sits in a ground-school training room of one of the airport's leading training organisations. Part of a multi-site company, this operator has a large fleet of planes, engineering and hangarage facilities, as well as excellent training from highly-qualified instructors in all aspects of aviation, including simulated flight.

This is a fixed-base, generic simulator that can be adapted to the needs of the student. It attracts both pilots in training and those practising for conversions. One of the most popular uses is for already qualified pilots who want to learn night and instrument flying, both qualifications above and beyond the standard PPL pilots licence.

All this means that the sim has to be up to scratch and this one at Glasgow certainly is. It's FAA approved for training purposes, including ILS flights. That's to say Instrument Landing System, where the pilot uses a radio signal navigation aid for the approach to land, often because of poor visibility or bad weather.

What we love about sim sessions in Glasgow is that the technology isn't purely the reserve of for pilots, us amateurs are very welcome too. This means you can fly the very same sim that's used by commercial and general aviation pilots. And yes, you too can even have a go at flying a night, in bad weather conditions or set the flight path to a particularly hairy mountainous airport like Innsbruck.

If you have experience of using a home PC flight simulator you'll be familiar with the principles of flying, so you'll certainly hit the ground running, as it were, on these experiences. Total beginners will not be at a disadvantage as each sim session here in Glasgow is geared to the student, so you will maximise your learning during your time in the cockpit.

Of course, the final glorious flourish for anyone who's Captain of a virtual flight is to execute that perfect landing with the nose dropping down gracefully right on that centre line of the runway (and with no bounce!). Hopefully this will be the case for you and by the time you've finished on this flight simulator in Glasgow you'll feel you've well and truly earned your pilot's stripes!
Availability
• Selected weekdays and weekends throughout the year
Location
• Glasgow International Airport
Suitable For
• The minimum age limit is 12
• Under 18s must be accompanied onsite by an adult
• Suitable for complete novices, domestic passengers or fully trained pilots
Spectators
• Spectators are welcome to wait in the reception area Flight Simulator Glasgow
30 Minute Simulator Session
Total Price
£
80.00