English
Skip to main content
Dads and Lads Tank Experience
Near Market Harborough   
REF:

DADTNK
• A tank experience for parents and kids together
• Ride in a 17 tonne armoured personnel carrier
• Fire the onboard 40mm paintball cannon
• Mum or Dad then drives laps of the tank circuit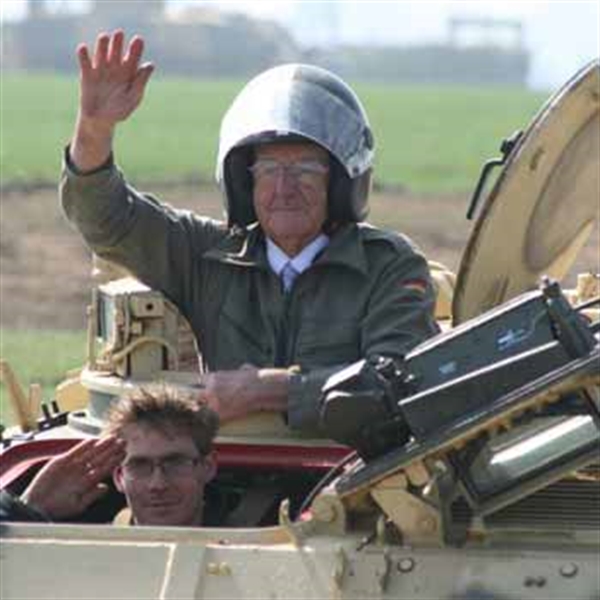 What's Included
• This voucher is valid for one adult and one child
• The experience lasts approximately 45 minutes although longer duration
tank drives
are available
• Ride with an instructor before target shooting with the main 40mm paintball cannon
• One adult will then drive the tank
• Overalls and helmets are provided as required
• FREE entry to the Museum displaying a large military vehicle collection
What Can I Expect
We salute you on our Dads and Lads Tank Experience in Leicestershire! Of course, Mums and Daughters or any combination of the above are welcome too on this mud-filled driving and shooting extravaganza - the only prerequisite is that one person aged 16 years or over drives and one is the passenger (can be an adult or a child aged at least eight).
Lads and lasses alike will love this centre located just outside Market Harborough in south Leicestershire, as this special armoured vehicle driving adventure is authentic and action-packed. You will immediately get into the spirit of the day as you are kitted out in proper military overalls and army-style helmets.
You will both head out to meet the fiendish FV432 tank. This type of armoured personnel carrier, although no longer on the front line, is still an integral part of military operations and it's a real coup to be able to get up close to, ride in and even drive one these fully tracked tanks.
To start off, you will both be passengers in the 17 tonne beast, thundering along the beautiful Leicestershire countryside, which is actually a former WW2 bombing range. One of the professional instructors will be at the controls so you will find out just what these FV432s are capable of on the battlefield.
You will then pull up in a strategic position ready for the second part of your experience. It's time to get ready for battle as you will be firing the air cannon to try and obliterate the targets in the field of combat in front of you. Taking it turns to load and fire, you will be working that 40mm air cannon mounted on the front turret of the tank - it's all about the dads and lads working as a team at this point!
Once the enemy targets have been neutralised, you will be safe to get back to the business of driving this metal monster. The nominated driver (who must be over 16 and is usually Dad!) will then be under the spot light as it's your turn to get the FV432 rumbling around the track. Once you have the controls sussed, you will head off on two laps of the circuit.
That all might be pretty easy (and great fun) but the Dads and Lads tank experience concludes with a bit of a tricky challenge - negotiating the same track once more, but with the hatch closed! Yes, this is what it's really like commanding a tank in a war zone, as you trundle over the bumps and troughs using only the periscope to navigate the way - and of course, your partner will be with you as a passenger.
Availability
• Saturdays, Sundays and selected Wednesdays April until October
• Selected Saturdays October until April using a Russian BRDM as a substitute vehicle
Location
• Market Harborough on the Leicestershire/ Northants border
Suitable For
• One adult/driver and one child/passenger
• Minimum age is 16 years for Adult/Driver
• Minimum age is 8 years child/passenger
• If taller than 6'4" or heavier than 22 stone you may find it difficult to drive some vehicles. Access to some vehicles involves climbing into tight spaces
Spectators
•
Visitors are welcome for a small charge payable on the day, which includes entry to the Military Vehicle Collection and gives access to the viewing area
• Children must be supervised at all times
• Passenger places are available to purchase for a fee of £25 per person (subject to availability) which also includes entry to the vehicle collection
Anything Else
• There are toilets and changing facilities on site with drinks and food available to purchase
Reviews
Average Rating 5
Total Reviews 20
Recommend to Friend 19

Hi, this was a 70th birthday present from my daughters and it was absolutely brilliant. I would recommend it to anyone, Alex the young man who showed us round and told us what to do was excellent pointing our all the safety features and really good when I actually drove the tank. if anything I would of liked longer but I know that would of cost more money, my husband wants to 'do it' now. Although tee shirts are very tasteful I would of liked some sort of a picture of a tank on it. Absolute fabulous time
Trish Brown
Fantastic present for my boys! Daughter wants to have a go now too. Thank you for making it special for them. The staff were great. The museum was amazing & kids loved it too. Great price on the disc of photos too & makes a change not to be ripped off. Well done all!
Georgina
Brilliant day, we all loved it Make sure you take your wellies
Amy
I got this for my husband & 11 year old son, as a Christmas present, and they loved it! Having watched Band of Brothers together, it gave them a taste of what it might be like in a tank, but with more fun, as they fired paintballs! Myself & my daughter watched, and went around the on-site museum. A fun experience.
Emma Marshall
Had a most enjoyable tank driving experience with my grandchildren. Definitely worth a visit.
Kurt Flinter
{{reviews.text}}
{{reviews.user.username}}