English
Skip to main content
Dukes of Hazzard Experience
Locations Nationwide   
REF:

P16LEE
Drive a 'General Lee' styled Dodge Charger
Imagine yourself in the classic 80's TV show
3 or 6 mile options to choose from
Nationwide Locations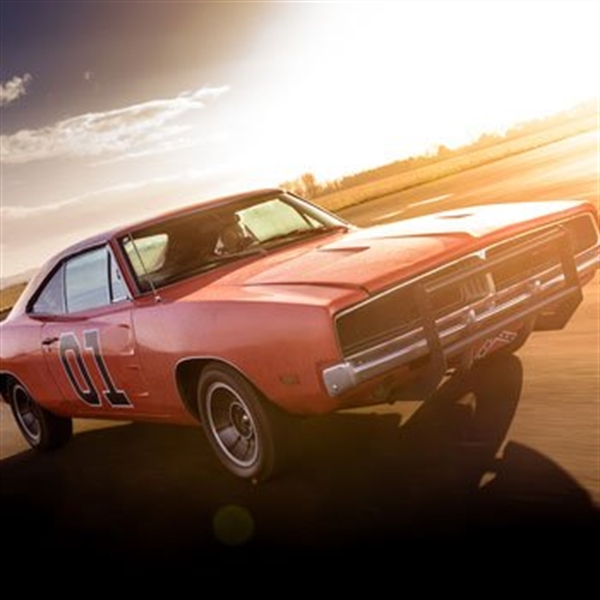 What's Included
Drive a 1969 General Lee Dodge Charger
Choose from a 3 or 6 mile experience
Welcome, introduction and safety briefing
Experience driving round a real race track
Fully qualified instructors on hand throughout your experience
Allow at least an hour on site
What Can I Expect
Remember Bo, Luke and Daisy Duke? Then you'll love this Dukes of Hazzard experience! Jump into the authentically-styled Dodge Charger and drive - just like the boys did when Sheriff Rosco P. Coltrane was on their tail!
The boys' car was known as General Lee thanks to the massive confederate battle flag that adorned the roof of their bright orange Dodge Charger. With 01 painted on each of the doors and fancy alloy wheels, this big-bonneted car got the duo into and out of rather a lot off scrapes and predicaments, often involving County Commissioner Boss Hogg saying: 'Roscoe, arrest them Duke boys' and Roscoe replying: 'I'm gonna cuff ya and stuff ya!"
Of course, you won't be driving this gem of a car on the dusty roads of Hazzard County, Georgia. We've got a selection of proper smooth tarmac tracks for you to to take the General on. They'll be no road gap jumps or car chases, but you will be able to put your foot to the metal and you could find yourself reaching 100mph on the long straights - not bad for a car from the late 1960s.
As far as we know, these are the only General Lee driving experiences in the country. During filming for the Dukes of Hazzard 309 Chargers were used, with the increasingly hair-raising stunts meaning on average one car per episode was completely trashed. Little wonder then that these classic Dodges became rarer and rarer and they started to become very expensive to replace.
Luckily for you, the team that runs these superbly nostalgic experiences has found a pristine Charger to become a very good looking General Lee. We can't promise that the customised air horn will play 'Dixie', that Tammy Wynette will appear on the 'Celebrity Speed Trap' or that you'll be invited for a bit of country dancing at the Boar's Nest afterwards, but we can be sure that this is the ultimate in all-American boy racer cars!
Each Dukes of Hazzard experience gives you the chance to charge around the track in your General Lee Dodge after a welcome and safety briefing. It's up to you whether you plump for three or six miles in this iconic lookalike car, but just remember if you hear 'Shepherd' (Uncle Jesse) or 'Bo Peep' (Daisy) calling the 'Lost Sheep' on the CB radio, that's you!
Availability
Selected weekday and weekend dates throughout the year
Sessions are available from 08:30 to 15:30
Location
Cornwall  Perranporth Airfield (bi-annual event)
Crawley  Haywards Heath
Hampshire  Farnborough Circuit (limited dates)
Ipswich

 

Wattisham Airfield
Lincolnshire  Blyton Park
Northampton  Sywell Aerodrome
Norwich  Tibenham Circuit
Oxfordshire  Abingdon Airfield
Oxfordshire  Bicester Circuit
Oxfordshire  Bicester Heritage (limited dates)
Staffordshire  Lichfield Race Track
Sunderland  Warden Law Motorsports Centre
Warwickshire  NAEC Stoneleigh
Wigan  Three Sisters Circuit
York  Tockwith Circuit 
Premium circuit upgrade available for a supplement (payable directly when booking)
Wiltshire  Castle Combe Circuit - £25 (full driving licence required)
Surrey  Dunsfold Airfield - £35
Most venues are airfield style circuits with large run off areas
All locations are subject to change and are updated regularly
Suitable For
Minimum age 17
Under 18's must be accompanied by an adult
Full Driving Licence required
Minimum height 4ft 5ins
This is not suitable is you have suffered from back, neck or knee problems
Spectators
Spectators are welcome to come and watch
Anything Else
All drivers on the day will have the option to pay a non-refundable £25 damage waiver which will cover them against any damage that may be caused to the vehicle(s) in the event of an incident
Drivers who do not wish to take this waiver will need to sign a disclaimer and will need to be able to cover the cost on the day for any damage to the vehicle up to a maximum amount of £5000. Credit card details will need to be provided with £5000 limit or above for this reason. Debit cards are accepted however please be aware a pre-authorisation applies to debit cards to check funds are available
The vehicle used in this experience is an authentic 1969 Dodge Charger however it was not used in the filming of the Dukes of Hazzard
Once you have booked your date with the supplier should you need to to cancel within 7 days of your booking, a charge of £29 per car to re-book will apply.  This also applies to cancellations due to Covid.
Cancellation cover is available at the time of booking your date for £20 which would cover any last minute cancellation.
Reviews
Average Rating 3
Total Reviews 5
Recommend to Friend 3

Had a great driving experience. I will have to come again.
Peter Gibson
Had a great time, all personnel involved we're great and mad the day better than ecxpected
David
It was an amazing experience. Really well organised. Great fun time.
Si Rollinson
These people aren't for real. Both myself and my friend bought a six lap experience but were only given 5, we both queried out while in the car but were told it had been six laps. We both bought the video offered and checked and hey presto we had had 5 laps. Even then they still denied it until I sent them the video. For one of us to be given 5 laps you could put down to a mistake , but both!!! The video and photos offered are dark so you can't see faces in the car properly.
James Sanders
Unfortunately after a two and a half hour drive I was greeted with the General Lee sitting around with his bonnet up. Told I wouldnt be able to drive it so went to rebook to be told it was ok. Sat through the scare briefing to find.... its broken down again. Waited 2 more hours hoping it to be fixed but wasnt. Went home dissapointed now trying to get a refund. Nice cars, need looking after better I say. More info from the car chase heroes crew would have helped, obviously not Into the Blues fault.
Nigel Lush
{{reviews.text}}
{{reviews.user.username}} Dukes of Hazzard Experience
3 Miles Driving General Lee
Total Price
£
39.00