English
Skip to main content
Afternoon Tea on the Belmond British Pullman
Departing from London Victoria    
REF:

BPCTEA
Afternoon tea onboard the Belmond British Pullman
A half bottle of Champagne for each passenger
Lap up the sheer luxury of these restored trains
A dedicated steward looking after your carriage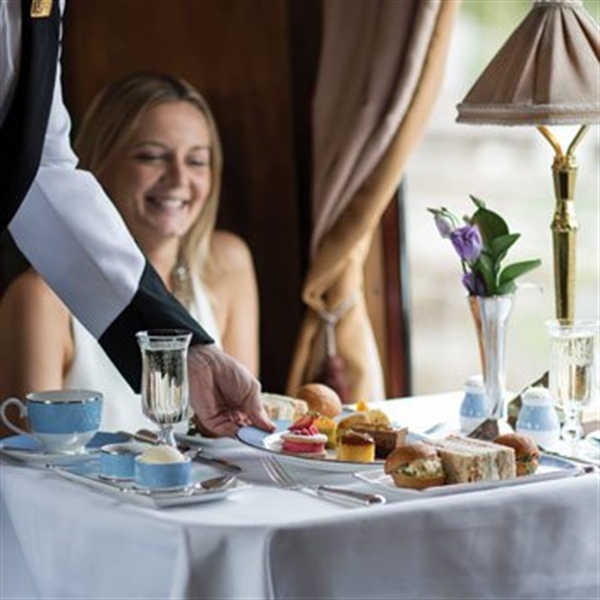 What's Included
Champagne Afternoon Tea on the 1920s Belmond British Pullman includes:
Round trip aboard the Belmond British Pullman luxury train
Great British Afternoon Tea including sandwiches and savouries, pastries and scones
Half a bottle of Champagne per person during the Afternoon Tea
Coffee, tea and petits fours
Excursions last approximately 3 hours looping back to the departure point
Complimentary premium gift packaging from Into The Blue
What Can I Expect
Feel like guests of honour when you partake in a Belmond British Pullman afternoon tea with a Champagne sparkle! A warm welcome is assured, the views from your carriage window are wonderfully picturesque and the surroundings are sumptuous.
This posh afternoon tea on the move departs from London's Victoria train station. Away from the madding crowds scrambling for their packed commuter trains, you'll find the Belmond check-in bureau. Join the gathering of your fellow voyagers, as you await the arrival of the Belmond British Pullman. As she glides majestically onto the platform, you can't help but feel ever so slightly emotional, such is the beauty of these vintage carriages.
Each carriage is individually named, with its own unique story in rail history to tell. 'Cygnus' was chosen to be part of Sir Winston Churchill's funeral train, whilst the likes of 'Ione' and 'Audrey' have both carried VIP guests, from Heads of State to Royalty. If only the carriages could talk, they'd have some tales to tell!
Indeed, these are not replicas, they are genuine luxury Pullman carriages that have been skilfully restored. They now shine proudly once more, right down to the solid brass fittings. The hand-crafted artisan marquetry wood inserts you'll spot in the walnut wood panelling around each carriage are simply exquisite. Even your afternoon tea is served on specially-commissioned Belmond British Pullman fine bone china crockery.
That personal touch continues as you climb aboard the train, welcomed by your uniformed steward who will be looking after you for the duration of your voyage. These afternoon tea journeys are round trips through London into the Home Counties, with plenty of time to enjoy the views, the opulence of the setting and the delicious sweet and savoury treats too.
Of course, the best afternoon teas are accompanied by a bit of bubbly and this Belmond British Pullman afternoon tea does that in style with a half bottle of Champagne for each passenger. All that remains for you to do is sit back in your armchair seat and relish every single moment, as freshly brewed tea is poured from a tall silver teapot and warm scones are served, along with all the usual teatime goodies.
The Belmond British Pullman afternoon tea is wonderfully evocative of the bygone age of luxury rail travel. With some of England's finest scenery and attentive on-board service, it's a treat to behold for all ages.
Availability
All dates are subject to availability
As these train journeys are very popular please allow plenty of time to book
Departures vary and a confirmed schedule will be supplied upon booking
Vouchers are valid for trips up to the voucher value. Prices for experiences may vary in line with demand. You may need to look further ahead for a date of equal value or if you wish to travel on a date that does not correspond with your voucher or upgrade to an alternative experience, you may pay a supplementary fee. No refunds will be made for bookings that have dropped in price
Location
Departing from London Victoria the circular route usually travels through Surrey or Kent
Suitable For
Smart day wear is requested to be worn on board the British Pullman - please do not wear jeans, men may wish to wear a jacket and tie
Because of the vintage nature of the train wheel chair access is not possible onboard, help is available for passengers with disabilities, with facilities to stow folding wheelchairs.
For the comfort of all, this is a non-smoking train throughout and passengers are asked to turn off their mobile telephones whilst on board
If you have any special dietary requirements, please advise us when booking and we will do our best to comply. We are, however, unable to provide meals requiring strict religious observance in their preparation
Anything Else
There are four different styles of Pullman carriage, seating between 20 and 26 passengers with various seating combinations made up of tables for one, two or three and private compartments seating four. Please note that at busy times, parties of two may be seated sharing with another party of two. Parties larger than four will be seated at a combination of tables
The value of this voucher can be exchanged or used as part payment for other journeys at the time of booking with Belmond
Vouchers are valid for trips up to the voucher value. Prices for experiences may vary in line with demand. You may need to look further ahead for a date of equal value or if you wish to travel on a date that does not correspond with your voucher or upgrade to an alternative experience, you may pay a supplementary fee. No refunds will be made for bookings that have dropped in price
The Belmond train is usually pulled by a diesel locomotive, but for steam enthusiasts selected dates are available with the addition of a historic steam hauled locomotive to pull the iconic carriages, this incurs an upgrade fee payable when booking your date