English
Skip to main content
Brewery Experience Day at Brewhouse & Kitchen
23 Venues   
REF:

BAKBED
Full day visit to the B&K near you
Breakfast, lunch & beer included
See the work of the head brewer
Head home with a 5l mini keg of beer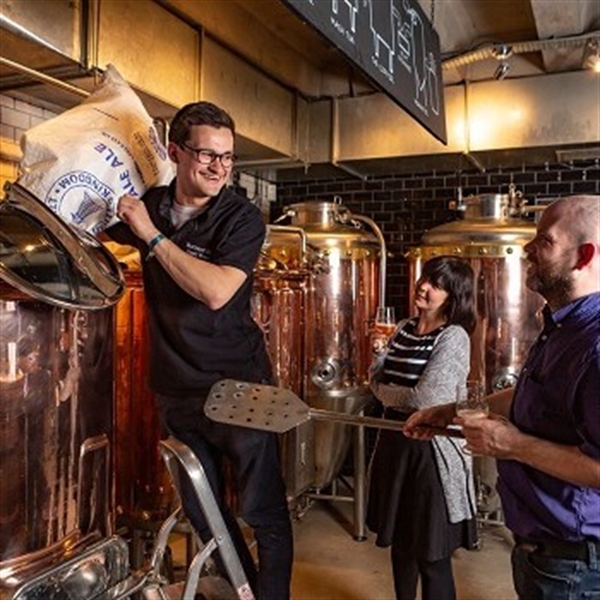 What's Included
Hands-on day, brewing craft beers with a head brewer
Start your day with a breakfast (eg bacon roll or vegetarian option) and tea or coffee
Get involved and learn about the magic behind brewing beers
Sample 8 different craft beers - including the beers brewed in the microbrewery
Lunch is included
Experiences last approximately 7 hours
Take home a certificate and a 5 litre mini keg of your chosen B&K brewed beer
What Can I Expect
'Is there a brewery experience I can visit near me' you ask? Yes there is! This award-winning group of brew pubs is opening its doors (and those copper vats) to let you, the beer-lovers of the UK, peak into the magical world of brewing craft beer in a pub.
These full-day experiences will see you spending the day with the head brewer and their team at a B&K near you. The visit gets off to a cracking start with a brew (of the tea or coffee kind) and breakfast. After a little intro to the company and brewing craft beers, it's time to see what it's all about.
Small-batch, artisan brewing is fascinating to watch. It takes a lot of skill and experience, with every in-house brewer watching over their latest batch like a newborn baby. It's a satisfyingly manual process, with ingredients being added by hand to create that perfect craft beer.
Of course, throughout the visit you'll be able to pose all the questions you've ever wanted to ask about beer. What's the most difficult beer to brew? How long does it take to ferment? What temperature should you serve beer at? Can you alter the ABV of a beer? When can you first taste the beer you've made?
Talking of tasting, a brewery experience wouldn't be a proper day out with a tasting would it? This visit goes one step further; as well as testing all the beers brewed on site and some of their favourite guest beers, you'll be invited to lunch. Nothing can beat sitting down to a tasty pub lunch with a nice pint of craft ale.
Having learnt all about the in-house brewing processes, enjoyed a breakfast and a lunch, tasted all the brews and generally talked beer and brewing all day, we're pretty sure you'll be a very happy craft beer fan.
One last treat to round off your visit - a 5l mini keg of beer! Yes, that's right you'll be literally taking the in-house brewed craft beer of your choice home with you on this superb value for money brewery experience. We'll say cheers to that!
Availability
Fridays and Saturdays throughout the year
Dates are subject to availability at your chosen venue
Location
Avon Bristol
Bedfordshire Bedford
Birmingham Sutton Coldfield
Buckinghamshire Milton Keynes
Cheshire Chester
Cheshire Wilmslow
Dorset Bournemouth
Dorset Dorchester
Dorset Poole
Dorset Southbourne
Glamorgan Cardiff
Gloucestershire Cheltenham
Gloucestershire Gloucester Quays
Hampshire Portsmouth
Hampshire Southampton
Hampshire Southsea
London Highbury
London Hoxton
London Islington (Angel)
Nottinghamshire Nottingham
Staffordshire Lichfield
West Sussex Horsham
West Sussex Worthing
Spectators
Not suitable for spectators
Menu
Sample Menu
Choose either a burger or a main
Burgers
Served with a side of skin-on Fries
All burgers are also available 'naked' (with a side salad instead of fries and no bun)
~
B&K Cheeseburger
British brisket & chuck patty in a brioche bun
with lettuce, red onion, pickles, cheddar cheese and red onion and stout chutney
~
Buttermilk Chicken Burger
Southern fried buttermilk chicken in a brioche bun
with lettuce, beef tomato, creamy slaw and chipotle mayo
~
Chicken & Avocado
Grilled chicken breast in a brioche bun
with lettuce, mayo, beef tomato and smashed avocado
~
Buffalo Chicken
Southern fried buttermilk chicken coated in a spicy Buffalo sauce in a brioche bun
with lettuce, beef tomato, creamy slaw and chipotle mayo
~
Halloumi (v)
Pan fried halloumi slices in a brioche bun
with red pepper hummus, rocket and chilli jam
~
Vegan (vg)
Beyond Meat patty in a vegan bun
with lettuce, red onion, dill pickle and vegan chipotle mayo
~
Mains
1/4 Beer Can Chicken, chips & Buttered Corn Cobs
served with a choice of 'Beer-B-Cue' Katsu Curry or B&K Spicy Buffalo sauce
~
8oz Gammon Steak, Egg & Chips
served with 2 fried free-range eggs, chunky chips and peppery watercress
~
Cajun Salad - Chicken Breast or Vegan Chik'un (g) (b)
Cajun spiced and over baked, topped with roasted red peppers
served with broccoli on a salad of watercress, lettuce, tomato and onion
~
Legend Lager Battered Cod & Chips
Sustainably sources cod battered in craft lager
with chunky chips, minted mushy peas, a dill pickle, homemade tartare sauce and fresh lemon
(g) Gluten Free Dishes (v) Vegetarian Dishes (vg) Vegan Dishes (b) Below 500 Calories
Some dishes may contain or have traces of nuts or dairy Brewery Experience Day at Brewhouse & Kitchen
Brewery Experience Day
Total Price
£
95.00