English
Skip to main content
737 Simulator Glasgow
Glasgow International Airport   
REF:

SIMLEA
• Flight simulator experiences at Glasgow Airport
• Captain a Boeing 737-800 series airliner
• This is a fixed base sim at a flight training school
• On 60/90mins: fly a full sector in 'real time'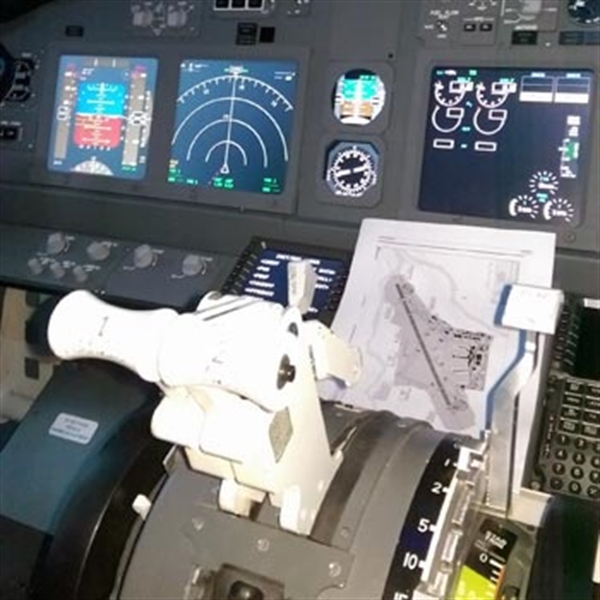 What's Included
• A 737 flight simulator session
• 30, 45, 60 or 90 minute flights are available
• One to one tuition by a commercially qualified pilot
• Learn the basic controls used by todays airline pilots to safely fly you to your destination
• 60 and 90 minute flight durations include startup and shutdown processes
• The simulators are fixed base and do not move
What Can I Expect
Get as close as you can to flying the real thing on this 737 simulator in Glasgow! Based at a renowned flight training school and flying club at Glasgow International Airport in Paisley, this fixed base simulator offers all would-be commercial pilots the chance to head up the flight crew of a Boeing 737.

Of course, you know it's not the real thing, but it's still pretty realistic. And, we have to say, way cheaper than an actual 737. This sim is based on the Boeing 737-800 'Next Generation' series of commercial jets. To charter an actual one for just an hour would cost you around £8,500. To buy one for yourself would be in excess of $96 million - and then you'd need a licence to fly it. You're much better off with this simulated version.

In the real world a 737-800 would have fully equipped galleys, seating up to 189 passengers and all the modern avionics systems to make flying these big tin cans in the sky a dream. What you'll soon find out as a novice, is that it's not as easy as it might seem. And indeed, if you've ever played on flight sims on your gaming device or computer, be prepared to hit the ground with a bump here in Glasgow, as you realise you didn't know as much about flying commercial airliners as you thought!

If you're really into your flying, we can highly recommend a minimum of 60 minutes of flying time. We say that because with this duration, you get to go through the full flying routine in real time as it were. You start off on stand at the departure gate, initiating the engine start up procedure. Then you taxi and take off, undertaking your IFR flight plan. Then overseeing your approach, your finals and your landing, to finish with a taxi back to the terminal for engine shut down.

Supposing all that sounds utterly mind-boggling, you can always opt for the 30 minute taster, or the 45 minute session, which give you all the main sim 'highlights'. And if you want to really get stuck in and be captain of an extended flight, go for the full 90 minute 737 simulator session in Glasgow - you'll be amazed how far you can fly in that time!
Availability
• Selected weekdays and weekends throughout the year
Location
• Glasgow International Airport
Suitable For
• The minimum age limit is 12
• Under 18s must be accompanied onsite by an adult
• Suitable for complete novices, domestic passengers or fully trained pilots
Spectators
• Spectators are welcome to wait in the reception area
Reviews
Average Rating 5
Total Reviews 1
Recommend to Friend 1

Wife bought me this as a xmas present but due to covid I only just managed to complete the experience. Excellent 1hr in the simulator with a very good instructor who was very informative and made me feel very relaxed it really was a great experience and I would recommend this to anyone
Alex waddell
{{reviews.text}}
{{reviews.user.username}} 737 Simulator Glasgow
30 Minute 737 Session
Total Price
£
129.00