English
Skip to main content
Truck Driving Experience
Nationwide Locations   
REF:

TRKOFF
• Drive a 480bhp DAF truck with trailer
• Short in vehicle briefing explaining the controls
• Manoeuvre a 55ft beast of a lorry
• Available at locations nationwide!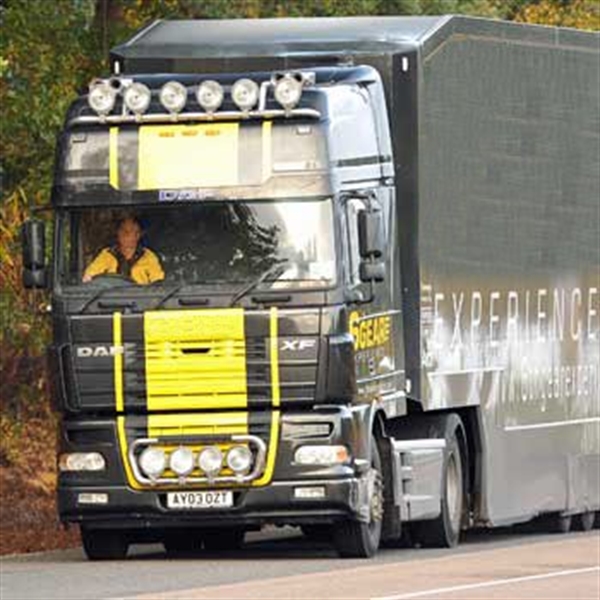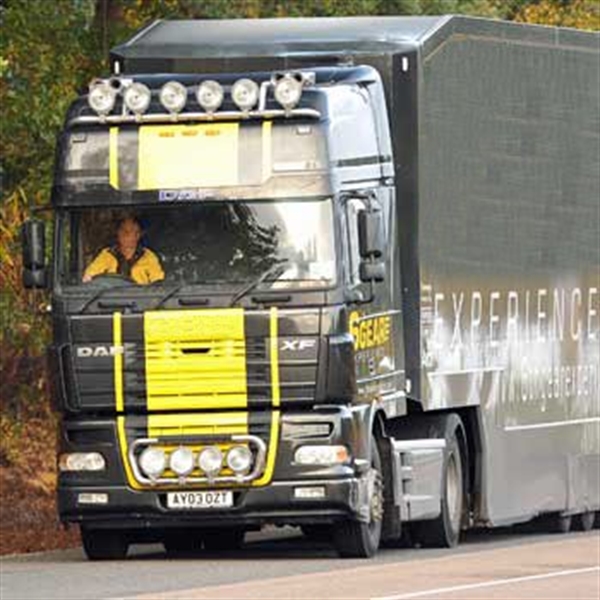 What's Included
• Driver welcome and Registration
• Introduction and briefing from your truck driving instructor
• Short in vehicle briefing explaining the controls
• 10 minute session driving a 480bhp DAF XF truck and race car trailer or DAF CF Car Transporter
• A
Truck Driving Experience
Certificate
• Please allow 2 hours at the location
• Extended truck Driving Experiences follow the same format but provide approximately 20-25 minutes drive time
What Can I Expect
Realise a dream with this exhilarating lorry driving experience at your choice of venue! No need for a special LGV driving licence to drive one of these fab DAF lorries with automatic transmission - just climb aboard the cab, grab that Yorkie bar and get truckin'!

If you've seen the Stig's lorry driving cousin the Rig Stig on Top Gear, you'll know just how powerful these articulated lorries such as the DAF CF and DAF XF are.

The DAF XF was built in the UK at Leyland and offers a very large 480bhp and amazing torque worthy of the International Lorry of the Year in 2007. The 12l-engined DAF CF is a very similar truck and is often seen pounding the motorways. The tractors (the proper lorry driver's term for the cab bit!) will be towing a trailer used for transporting cars, so you'll be manoeuvring a 55ft beast of a lorry on this off-road circuit.

Climb into the cab-over-engine flat nosed tractor unit and you'll notice how comfy it is with air-suspended driver's seat, air conditioning, a sleeper berth and that elevated lorry driver's view of the road. The cab has a sort of wraparound console dashboard, so everything a long-distance trucker could need is to hand. So different to your usual car, just being in a truck is brilliant!

With a fully licensed lorry driver at your side, you'll be negotiating a course of cones and attempting a few reversing moves with your 'convoi exceptionnel' - and remember there's no rear view mirror in the cab, it all has to be done using the side mirrors on the lorry. Tricky.

Once you've mastered the art of driving a lorry why not try a tank driving activity, a truly crushing experience! You can also visit our main gift ideas section for more, truly memorable gift suggestions, or take a look at our gifts for men ideas, where there's a large selection of men's activities that are perfect for the action man in your life.
Availability
• Operating from March to November on selected weekday and weekend dates
• Weekday and anytime vouchers are available for extended truck drives
Location
• Elvington, Yorkshire
• Blyton Park, Gainsborough
• Dunsfold Park, Surrey
• Three Sisters Circuit, Wigan
• NEC Arena Circuit, Birmingham
• Perranporth Driving Centre, Cornwall
Suitable For
• Minimum age is 17
• Minimum height is 5' 4" and maximum 6'5"
• Maximum weight of 18 stone
• Drivers must have a full, valid driving licence which must be shown on the day
• Please wear flat soled shoes/trainers. Crash helmets are not required
Spectators
• A maximum of two spectators may accompany you to the truck circuit and sit in the cab while you do your experience
• Additional spectators are not permitted to watch from a distance for safety reasons
• Any spectators under the age of 16 must be accompanied by an adult (other than the participant)
Anything Else
• Optional collision damage can be purchased on the day for £25
• There is no photography service at the truck circuit so feel free to bring your own photography equipment
Reviews
Average Rating 4
Total Reviews 11
Recommend to Friend 10

I really enjoyed the experience of driving the truck. The instructor was brilliant. Unfortunately, the USB I purchased as a memento of the experience, has no video on it. Also the race track could do with signposting better.
Mrs Dawn Dunford
Into the blue are top class and helped extended my voucher for me , the venue was great with 6th gear and an amazing experience
Christine Saunders
Excellent, Ian the instructor did a first class job explaining what was expected and how to drive the vehicle if you listen to the instructions you will have a great time and get the satisfaction of driving a LGV. The whole experience could be enhanced by a lap of the airfield to complete the course as in my opinion it would make a good day better.
D J Simmonds
I really enjoyed my experience but would have preferred a little longer driving time. The staff were very friendly and the instructor was encouragingly patient
karen colley
I guess that I would have liked a little longer, but I suppose most customers would say that. The truck, & the instructor did 'what it said on the tin'. I enjoyed it.
Robert Rich
{{reviews.text}}
{{reviews.user.username}} Truck Driving Experience
Truck Driving
Total Price
£
99.00