English
Skip to main content
Tank Driving in Hampshire
Near Winchester   
REF:

TKD1HD
• Drive an FV432, Abbott SPG and 55 tonne Chieftain!
• Ride as passenger whilst others drive
• Experiences last 3.5 hours
• Receive a souvenir tank driving certificate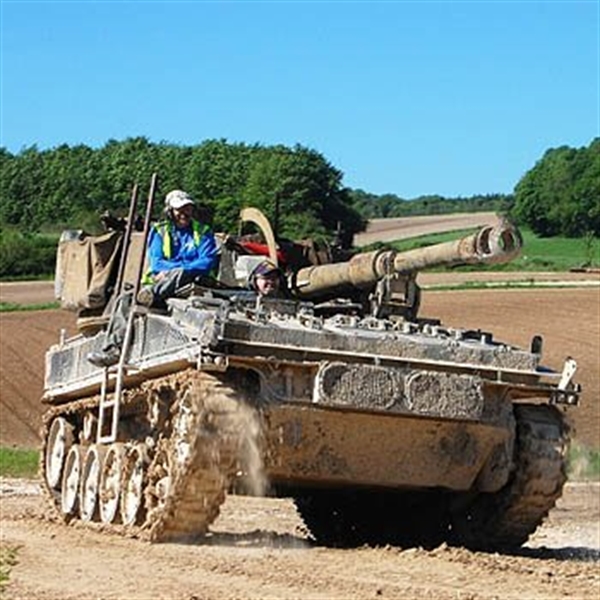 What's Included
Full Safety briefing
Drive the Chieftain MBT 55 ton 700hp
Drive the Abbot SPG
Drive the FV432 APC
Drive the Stormer Mobile Platform
A certificate of achievement
Drivers will be divided into small groups to rotate around the activities
Each circuit takes between 5-10 minutes to drive depending on the participant.
Experiences lasts for around three and a half hours
What Can I Expect
It's time to get fully tracked when you go tank driving in Hampshire! This half day experience near Winchester includes lots of tanks and other classic military hardware for you to get to grips with as you spend several hours at the venue test driving some of the best war zone paraphernalia out there.
You will have the run of this huge private estate, so there's plenty of room to go rumbling around in a variety of genuine military equipment, mashing up the mud with those huge caterpillar tracks. Many of the instructors at this centre are former serving soldiers, so have first hand experience of these tanks and military vehicles in combat and conflict settings and will show how to get the best out of these special pieces of kit.
Your half day starts with registration and a full safety briefing. All drivers are divided into groups (usually five to one instructor) and rotate around the following activities, with approximately 40 minutes spent on each activity. Over the morning or afternoon session you will drive three heavyweight vehicles and a quad bike ATV.
Chieftain Tank: The seminal British Army Main Battle Tank (MBT) that weighs in at a hefty 55tons and boasts high performance and firing power, with 750bhp and a 195mm front turret gun.
Abbott SPG: This Self Propelled Gun is a fully tracked field artillery tank with a fully rotating 105mm turret. The crew of four (commander, gunner, loader and driver) can race across enemy lines at speeds of up to 29mph thanks to the Rolls Royce powerplant.
FV432 APC: The Armoured Personnel Carrier is essential for safely moving troops and gear around. Also known as the Trojan, 3000 of these models were built until the early 1970s. A crew of two can transport up to 10 infantry and all their equipment at speeds of up to 32mp - and this APC is amphibious too!
Alvis Stormer Missile Launcher: It might look like a tank, but this is actually a mobile platform for the Star Streak High Velocity Missile (HVM) system. You won't be firing any today, but you will be driving this 13.5 tonne hulk - and it's got seven gears!
When you're not driving on this half day tank driving experience in Hampshire, you will most often be a passenger on the specially built viewing platforms on the tanks - so there's plenty of time to take video footage and photos of these impressive machines. Your experience ends with a presentation of certificates and a look back on the day you got to realise these childhood tank driving dreams in Winchester!
Availability
• Sessions run on Saturdays from March through to September and selected Sundays in October
• Morning and afternoon sessions are usually available
• All dates are subject to availability
Location
• Near to Winchester, Hampshire with easy access from junction 9 of the M3/A31
Suitable For
• The minimum age is 16 and minimum height is 5'0"
• Participants who are taller than 6'0" and/or with a chest size larger than 52" may have difficulty being accommodated in the vehicle
• Warm, comfortable clothing and stout boots are advised
Spectators
• This tank driving activity in Hampshire welcomes spectators but are charged at £10 per person, with under 10's entering free
• The fee includes a passenger ride on a military vehicle and complimentary tea and coffee
• Spectators are booked in and paid for on the day
• All drivers are offered complimentary refreshments throughout their session
Reviews
Average Rating 5
Total Reviews 57
Recommend to Friend 54

Well organised, plenty to eat and drink, Dot and her team of instructors are very approachable and easy to talk to. Driving the armoured vehicles was great fun, done it twice now, and would do it again in a few years time!
Steve
Excellent experience. If you don't know what a Stormmer or an Abbot is you will after this. Along with free refreshments, tea, coffee, cold drinks and cake. Other rolls etc to purchase. The most friendly and helpful, and funny, staff as well. All the better if you have nice weather.
Gerry
Fantastic day. Staff very friendly and understanding.
Geoff marks
This was well managed and a really good activity. All the instructors were friendly and informative and the lovely ladies provided endless cups of tea and wonderful home made cakes. Being able to drive the vehicles was, of course, the best part of the event. Thank you.
Jenny
My husband, really enjoyed this experience, it got the adrenalin going. It was very well organised and the staff were friendly and the instructors were good. The home made cake and cups of tea and coffee went down well. I would recommend to others.
Julie
{{reviews.text}}
{{reviews.user.username}} Tank Driving in Hampshire
Half Day Tank Experience
Total Price
£
259.00