English
Skip to main content
Your phone number helps us to ensure your order arrives safely and on time, and sometimes to validate your credit card.
365 Day Exchange
As long as your Into The Blue voucher is still valid, you can exchange it using our dedicated on-line exchange portal. Please note, physical gifts, gift tins and competition prizes can't be exchanged.
Instant E Voucher
Select 'E Voucher' on the delivery options page at check out and you'll get an instant gift voucher emailed to you. A great option if you've left it too late to get a voucher by post. And what's more, our E Voucher delivery option is FREE.
Promocode is not valid for this delivery option.
Thank you for submitting review feedback.
Review is already submitted, Thank you.
Same-day Dispatch
All standard delivery orders placed before 4pm on weekdays will be dispatched on the same day via Royal Mail
All tracked APC courier orders placed before 2pm on weekdays will be dispatched on the same day
All Saturday Special Delivery orders placed before 4pm on Fridays will be guaranteed for Saturday delivery via Royal Mail
| Delivery Type | Delivery Time | Price |
| --- | --- | --- |
| E Voucher | Instant | Free |
| Standard Delivery | 1st Class Royal Mail Post | £2.95 |
| Weekday Tracked Courier (APC) | Guaranteed next working day before 4pm* | £8.99 |
| Saturday Special Delivery (Royal Mail) | Guaranteed delivery on Saturdays | £12.50 |
* Next working day applies to Mainland England & Wales (Scotland & Northern Ireland 2-3 days)
Packaging Options
All orders are sent in plain packaging so as not to ruin the surprise. Premium Gift Pack
Our Premium Gift Pack includes a stylish gift box, which holds your personalised gift voucher and your activity voucher guide booklet. The premium choice.
£4.99 (+ £2.95 shipping charge) Standard Gift Pack
Our Standard Gift Pack comes with a smart envelope that includes your personalised gift voucher and your activity voucher guide booklet.
Included in the £2.95 shipping charge E Voucher
Our E Voucher is an instant voucher delivered by email, with your personalised email message and a downloadable .pdf of your personalised gift voucher.
FREE
Valid for 12 months
Into The Blue vouchers are usually valid for 12 months from the date of purchase (the expiry date is printed on your voucher).
If you contact us before the expiry date, you may be able to extend your voucher for a further 12 months, subject to an admin fee of £10 for vouchers with a value of less than £100 and £20 for those valued over £100, plus any increase in the price of the activity since the original purchase date. Some vouchers cannot be extended. This will be stated on your voucher.
Please note: you must book and take your experience before the expiry date of the voucher.
Same-day Dispatch
Delivery Type
Details
Cut Off
Delivery Time
Price
Evoucher
Sent straight to your inbox along with a separate email receipt to confirm your order.
None
Instantaneous
Free
Standard Delivery (Royal Mail)
UK Only. Despatched by Royal Mail first class post on the same day. Excludes Weekends & Bank Holidays.
Order by 4pm for same day dispatch
Estimated 2-3 days
£2.95
Weekday Tracked Courier (APC)
Signature required upon receipt. Orders received before 2pm on Fridays will be delivered the following Monday. Excludes Weekends & Bank Holidays. Orders dispatched via APC. Includes online live tracking and 2-hour delivery window which is amendable
Order by 2pm for same day dispatch
Guaranteed next working day before 4pm*
£8.99
Saturday Special Delivery (Royal Mail)
Guaranteed UK Saturday delivery. Excludes Bank Holidays. Signature required upon receipt. Valid for orders received by 4pm on Fridays. Includes online tracking and electronic proof of delivery. If nobody is available when your parcel is delivered and there isn't a safe place to leave the parcel, the delivery driver will leave a calling card with instructions on how to rearrange delivery.
Order by 4pm on Fridays
Saturdays Only
£12.50
​
Tank Driving in Hampshire
Near Winchester
REF:

TKD1HD
• Drive an FV432, Abbott SPG and 55 tonne Chieftain!
• Ride as passenger whilst others drive
• Experiences last 3.5 hours
• Receive a souvenir tank driving certificate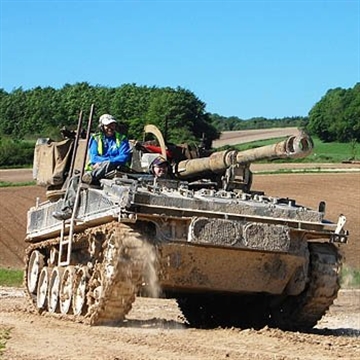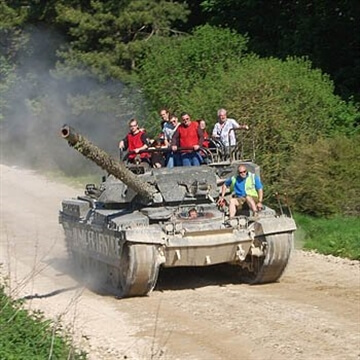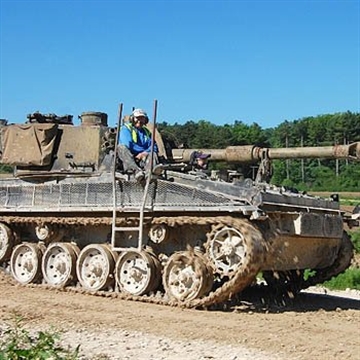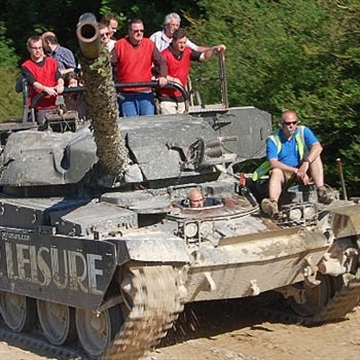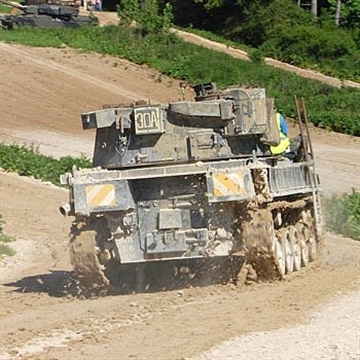 What's Included
Full Safety briefing
Drive the Chieftain MBT 55 ton 700hp
Drive the Abbot SPG
Drive the FV432 APC
Drive the Stormer Mobile Platform
A certificate of achievement
Drivers will be divided into small groups to rotate around the activities
Each circuit takes between 5-10 minutes to drive depending on the participant.
Experiences lasts for around three and a half hours
Complimentary premium gift packaging from Into The Blue
What Can I Expect
It's time to get fully tracked when you go tank driving in Hampshire! This half day experience near Winchester includes lots of tanks and other classic military hardware for you to get to grips with as you spend several hours at the venue test driving some of the best war zone paraphernalia out there.
You will have the run of this huge private estate, so there's plenty of room to go rumbling around in a variety of genuine military equipment, mashing up the mud with those huge caterpillar tracks. Many of the instructors at this centre are former serving soldiers, so have first hand experience of these tanks and military vehicles in combat and conflict settings and will show how to get the best out of these special pieces of kit.
Your half day starts with registration and a full safety briefing. All drivers are divided into groups (usually five to one instructor) and rotate around the following activities, with approximately 40 minutes spent on each activity. Over the morning or afternoon session you will drive three heavyweight vehicles and a quad bike ATV.
Chieftain Tank: The seminal British Army Main Battle Tank (MBT) that weighs in at a hefty 55tons and boasts high performance and firing power, with 750bhp and a 195mm front turret gun.
Abbott SPG: This Self Propelled Gun is a fully tracked field artillery tank with a fully rotating 105mm turret. The crew of four (commander, gunner, loader and driver) can race across enemy lines at speeds of up to 29mph thanks to the Rolls Royce powerplant.
FV432 APC: The Armoured Personnel Carrier is essential for safely moving troops and gear around. Also known as the Trojan, 3000 of these models were built until the early 1970s. A crew of two can transport up to 10 infantry and all their equipment at speeds of up to 32mp - and this APC is amphibious too!
Alvis Stormer Missile Launcher: It might look like a tank, but this is actually a mobile platform for the Star Streak High Velocity Missile (HVM) system. You won't be firing any today, but you will be driving this 13.5 tonne hulk - and it's got seven gears!
When you're not driving on this half day tank driving experience in Hampshire, you will most often be a passenger on the specially built viewing platforms on the tanks - so there's plenty of time to take video footage and photos of these impressive machines. Your experience ends with a presentation of certificates and a look back on the day you got to realise these childhood tank driving dreams in Winchester!
Availability
• Sessions run on Saturdays from March through to September and selected Sundays in October
• Morning and afternoon sessions are usually available
• All dates are subject to availability
Location
• Near to Winchester, Hampshire with easy access from junction 9 of the M3/A31
Suitable For
• The minimum age is 16 and minimum height is 5'0"
• Participants who are taller than 6'0" and/or with a chest size larger than 52" may have difficulty being accommodated in the vehicle
• Warm, comfortable clothing and stout boots are advised
Spectators
• This tank driving activity in Hampshire welcomes spectators but are charged at £10 per person, with under 10's entering free
• The fee includes a passenger ride on a military vehicle and complimentary tea and coffee
• Spectators are booked in and paid for on the day
• All drivers are offered complimentary refreshments throughout their session
Reviews
5 out of 5 stars
Average Rating: 5
Total Reviews: 60
Recommend to Friend: 0
Find out what other customers think of the experience