English
Skip to main content
Sword Combat Experience Bristol
Keynsham, Bristol   
REF:

SWDCOM
Battle Royale role play sword games
Combats with LARP foam weapons
Learn to use swords, shields & axes
Great fun for small groups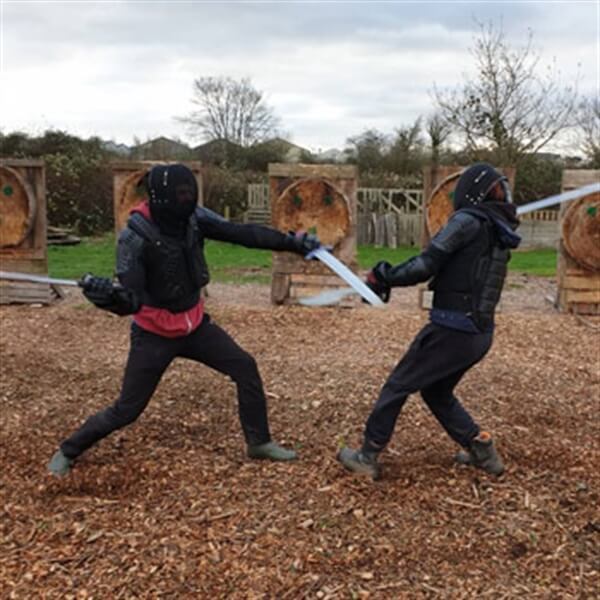 What's Included
Enjoy a Battle Royale sword combat experience
10 to 15 minutes of training before your session begins
This is a live action role play experience using foam swords and axes 
Take part in combat with role play scenarios
You will form part of a group of up to 6 people on the day
This experience last 1.5 hours
Vouchers must be purchased for a minimum of 2 people
What Can I Expect
Let battle commence on the sword combat experience in Bristol! These live action role play sessions near Keynsham will bring out your inner Battle Royale combat warrior, whilst being fun and safe at the same time.
Also known as LARPs, Live Action Role Plays are becoming really popular in the UK. At this venue near Bristol, you'll be taking part in battle games with scenarios and challenges. It's pretty full on, so you'll be wearing body armour and you'll have to layer up with your clothes as well, to maximise your protection.
All sessions start with a safety briefing from the LARP team. This is where you'll learn about the rules and etiquette of sword combat that you'll need to adopt when in battle. For example, no head strikes or you're out!
Then you'll get trained up on the weapons. When we say they're made of foam, don't think they're like a dress-up sword a child would have. These are robust and durable weapons made especially for live role play. Authentic looking and light, these swords have that tough glass fibre core, but with a soft and shock-absorbing polyethylene foam exterior.
And you won't just be combat fighting with the swords at this Bristol location, they also have a fine collection of LARP shields, axes and even double swords. All the better for battling it out with your fellow role players.
The perfect activity for small groups, these sword combat experiences at the adventure park near Keynsham in Bristol are physical, fun and challenging. Take up your LARP weapon of choice and see if you can beat your opponent in the next round of the Battle Royale sword combat!
Availability
Selected weekdays and weekends throughout the year
Varying time slots are available
This experience is weather dependant
Suitable For
Minimum age 18
Suitable for those with a good level of fitness
If you have any injuries please make this known when booking your experience
Anything Else
Please bring a spare change of clothes
This is a full combat activity, so bring some extra layers of clothing for padding as there are some gaps in the body armour
If you can, please wear contact lenses rather than glasses (there are only a limited amount of masks which go over glasses)
You may wish to bring your own refreshments