English
Skip to main content
Spartan Tank Driving Oxfordshire
Bicester Heritage Centre
REF:

X21SPT
Drive the 8-ton 'Sporty' Spartan tank
Powered by a 4.2l XK Jaguar engine
Seven forward & seven reverse gears
Capable of speeds up to 50mph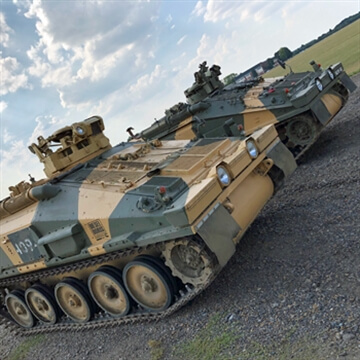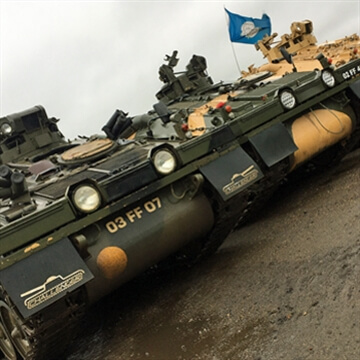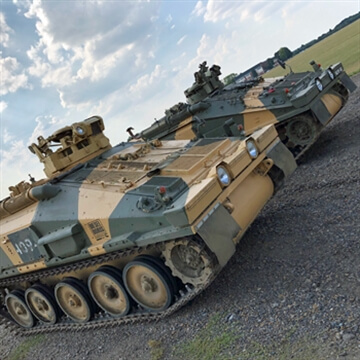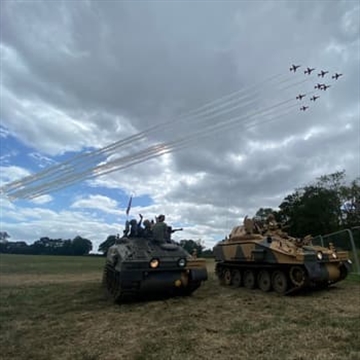 What's Included
Drive the Alvis CVR(T) Spartan Tank on a purpose built multi-terrain track
A 20 minute driving experience
Opportunity to try your hand at a variety of manoeuvres
Allow approximately one hour on site for this experience

Choose the 'with passenger' option to invite one guest to ride in the tank whilst you drive!

Minimum age to be a passenger is 8 years
Ultimate Tank Driving
In addition to the above you will also drive a Leyland DAF 4x4 Army Truck and a Dennis RS V8 Fire Engine for 15-20 minutes in each

Allow between 2-2.5 hours on site for this experience
What Can I Expect
Drive a Spartan tank at Bicester Heritage in Oxfordshire! We are offering 20-minute drives or the ultimate experience in this funky tank. Make it a family affair with our special driver and passenger package and you can invite someone to come along and join you for the ride. If you choose the ultimate tank driving experience you can add a 4x4 Army truck and a Dennis RS V8 fire engine to your portfolio of drives.
The Alvis Spartan. It is a tank, but not as you know it. It's nimble and fast, which is why it's been nicknamed the 'Sports Tank' by the crew here at Bicester. It weighs in at eight tonnes, which is actually light for a fully tracked vehicle like this. But more astonishingly, it's actually powered by a 4.2l Jaguar XK petrol engine as standard!
So what does the Army do with a racing Jaguar tank? Well, the Spartan is officially known as the FV103 Alvis CVR(T) Spartan tank. That means this Armoured Personnel Carrier is classed in the Combat Vehicle Reconnaissance (Tracked) family of military tanks and plays a specialist role. In war zones and battle scenarios, the Spartan is used to transport specialist teams in safety.
Capable of carrying three crew and four passengers, or two crew and five passengers, a Spartan is more than capable of bouncing over a muddy battlefield at ease, reaching speeds of up to 50mph! If you need to get somewhere fast in a combat zone, the Spartan is the tank you need.
As for driving the Spartan, you've got all the power you need with that 200bhp six cylinder Jag engine. The tank also has a semi-automatic gearbox making it relatively easy for you to get to grips with. There are seven forward gears and seven reverse gears, so that does mean this Alvis will go as fast backwards as it does forward. Pretty impressive eh?
You'll be driving the Spartan tank on a dirty, dusty, muddy track at Bicester Heritage that's littered with water splashes, bumps and holes. You'll get full instruction whilst you drive and don't forget, you can bring someone along with you inside the cab when you pop the Spartan drive & passenger voucher in your basket!
Availability
Selected weekday and weekend dates
Dates and session times are subject to availability
Please note due to popularity it is recommended you book well in advance to avoid disappointment, weekends especially get booked up very quickly
Location
Bicester Heritage Centre, Oxfordshire
Suitable For
Minimum age 18
A full driving licence is required
Height restrictions: Minimum 4ft 6ins, maximum 6ft 4ins
Participants should have a good, general firness level and be able to climb in and out of the vehicle
Not suitable for those with epilepsy, heart complaints or during pregnancy
Anything Else
Suitable outdoor clothing and sturdy footwear should be worn
Reviews
4.3 out of 5 stars
Average Rating: 4.3
Total Reviews: 3
Recommend to Friend: 0
Find out what other customers think of the experience