English
Skip to main content
Skydiving Swansea
Swansea Airport   
REF:

TANSWN
Tandem skydiving in Swansea
Jump from 12000ft
Amazing Gower Peninsula views
40mins ground training then jump!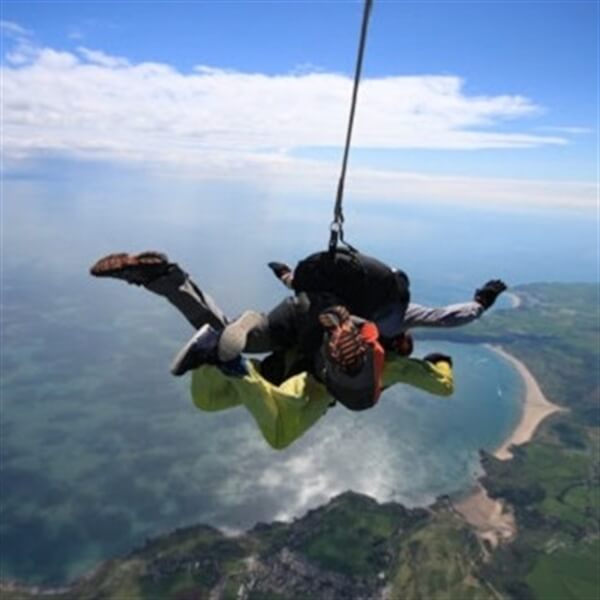 What's Included
A tandem skydive from 12,000ft
Experience the thrill of freefall and enjoy a high performance canopy ride
Short training session to learn what to expect and the position you need to adopt for landing
You will be provided with a jumpsuit, gloves, goggles and headgear
You will be fitted into the dual harness and attached to a fully qualified instructor
Enjoy spectacular views as the aircraft takes you to 12,000ft 
Freefall at 120mph for approximately 45 seconds
Your instructor will deploy the parachute by 5,000ft
You will be presented with a certificate at the end of the jump
BPA membership fee is included
Complimentary premium gift packaging from Into The Blue
What Can I Expect
Calling all super skydivers of Swansea! This is your chance to do a tandem skydive over the Gower Peninsula in South Wales at this long-established professional skydiving school based out of Swansea Airport.
Whether it's a surprise birthday gift, something you've always wanted to do, or you're in it for charity, absolutely nothing in this world can beat your first skydive for pure, adrenaline sensations. The Swansea skydive team will be there to make it all happen for you.
Headed up by Carl Williams, you're in good hands in Swansea. Carl has won team and individual skydive awards at National Championships and has competed for GB in the World Championship. He's sailed past the 4500 tandem jump mark with ease and, along with his colleagues, has many, many hours of experience. They have been skydiving in the skies above Swansea since 2007.
To get you into the zone, here are some skydiving stats for you : 40-minutes of ground training. An 18-minute flight to reach altitude. A full 45-seconds of 120mph freefall from 12,000ft. After that, the canopy will be pulled at 5000ft and it's a fantastic ride back down to earth.
If, in between whooping with delight, waving and smiling, you take time to look around you, you'll realise the views are spectacular. You're in (or rather above) the heart of the Gower Peninsula with its coves, caves, beaches and cliffs bound to impress you.
Once back down and landed safely in the drop zone, there's just one thing on everyone's mind. 'That was a-ma-zing' and 'When can I do it again?' is what pretty much everyone says when they've completed their very first skydive above Swansea. Of course, if one jump isn't enough, you're very welcome to buy another voucher right here right now!
Availability
Weekends from March to November
Sessions are subject to availability and weather conditions
In the event of unsuitable conditions your jump will be rescheduled
Suitable For
Maximum weight for men is 15 stone and 13 stone for women
Weight restrictions are fully clothed
Minimum age 16
Under 18s will require the signature of a parent or legal guardian
Over 60s must attend the centre for a pre-assessment
All participants must sign a self declaration fitness form. Should the participant have any medical conditions the medical form must be signed by a GP prior to the jump
Spectators
Spectators are welcome to come along and watch the action, subject to current Covid restrictions
Anything Else
Video and photo packages are available for an additional charge, payable when booking your date