English
Skip to main content
Quad Biking Warwickshire
near Leamington Spa   
REF:

QDBWR1
• Ride 300cc Polaris Hawkeye Quads
• Explore 100 acres of woodland & more
• Suitable for ages 16 and over
• Close to Leamington Spa, Coventry & Birmingham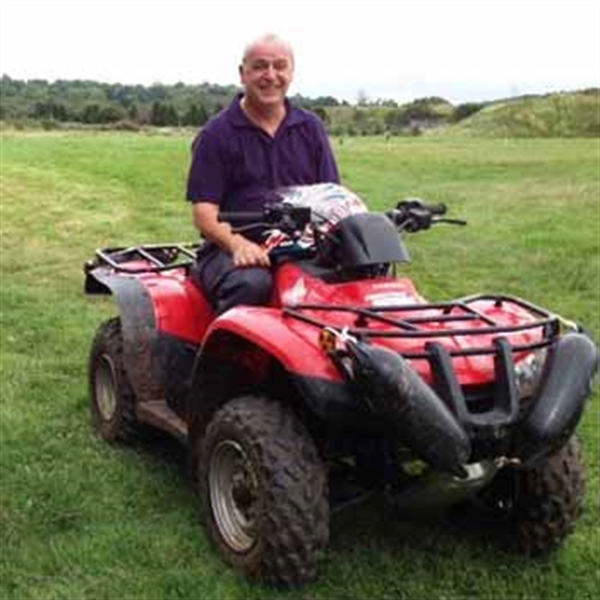 What's Included
A one-hour quad trek experience
Training session and introduction to the quads
Head off on to an undulating countryside stage to get a feel for the bikes
A challenging route through 100 acres of woodland, mud and water
You'll be part of a group of up five riders following an experienced instructor
Safety equipment (ATV crash helmet and gloves) are provided
The quads are 300cc rear wheel drive Polaris Hawkeyes with all round independent suspension and automatic gearbox
What Can I Expect
Go quad biking in the Midlands and ride the best of the Warwickshire landscape. This is a no-frills, all-out adrenaline ramble across the hills and dips of the West Midlands, on your very own quad bike.
This quad biking trek is centrally located and easy to reach from any part of the Midlands. What makes this experience unique is the fact that it takes place on ex-MoD land. One hundred acres of it to be precise, giving you rutted and dusty tracks, steep slopes and woodland to explore on your trusty quad.
Your one hour session begins with a safety talk, where you'll also be given a full face helmet and gloves to wear. This venue in the heart of the Midlands uses the Polaris Hawkeye quad bike range. These bikes boast 300cc engines and are equipped with deep-tread tyres, an air-cooled engine and big steel bumpers. They are a brilliant choice of All Terrain Vehicle for this terrain.
A trained quad biking instructor will accompany you throughout your time on site and they will give you introductory tuition and instruction as to how to use and control the quads. They all have a fully automatic gearbox and excellent driver stance position, so you'll be comfortable and biking with confidence within minutes of climbing on.
In groups of up to five, you will get the opportunity to test out the quad's abilities on the initiation circuit, before heading off onto the trails for your first taste of true quad biking.
Get away from the hustle and bustle of the city centres and discover your adventurous side with a full-on session of quad biking at this Midlands base. Combining speed and agility with the unique ex-military setting, these one-hour sessions in Warwickshire are brilliant fun. Get buying your quad vouchers now!
Availability
Sessions are available on most weekends and selected weekdays all year round
Treks generally start at 09:30, 12:30 and 14:00
Groups of three or more can usually have a wider range of dates
Smaller groups are usually combined to make a group of five riders
Location
Warwick within easy reach of Leamington Spa, Coventry and Birmingham
There's easy road access via the M40 (J15)
Suitable For
A minimum of two vouchers must be purchased for this experience
All riders must be 16 or over and proof of age may be required
The bikes are full size adult machines that are easy to ride however a moderate level of strength is required
Riders must demonstrate their ability to use the controls and ride the bike safely before being allowed to participate
You are likely to get dirty so please wear old clothing or bring a change of clothes
Spectators
• Small numbers of spectators can attend but must be confirmed when booking
• Views of the activities are limited as the treks take place in 100 acres of woodland
• There is a clubhouse on site with toilets, seating areas and snack vending machines
Reviews
Average Rating 5
Total Reviews 6
Recommend to Friend 5

Awesome. Arrived on time. Instructor was ready as anticipated. Fun, fun, fun.
Josh
Awesome day :) would highly recommend
Lisa
The trainers were polite, helpful and extremely pleasant. I thoroughly enjoyed myself. Extremely pleasant surroundings. I enjoyed a coffee while my wife was on a Quad Bike. Wife is 60, but she was made welcome & enjoyed the experience. Ray Franklin.
Ray Franklin
The course certainly proved a challenge, even for quad biking but our guide was professional throughout and considerate to our ability.My daughter and I both had a great time and would definitely do it again. My only disappointement was not being able to have part of the session when we could have used the quads speed on some more open terrain.
paul dunbar
My husband and I had a brilliant time, the weather had been awful, but cleared up just as we arrived, so lots of mud and water to drive through, great fun, I want another session !
Gail Stevens
{{reviews.text}}
{{reviews.user.username}} Quad Biking Warwickshire
Quad Trek Experience
Total Price
£
69.00