English
Skip to main content
Piper Cub Flight Brighton
Shoreham Airfield, West Sussex   
REF:

PCSH20
• Grass roots style flying in the Piper Cub
• Fly out of Shoreham Airfield in West Sussex
• Plane is the military L18C Supercub version
• Your chance to fly a vintage tailwheel aircraft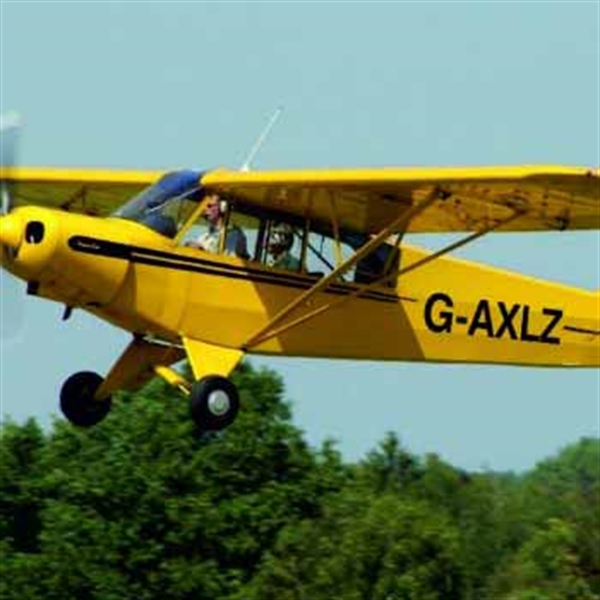 What's Included
• Pre flight checks and safety briefing
• Your chosen flight duration in the Piper Cub
• Once airborne you will be given to take the controls for part of the flight
What Can I Expect
Chocks away for a Piper Cub flight out of historic Shoreham airfield in West Sussex! Aviation fans will instantly recognise this famous and much-loved vintage training aircraft and it's a real pleasure to be able to offer flights in this fully restored Piper Cub aircraft.
The Piper Cub you will be flying in is actually an L18C Supercub, that's to say the military version of the civil PA-Cub that enjoyed a long and very significant career in training pilots worldwide. This particular plane was built in 1952 and rumour has it that she served as an aerial reconnaissance aircraft during the D-Day operation of World War Two.
After being released from active duty, this Piper Supercub remained in the same, private ownership for over 30 years before arriving at this flying club in Shoreham. Now newly and fully restored, Piper Cub G-AXLZ is available for flight experiences of 20, 30, 40 and 60 minute durations.
This wonderful 'grass roots' style flight will see you being swept you into the air with aplomb and you will love the fabulous panoramic coastline views from the large tandem configuration cockpit, including Brighton's beaches and pier. As well as having plenty of time to gaze at the vistas, you will also be fully involved in the whole flying experience, even before you step into the plane.
Indeed, each session starts with a ground flight briefing from your pilot. As you are led out to the Cub sitting on the apron just in front of the club house, you will accompany your instructor as they perform all the necessary physical pre-flight checks on this Piper, such as verifying fuel quality and levels, tyre condition, the correct operation of the control systems and condition of the flying surfaces.
All this done, you will hop inside the Piper's cockpit ready for your flight and listen as radio calls are made to prepare for take-off from Shoreham, which is a busy little airfield and actually the oldest licensed public serving airport in the UK, having opened to air traffic in 1910. Then before you know it, you will be taxiing along and pulling up to get airborne.
This experience is indeed called a Piper Cub flight, but you won't just be a passenger, you will actually fly the ex-military Piper Supercub. Your pilot will show you the basic manoeuvres of climbing, descending and banked turns so that you can then have a go yourself midway through the flight as you zoom through the West Sussex skyline. Of course, the Piper Cub is a tailwheel aircraft and this requires extra skills and airmanship from the pilot, as they handle very differently from modern day light aircraft with nose-wheels. We think after you have flown the Cub you will feel a sense of achievement - and deservedly so!
Availability
• Flights take place on selected dates throughout the year
• Morning and afternoon sessions are generally available
Location
• Shoreham Airport near Brighton in West Sussex
Suitable For
• Minimum age is 14
• Maximum weight is 16 stone
Spectators
• Spectators are welcome to come along and watch
Anything Else
• G-AXLZ is currently undergoing maintenance so the Flying School will temporarily be using an alternative similar Cub Aircraft
Reviews
Average Rating 5
Total Reviews 3
Recommend to Friend 3

Very good afternoon out. Friendly people and great experience in getting to know how to fly
Peter Marrable
The whole experience at Perry Air Shoreham was brilliant. Thier welcoming, laid-back and flexible approach made for a thoroughly enjoyable flight. Highly recommended :-)
Simon Morgan
I found the experience brilliant. From the moment I arrived the team were polite and very helpful. The day was everything i could have expected and more. I would thoroughly recommend the experience to anyone who was thinking of doing this. I would also recommend your company who have provided all the necessary information. kind regards Michael Shackell
Michael Shackell
{{reviews.text}}
{{reviews.user.username}}