English
Skip to main content
Peaky Pistols Shooting Experience
Sutton Coldfield, Birmingham   
REF:

PEAKY
Peaky Blinders-themed shooting session
Shoot on a film-like set with FX lighting
Using vintage gun replicas
Bring your overcoat & peaky cap!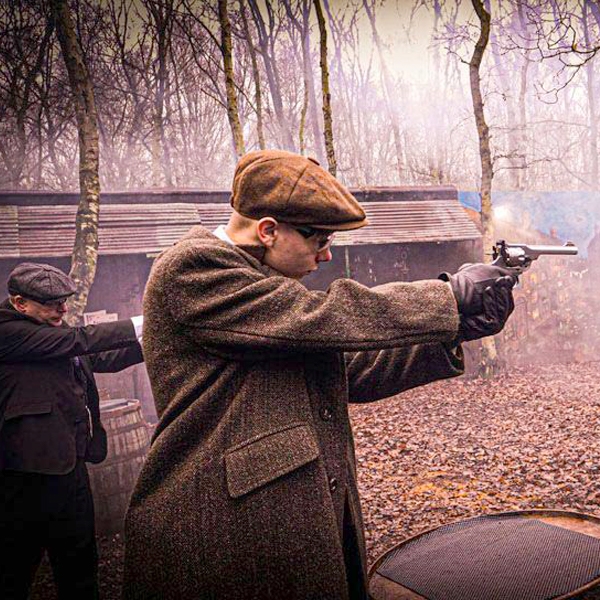 What's Included
One hour immersive target shooting experience
Welcome, introduction and safety briefing
Shoot at lifesize targets with replica air pistols and airsoft weapons
Use replica Welby MKVI service revolvers, a 'Tommy' sub-machine gun and a Colt M1911 pistol
Fully themed set with briefing room, range and Peaky tavern room
Bring your own 'peaky' cap or outfit for a fully-immersive experience
You will form part of a group of up to 10 participants for this experience
What Can I Expect
By order of the Peaky Blinders...you will be going on a Peaky pistol shooting experience! Get you overcoat and peaked flat cap on, it's time you and the rest of the gang got some shooting practice in on this superb Peaky-themed event.
This shoot is what you call a totally immersive experience. There's dramatic music, theatrical backdrops and even special effect lighting, all to create that industrial Birmingham backdrop associated with the hit BBC TV show Peaky Blinders.
This outdoor shooting, activity and entertainment venue is just outside Birmingham, the hometown of the fictional Shelby clan. The TV series, starring Cillian Murphy as Tommy Shelby, follows the shenanigans, loves and battles of the family from the end of the First World War.
As you might imagine, being the head of a gang family in post-war Brum means you often find yourself in sticky situations and inevitably (usually eldest brother Albert) someone pulls a gun. Even Aunt Polly is a bit of hot shot. So if you're going to find yourself in the grimy underworld of the Peak Blinders, you too will need to show you can handle a gun.
And these are not just any guns. These are replica vintage models, including the Shelby fam's favourite the Webley handgun, as well as a classic Thompson 'Tommy' shotgun and a Colt pistol. You'll be shown how to safely handle, load and shoot these guns before heading off around the set, to hunt down your targets (you won't be taking aim at each other!).
What makes this Peaky Blinders themed shoot so much fun is the fact that most people attending really get into it and come dressed up. The hosts play their roles brilliantly, with all the banter you'd expect from the Peaky boys and girls. There's even a reproduction Garrison Tavern set. Just remember one thing : no-one messes with the Peaky Blinders!
You can go Peaky pistol shooting on weekdays and weekends throughout the year. You can even do an evening session for that after-dark moody atmosphere that makes it even more like walking onto the Peaky film set!
Availability
Weekdays and weekends throughout the year
Sessions are available from 09:00-21:00 (last session starts at 20:00)
'After dark' sessions take place in the floodlit set
If opting for a weekdays session a minimum of 4 people are required for the event to go ahead, in the unlikely event minimum numbers are not met your date may be rescheduled
Location
Sutton Coldfield, Birmingham
Suitable For
Minimum age 11

Under 18s must be accompanied by a participating or spectating adult
Spectators
Spectators are welcome to come along and watch the action Peaky Pistols Shooting Experience
Peaky Pistols Shooting Experience
Total Price
£
35.00