English
Skip to main content
Paul A Young: The Art of Chocolate Making
At Home Experience   
REF:

LECHC1
Learn with the experts : Paul A Young chocolatier
Four online modules to work through
Make delicious handcrafted truffles
Try Paul's secret sea salt caramel recipe!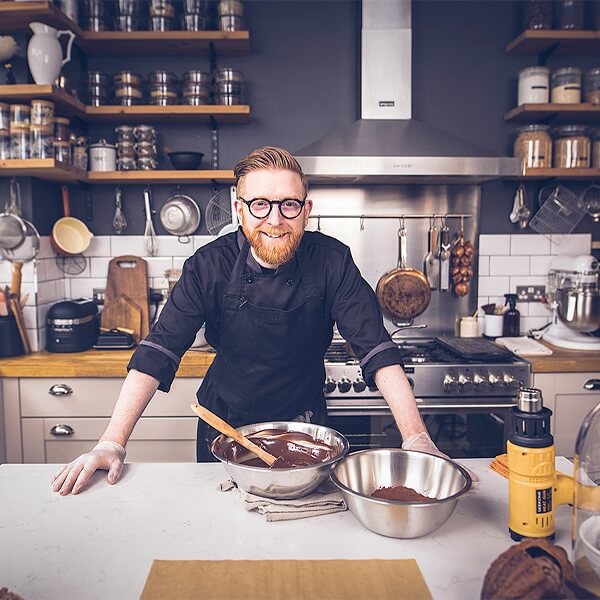 What's Included
Four-part online introduction to chocolate making course with expert videos and notes
Sessions are taught by Paul A Young
Online classroom with up to 20 classmates
Learn how to temper chocolate like a pro chocolatier your own home
Paul will share his own chef's secrets, demonstrating techniques learnt through years of training
Lifetime access to videos, notes and classroom
Choose from a Peer or Expert option
Peer Option
4 course assignments
Practice what you learn with your peers
Group chat and direct message with classmates
Expert Option
4 weeks tutor access for personalised assignment feedback and coaching
4 assignments marked by Paul A Young
Certificate of completion signed by Paul A Young
Group chat and direct message with tutor and classmates
What Can I Expect
Learn from the cocoa expert on a Paul A Young online chocolate making course! It's time to demystify tempering and ganache, when master chocolatier Paul shares all his chocolate making secrets with you.
These online courses feature professionally filmed videos and assignments for you to do in your own time at home. There are four modules to work through, with the enhanced Expert option giving you personal feedback and tutoring, culminating in a certificate of achievement signed by the award-winning artisan chocolate maker.
Whilst working as pastry chef for Marco Pierre White, Paul realised he was passionate about chocolate. His signature sea salted caramel truffle won an award and the young chef decided it was time to open his first Paul A Young chocolate boutique.
Specialising in hand-crafted chocolates using only the best and seasonal ingredients, discerning chocolate lovers really appreciate the stunning designs and perfectly-balanced flavour combinations that Paul creates. Each chocolate is a work of art in itself - and a very tasty one at that.
These online sessions hosted by the alchemist of chocolate flavours will talk you through chocolate making step by step. The videos cover everything from tempering and hand enrobing, to using moulds, rolling and decorating your artisan chocs.
A definite highlight of the course is Paul sharing his secret salted caramel filling recipe, so you too can make gold award standard truffles. And believe us, they are utterly sublime!
Everyone enrolling on a Paul A Young chocolate making programme will receive an equipment and ingredient list, as well as life-long access to all the online content for the course. No previous experience is needed and by the end of your teaching, you'll be creating artistic chocolates with incredible flavours that are worthy of being in Paul A Young's own chocolate shop window!
Availability
Register your voucher to receive access to the learning platform
You can start courses whenever you like
Location
Lessons take place in a friendly, safe and secure online classroom
Suitable For
Minimum age 18
Suitable for enthusiasts through to professionals wanting to learn from a master chef
Anything Else
Lessons will run on any desktop, laptop, mobile or tablet
All you need is good wi-Fi or 4G connection
You will need the following equipment:
A stainless steel plastic handled scrapper (Paul uses a wallpaper scrapper fro a DIY store)
Palette knife
Heat gun/hairdryer
Microfibre cloth/cotton wool
Chocolate dipping tool (not essential)
A solid plastic chocolate mould (not the flexible silicone variety)
Additional (optional) equipment:
Decoration transfer sheets
Baking paper for making piping bags
Acetate sheets for capping off moulded chocolates
Digital thermometer