English
Skip to main content
Military Vehicle Driving Bournemouth
Bournemouth, Dorset   
REF:

GTEM40
• Drive military vehicles off-road nr Bournemouth
• All vehicles are genuine ex-Forces
• Fleet includes jeeps, APCs and field tractors
• Spend around 45mins behind the wheel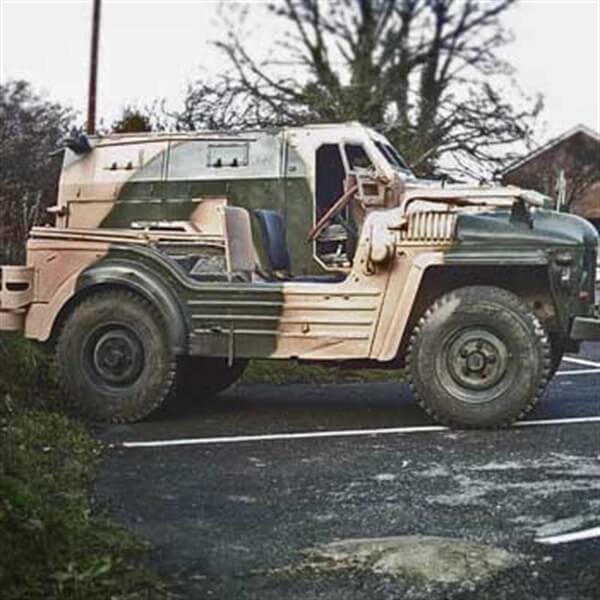 What's Included
• Welcome and safety briefing, introduction to the vehicles
• Your drive time will last for approximately 40-45 minutes
• Your instructor will drive a short familiarisation loop
• Once your instructor gives the go ahead, you can get behind the wheel of an ex-Army vehicle
• Receive 4x4 expert training as you navigate the twists and turns off road
• Learn to drive a minimum of two ex-military vehicles
• You will form part of a group of between 2-5 participants
• Allow around one hour on site

The Vehicles:
• Humber 1 Tonne Armoured Personnel Carrier
• 101 FWD Control Land Rover
• Ex Artillery Tractor
• Austin Champ Jeep
• Austin K9 Radio Truck
What Can I Expect
'Get the squaddies in the CV it's all gone for a ball of chalk' - driving these off road military vehicles will immerse you in British Army life, albeit in a quiet corner of the Dorset countryside!

You are about to be conscripted onto this military driving experience near Bournemouth. All of these off-roaders are genuine ex-Army and will have seen a fair bit of action in their careers serving with the British Forces. If these vehicles could talk, we're sure they'd be a fair few anecdotes and tales to tell, of danger and heroism in the face of adversity.

Military vehicles working on your off-road day might vary, but there are trucks, armoured personnel carriers and jeeps, to give idea of the sort of calibre of army transport you could be driving. One of the most intriguing in the fleet is the Land Rover 101 Forward Control. Known as the Land Rover One Tonne thanks to its ability to tow a field gun and carry a tonne of ammo, this Landy was never produced in a civil version, so it's really quite an honour to be able to drive one.

The oldest resident at this Bournemouth-based military vehicle centre is the Austin Champ Jeep. When the British Army wanted a UK-built Jeep-style 4x4 light truck, Austin won the contract. Designated the FV1801A, the first one rolled off the Longbridge production line in 1951 and they were used in field combat roles as everything from field ambulances to telecoms trucks. The one here is armoured with a (decommissioned) .303 Bren gun.

And the most recognised of these off road military vehicles in Bournemouth has to be the Humber Pig. At the height of the Troubles in Northern Ireland nearly 500 of these armoured personnel carriers were deployed there. Known as battle buses or battle taxis, the FV1611 was a British military stalwart from the 1950s to the 1990s.

Now these off road military vehicles in Bournemouth may have retired, but that's not to say they're treated with kid gloves. Each and every one of the fleet still has a serious amount of torque and power, so much so that learning to handle it will have you properly concentrating throughout your 45 minute drive.
Availability
• Experiences run on Saturdays throughout the year, subject to availability and weather conditions
Location
• Bournemouth, Dorset
Suitable For
• No driving licence is required although participants must have a good driving ability
• Minimum height 5ft 2'' Maximum Height 6ft 6''
• Maximum weight 20 Stone (127 kg)
Spectators
• Spectators are welcome, subject to availability up to two can accompany drivers in the vehicle for £10 per person payable on the day
• Spectator views of the driving may be restricted
Anything Else
• Free parking and toilets on site
• Specific vehicles will vary on the day and cannot be guaranteed on the day due to servicing requirements
• All vehicles are 'wheeled' so do not have caterpillar tracks or are classed as tanks
Reviews
Average Rating 4
Total Reviews 2
Recommend to Friend 2

This looked a good experience for both my son and husband to celebrate a birthday; I paid twice so they could both have a driving experience. They got to drive the same two vehicles .... although not the opportunity to see the others mentioned in the description which was a little disappointing. I was under the impression that they would be able to look at the other vehicles and maybe choose which one they would like to drive - this is probably my mistake, and is not what happens. The two vehicles were the only ones there, the others evidently being stored some way away. The instructor was friendly and enthusiastic about the vehicles that were available that day. The directions were a little tricky to follow and possibly need checking as we felt they were not completely correct. We managed to find it though and enjoyed it once we had. The weather was not kind which is no-ones fault, but there was nowhere to wait or watch so I ended up observing from our car. Just a small note - there are no 'facilities' at all available so don't arrived desperate for the loo!! (there's one in the CoOp garage on the main road before you turn off for the venue) We might well visit again, but would check if we could have different vehicles available on the day, if we did. We felt the price was competitive with others available.
Cathy
Had an awesome time. Peter, the instructor, was knowledgeable and patient as he guided you round the tracks. Can't wait to go back and do some more.
Katie
{{reviews.text}}
{{reviews.user.username}} Military Vehicle Driving Bournemouth
Ex-Military Vehicle Driving Experience
Total Price
£
49.00