English
Skip to main content
Microlights Hertfordshire
Plaistows Farm Airfield, St Albans   
REF:

MICHE3
• Flex & fixed wing microlighting in Hertfordshire
• Fly with a World, European & UK Champion pilot
• A small & friendly microlighting school
• Easy access & close to North London nr M25/M1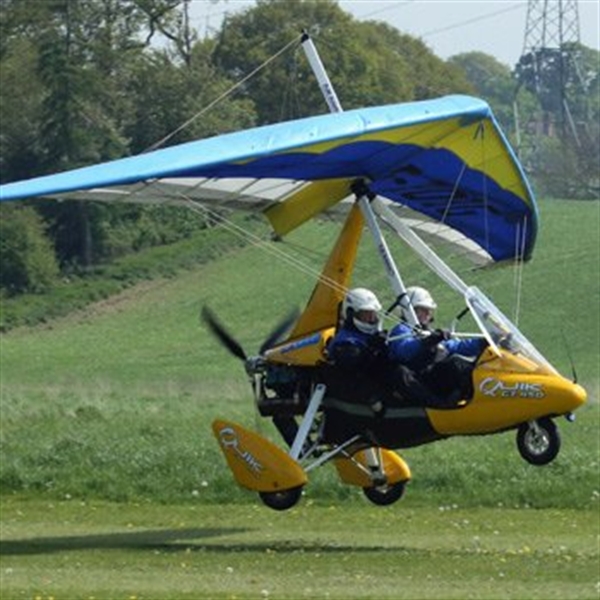 What's Included
• Choose from a 30 or 60 minute flight
• Flights are available in fixed or flex wing microlights
• All experiences begin with a comprehensive safety briefing
• During the flight you will take the control of the microlight yourself
• At the end of the flight you will be presented with a certificate of achievement
• All safety equipment including helmets, gloves and flying suits are provided
What Can I Expect
Fly with a champion pilot when you go microlighting in Hertfordshire! These trial lessons take off from the grass runway at Plaistows Farm airfield, which is just a couple of minutes away from the M1 and M25 (so very near to north London) and home to this small and friendly set up.
Exodus Airports is run by Rob Grimwood, multiple World, European and UK Microlight champion, who has actually held all three titles at once - a pretty impressive feat, we're sure you'll agree. But there are no airs and graces here, Rob is still as approachable as ever and still as enthusiastic as the day he started microlighting when he was just 10 years old. He's joined by Mark Fowler, who boasts a very full CV that includes being a fully trained aeronautical engineer, a fixed wing microlight test pilot and microlight championship competitor too.
We are offering 30 and 60 minute experiences out of Plaistows and you can choose between a flexwing or a three-axis fixed wing microlight for your lesson. The flex winged P&M GT450 is very much all about the open cockpit feel, whilst the fixed winged Evektor EV-97 Eurostar is a closed cockpit ultralight plane type of aircraft. And despite what you might think, these ultra light planes are far from basic, as they are made from super-light, high-tech materials, using modern technology to create a stable, reliable and responsive machine.
Of course, these flights aren't just for discovering the joys of microlighting. You will also (if you want to) get the chance to take the controls and find out what it's like to pilot one yourself as all experiences are treated as trial lessons. And should you want to continue in your quest to be qualified to fly solo, Exodus has a range of pilot packages available for those who have caught the bug!
But back to that open cockpit. You might think there's no way you'd get a flex wing flying in the winter months, but with proper insulated flying suits on offer, being up in the still skies in a microlight over Hertfordshire on a cold, crisp winter's day can't be beaten, which is why this microlighting airfield at Plaistow's Farm is open all year round.
Availability
• The microlighting school operates weekdays and weekends throughout the year
• All flights are subject to availability and weather conditions
Location
• Plaistows Farm Airfield in Chilwell Green, just outside St Albans
Suitable For
• The minimum age is 14
• Under 18s must be accompanied on the airfield by an adult
• Maximum weight is 17 stone (110kgs)
Spectators
• Spectators are welcome to watch the take off and landing
• While the flight is taking place tea, coffee and soft drinks are available to purchase
Anything Else
• Cameras are permitted whilst airborne, as long as it is fitted with a good quality safety strap
• Flex wing Microlights are open cockpit style aircraft , Fixed wing microlights have an enclosed cockpit and resemble a traditional aeroplane. Microlights Hertfordshire
30 Minute Flight plus Briefing
Total Price
£
85.00