English
Skip to main content
Microlighting Bedfordshire
Little Gransden Airfield, near St Neots   
REF:

MICLG3
• Fixed wing microlighting near St Neots
• Fly in a modern Ikarus light sports plane
• Choose between a 30 or 60-minute flight
• Hosted by experienced instructor examiner Greg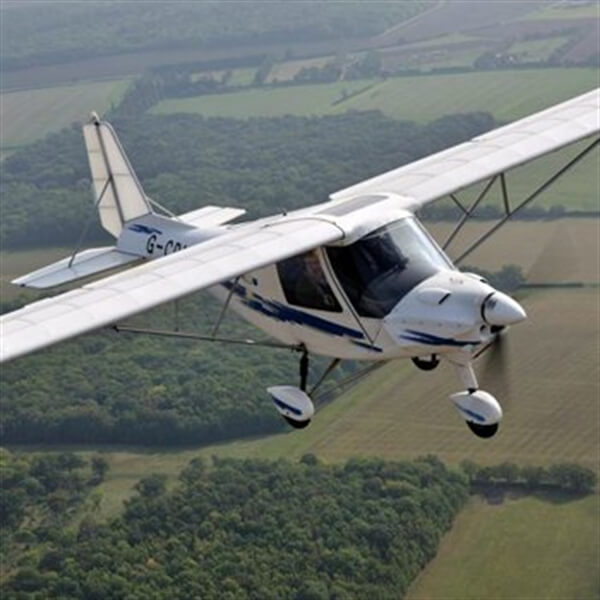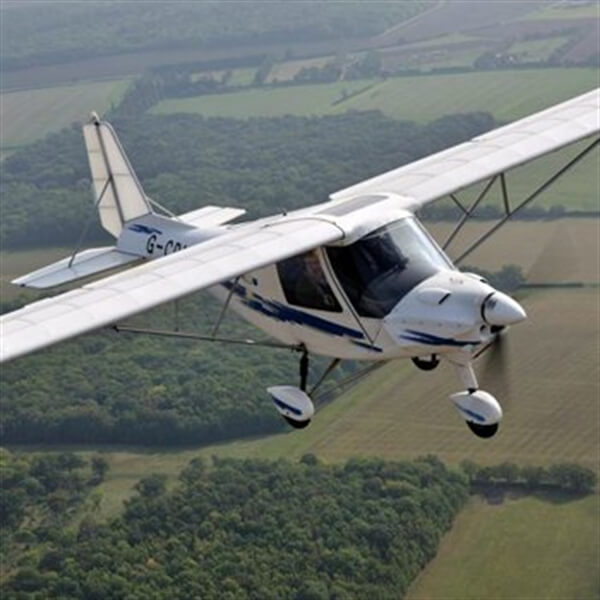 What's Included
• A fixed-wing microlight experience in an Icarus C42 light sports aircraft
• Pre-flight briefing with introduction to the basic principles
• Choose from a 30 or 60 minute flight duration
• You will get the chance to take the controls and fly the aircraft
• Spectacular views across the Bedfordshire and Cambridgeshire countryside
• Presentation of a souvenir flight certificate
What Can I Expect
Go microlighting on the Bedfordshire/Cambridgeshire border! Join Greg and his team for a trial flying lesson in a fixed wing microlight flight out of Little Gransden airfield and discover the joys of ultra light aviation.
Equidistant from Bedford and Cambridge, you'll find Little Gransden airfield on the edge of Fuller's Farm. As well as this microlight school, there's quite a bit of activity at Gransden. Don't be surprised if you see an Extra aerobatic plane, as the airfield owner has a team based here. And if you're lucky, you might spot some Yaks, because there's a specialist UK Yakolev dealer here too!
Greg Burns is the pilot instructor and examiner of the microlight school. He offering 30 and 60-minute trial lessons in a modern Ikarus C42 aircraft. This is a fixed wing light sports aircraft that is still categorised as a microlight, but looks like a typical light aircraft.
Interestingly, it was a trial microlight flight voucher that initially got Greg hooked on flying. Since then he has worked as a pilot instructor at many airfields both at home and abroad. He now loves taking newbies up for a flight in the Ikarus. It's easy to fly, stable and comfortable too, making it the ideal training aircraft.
As soon as you're airborne from Gransden, you'll realise you really are on the border of Bedfordshire and Cambridgeshire. You're also only a few miles south east of St Neots at this well-placed airfield. You'll get some great views of the countryside too - and you might even spot the vestiges of RAF Tempsford, the secret RAF Special Duty base during WW2.
Once you've had time to adjust to the sensation of flying in a sports plane, it'll be your turn to have a go at flying the Ikarus. Everything you need to know will be explained whilst you fly and as well as flying straight and level, you might well get to try a few turns and moves if you're up for it.
You can go microlighting near Bedford all year round. You've got the choice of a 30 or 60-minute lesson and in both cases, you get lots of hands-on time flying the Ikarus yourself. If you fancy the open skies, open cockpit feel of flex-wing microlighting, Greg and his team operate
flex wing microlights out of Middle Stoke Airfield
near Rochester in Kent.
Availability
• The flying school is open 7 days a week throughout the year and can usually fly in a wide range of weather conditions
• Should you be unfortunate enough to be beaten by the weather an alternative date can be arranged
Location
• Little Gransden Airfield, Sandy, Bedfordshire
• Conveniently located on the Cambridgeshire/Bedfordshire border
Suitable For
• Minimum age 14
• Under 18s must be accompanied on the airfield by an adult
• Maximum weight is 15 stone (95 kg)
Spectators
• Spectators are welcome to come along and watch the take off and landing
Anything Else
• Bring along a camera for some great photo opportunities
Reviews
Average Rating 5
Total Reviews 6
Recommend to Friend 6

I had a great flight with tony my family were their to support me and drink and eat all his cake I would do it again
W.cannings
A brilliant day. Tony is an excellent pilot and you feel secure throughout. Safe in the knowledge that he is experienced, friendly and knowledgeable.
B Smith
A fantastic experience, have already recommended it to several of friend's and workmates. Tony the instructor was excellent, very calm and knowledgeable and made you feel at ease before and during the flight. Will definitely be back for another flight soon.
John Durham
It was absolutely fantastic l would recommend it to anyone and l would certainly do it again
John Tapping
A must-do experience for anyone with an interest in flying, or just looking for that thrill-seeking experience you can remember for years to come. So much so, I'm now hoping to move onto lessons to learn to fly for myself! Highly recommended.
Nick Powell
{{reviews.text}}
{{reviews.user.username}} Microlighting Bedfordshire
30 Minute Flight plus Briefing
Total Price
£
80.00