English
Skip to main content
Microlighting in Bath
Brown Shutters Airfield, Somerset   
REF:

MICBA1
• Microlight flights from Brown Shutters Airfield
• Fly either a flex or fixed wing microlight
• Take off from this private airstrip near Bath
• Wide range of flight durations available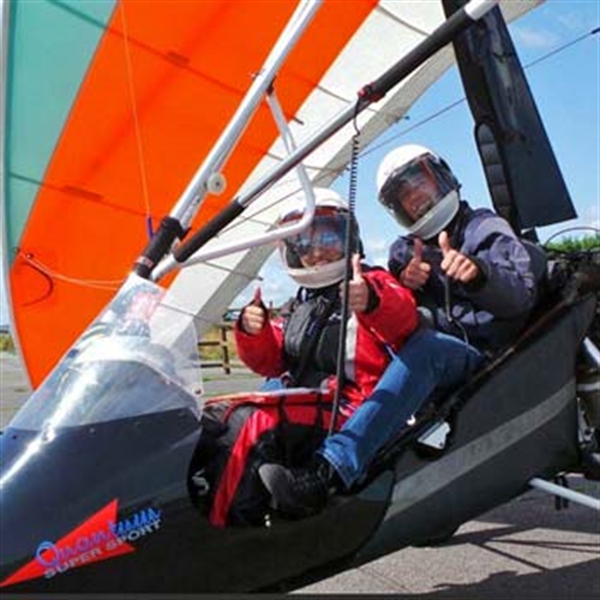 What's Included
• Choose from a 10, 20, 30 or 60 minute flight duration
• You may take your lesson in either a fixed wing Cyclone AX2000 or Pegasus Quantum flex wing microlight
• A preflight safety briefing, introduction to the aircraft and equipment
• Once airborne you will have the option to take the controls and fly the microlight yourself or simply sit back and enjoy the views
What Can I Expect
With such beautiful countryside all around, these microlight flights over Bath are certainly going to be scenic! Hop onboard for that 'at one with nature' feel to your flying when you take an open-cockpit microlight lesson at this private airfield near Bath.

Just a few miles south of the tourist hot-spot that is Bath, you'll find the delightful Norton St Philip. Unashamedly rural, the area is very much agricultural, with a distinctive village feel. Right on the periphery of it all is the Brown Shutters Farm. Hidden behind the farmstead is a very small and very discreet private airstrip - and this is where you'll be going microlighting.

Local legend has it that the dual grass runway airfield was created by a Mr Newbigin in 1988 to house his beloved Tiger Moth. Today, the airfield is still in private ownership, with a small select gathering of aviation enthusiasts using Brown Shutters airfield.

One of those aviators is Brad. He's massively passionate about flying his microlights over the stunning countryside around Bath. He has clocked up many hours of microlighting, including as a member of the British team competing at European and International level in precision flying competitions.

However tempting the lure of international travel and competing is, Brad loves nothing more than being back in Bath, introducing inquisitive newbies to the sport of microlighting. He offers both fixed and flex wing microlight flights over Bath and both offer a sensational aerial voyage.

The fixed, high wing Cyclone AX2000 has side-by-side seating, a central control stick and rudder pedals. Control forces are light and the machine is very forgiving, making it perfect for beginners. As for the flexed wing model, Brad has gone with the Pegasus Quantum 15-912, one of the most popular flex wing microlight in the world and most often used in training schools.

Both offer that open cockpit flying feel and, would you believe, they both run on your standard unleaded fuel, although they can run on aviation gas (known as AVGAS) as well. This is the sort of fascinating and surprising nugget of information you'll pick up from your lesson, as well as, of course, actually learning how to fly them. For these microlight flights near Bath we have 10, 20, 30 and 60 minute durations available.
Availability
• Available weekdays and weekends throughout the year
• Flights are subject to availability and weather conditions
Location
• Brown Shutters Airfield, Somerset
Suitable For
• Maximum weight limit for the fixed wing is 14 Stone (90kg) and17 Stone (110kg) for flex wing flights
• Height limit is 6ft 4 ins (1.95 metres)
• No minimum age however you must be able to reach the controls
• Under 18's must be accompanied by an adult on the airfield
Spectators
• Friends and family are welcome with open and covered seating areas available
Anything Else
• Self serve complimentary hot drinks for participants are available
• Toilet facilities on site
• Flight time can be counted towards a UK NPPL excluding under 14s (National Private Pilot Licence)
Reviews
Average Rating 5
Total Reviews 11
Recommend to Friend 11

Fabulous experience which was bought for my husband as a present for Christmas last year. He thoroughly enjoyed.
Kim James
This was an amazing experience. Brad is such a great pilot/host/tour guide and instructor. He makes the experience a joy. I've never been in a microlight before and would definitely love to do it again. The views are staggering. The opportunity to learn and have a little go was both terrifying and safe at the same time. What a thrill. I can highly recommend this.
Trevor Hall
Perfect. An excellent hour spent flying over Bath and Bristol
Kentie
Absolutely mind blowing experience, something I cannot recommend highly enough. The pilot / instructor, Brad Wagenhauser was extremely reassuring and a really nice guy. Can't believe even now that we flew over the skies of Somerset. Really desperately want to do it again and am looking into how I can find pilot training courses.
Jeff Chater
A brilliant experience. Brad makes you feel at ease and is the cimsaumate professional. He really helped with my nerves. The set up is relaxed but at all times you know you are in safe hands. The flight was just amazing. Such an organic experience as you are so connected with the sky and environment. Totally different to other flying experiences. Give it a go!
Leanne murray
{{reviews.text}}
{{reviews.user.username}} Microlighting in Bath
10 Minute Flight
Total Price
£
59.00