English
Skip to main content
Microlights at Sywell Aerodrome
Sywell Aerodrome, Northhamptonshire   
REF:

MCSY30
• Microlighting from historic Sywell Aerodrome
• UK agent for Sky Ranger & Air Creation microlights
• Fly with CAA approved microlight instructors
• A variety of flight durations available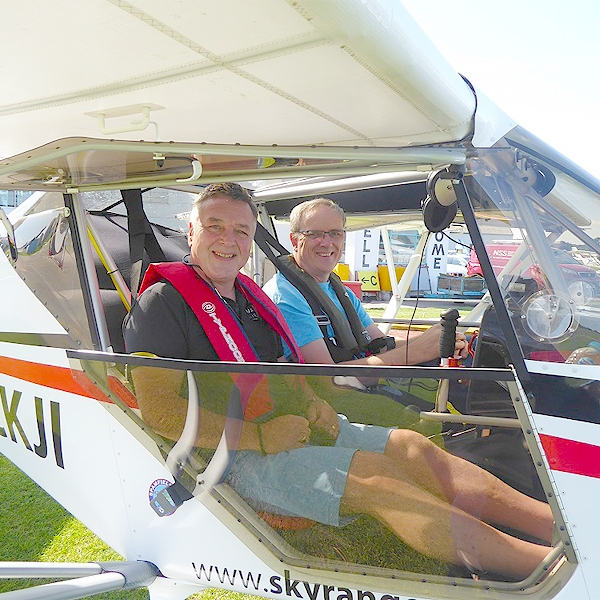 What's Included
• Welcome, introduction and safety briefing
• Flights are available an an open cockpit flex-wing or a closed cockpit fixed wing microlight
• 30 and 60 minute flight durations are available
• If opting for the open cockpit flight a helmet and flying suit are provided
What Can I Expect
Get airborne in a Microlight At Sywell Aerodome! This historic airport in between Wellingborough and Northampton has seen its own fair share of aviation action over the years since opening in 1928 and even today is a busy little aerodrome that regularly wins awards for best airfield. A truly delightful location.
This school based at Sywell boasts CAA instructors and examiners amongst its team and has a fleet of modern, well-maintained microlights. There are both flex and fixed wing aircraft in the hangar and many are privately owned by club members, in addition to the craft used specifically for teaching purposes, like the ones you will fly in.
As well as offering training and trial lessons, this centre is an importer for two of the biggest names in lightweight aviation. The school is an agent for Air Creation who designs and builds flex wing trikes/weightshift models including the competition-winning Tanarg model. When it comes to fixed wing, the school works with SkyRanger, known for being a reliable and high-performing craft that resembles a standard light aircraft.
So the choice is completely yours on these microlight at Sywell aerodrome experiences. Each session starts with a welcome and pre-flight brief, before you taxi off past the classic art deco Aviator Hotel and the original restored control tower for your chosen flight duration in either fixed or flex wing. Don't forget, flexis give you that more 'wind in your face' feel, whilst fixed have the enclosed cockpit.
Availability
• Selected weekdays and weekends throughout the year
• Dates and session times are subject to availability and weather conditions
Location
• Sywell Aerodrome, Northamptonshire
Suitable For
• Minimum age 14
• Under 18's must be accompanied on the airfield by an adult
• Maximum weight for flex wing 100kg and 120kg for fixed wing flights
• Maximum height 6ft 2ins
Spectators
• Spectators are welcome to come along and watch the take off and landing
• There is a clubroom serving drinks and snacks on site
• The Aviator Hotel offers accommodation, restaurant and bar on the perimeter of the airfield
Reviews
Average Rating 5
Total Reviews 7
Recommend to Friend 7

Brilliant experience. Simon, our instructor was absolutely amazing and made me feel really safe. A truly wonderful experience and one I will never forget. Top marks all around
Trevor Birch
The microlitght flight was excellent, instructor, who was excellent, wasted no time in getting me up into the air to maximise the time I had. Brilliant experience the only complaint was that it did not last long enough! Will definitely do it again.
Andy White
I had a fantastic trip in a fixed wing Microlight on Sunday 28th August. The instructor is a great chap who encourages & supports and makes sure I enjoy my experience. I have flown with him a couple of times now and highly recommend him and the experience.
Sean Geraghty
Excellent . . . Good value . . . Amazing machines . . .
Mark
My microlight flight was the most amazing thing I've ever done! I would recommend this to absolutely anybody. The whole thing was so organised and the instructor went above and beyond to make sure I had the best experience possible.
Shannon
{{reviews.text}}
{{reviews.user.username}} Microlights at Sywell Aerodrome
30 Minute Flight plus Briefing
Total Price
£
99.00