English
Skip to main content
MAN SV Military Truck Driving Experience
Bicester Heritage, Oxfordshire
REF:

X21MAN
Drive a modern MAN HX60 military truck
Takes place at historic Bicester Heritage 
Option to invite a passenger to ride with you
326bhp, 12-speed, 4x4, 6 tonne payload!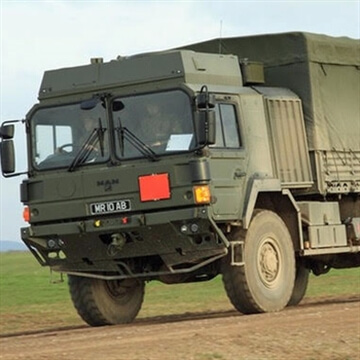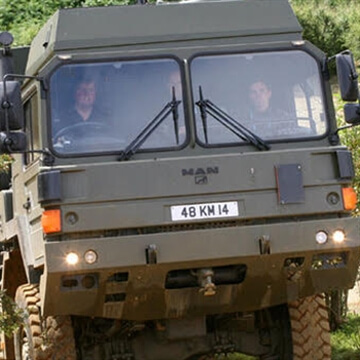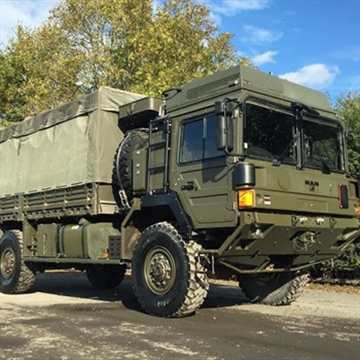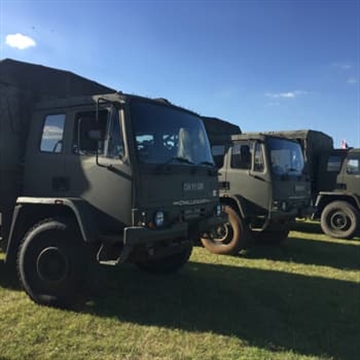 What's Included
Drive a MAN SV HX60 military vehicle on a purpose built multi-terrain track

Bicester is the only place in the country you can drive one of these!

A 20 minute driving experience
Opportunity to try your hand at a variety of manoeuvres
Allow approximately one hour on site for this experience

Choose the 'with passenger' voucher to invite someone to ride in the cab with you

Minimum age to be a passenger is 8 years
What Can I Expect
MAN military truck driving at Bicester - drive the Army's latest 4x4 truck! Experiences take place at Bicester Heritage in Oxfordshire and give you a 20-minute drive in an amazing modern military truck.
This agile piece of kit is 4x4. It has a six-cylinder turbo diesel engine. It's 12-speed. It knocks out 326bhp. It can reach speeds of up to 90km/hour. And for those of you who know your off-road vehicles, this MAN has lockable front, rear, centre and cross diffs. Not bad for a pretty hefty truck capable of carrying a whopping six-tonne payload!
German heavy vehicle manufacturer MAN has been designing and building trucks for both commercial and military use for years. The British Army chose the HX60 as the replacement for the long-serving DAF and this MAN monster has certainly lived up to expectations.
Durable, with excellent on and off-road ability, the HX60 is the epitome of modern military vehicles. As you'll see when you drive it a Bicester, the cab is pretty comfy, with air suspension seats and air conditioning too. Even the windscreens have been carefully considered : they're vertical, to avoid annoying reflections as you drive. Neat!
Capable of operating in tricky terrain in harsh conditions, a standard HX60 can drive through fords up to .75m deep, and temperatures as low as -32 or as high as +49 degrees won't stop this MAN!
Used by military forces around the world, the HX60 carries troops and cargo, tows with ease and can even be equipped with a light machine gun. Despite its size, it's airlifted into a Hercules without difficulty.
Now you've heard all about the truck's competences, let's see what you can do when you drive the impressive MAN military truck at historic Bicester. You'll be on a purpose-built off-road track, the perfect habitat for your thoroughly modern military 4x4 utility truck. And if you want to share the experience, make sure you choose the 'with passenger' voucher to your basket for one person to join you up front in the cab for the ride!
Availability
Selected weekday and weekend dates
Dates and session times are subject to availability
Please note due to popularity it is recommended you book well in advance to avoid disappointment, weekends especially get booked up very quickly
Location
Bicester Heritage Centre, Oxfordshire
Suitable For
Minimum age 18
Minimum age 12 for passengers
A full driving licence is required
Height restrictions: Minimum 4ft 6ins, maximum 6ft 4ins
Participants should have a good, general fitness level and be able to climb in and out of the vehicle
Not suitable for those with epilepsy, heart complaints or during pregnancy
Anything Else
Suitable outdoor clothing and sturdy footwear should be worn