English
Skip to main content
Medieval Jousting Experience
Warwickshire   
REF:

MJFDME
• Learn jousting skills on horseback
• Immerse yourself in the full Medieval setting
• Quintaine, tilt rings & pig sticking competitions!
• Run the Gauntlet Challenge & face the Black Knight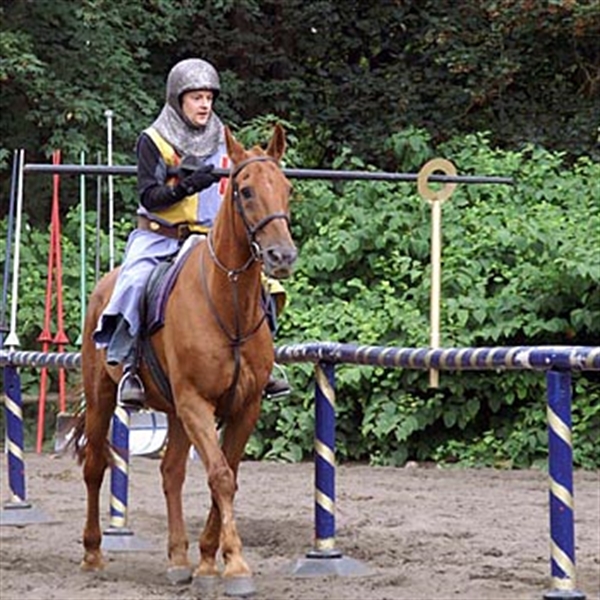 What's Included
• Introduction to the history of jousting and safety briefing
• Dress in medieval costume and Armour and have your own title and coat of arms for the day
• Learn basic jousting skills
• Opportunity to learn a choreographed sword fight and longbow challenge
• Lunch break
• In the afternoon you are split into teams for the 'Gauntlet Challenge' where you will practice the mounted skills learnt
• Put all your skills to the test at the end of the day when you will try to unseat the Black Knight in a mini joust to gain your knighthood!
What Can I Expect
Knights, ladies and squires welcome to your jousting experience! Step back in time to Ye Olde England and learn some rather noble sporting skills both on foot and horseback during these fabulously theatrical experiences.

Yes, that's right honourable ladies and gentlemen, it's time to hone your jousting skills and more besides when you spend the day at Jousting School. It all takes place in an equestrian arena in the shadows of a certain Warwick Castle, making for the perfect backdrop to your day of Medieval fun.

Of course, jousting wasn't just for fun back then. It was a chance for young knights to shine, to win the hand of a fair maiden, to receive praise from the King. And if you failed miserably, you might have ended up in the stocks - a shameful sight for a Knight indeed.

Now you might think that being skilled a horseman is a must when it comes to being able to joust against your opponent. Well, it's true you're sure to have a distinct advantage if you have any experience in the saddle, but it's not a must-have prerequisite to be able to participate and enjoy yourself. And indeed, the horses used on these jousting experiences are so well-trained and used to their role running the gauntlet with young cavaliers that they are a joy to ride and will soon become your very trusted partner.

But this jousting experience isn't just about skills in the saddle. There's a lot to learn on the ground too. There's the small matter of a (choreographed) sword fight and you might even be called upon to unleash a few arrows with your longbow. But essentially this day is all about learning to joust. So, pull on your armour, reveal your titled Knight's name and get ready for battle as you learn to hit the dastardly quintaine, skilfully use your lance to collect the rings from the tilt (that's the fence along the jousting run) and even try your hand at a pig sticking competition!

Yes, this jousting experience is that sort of immersive, authentic day out where you get to play knights of the realm, tutored in complete safety by a team of highly skilled stunt horsemen and women. Once your rookie status has been removed after the morning's training, the afternoon starts with a Gauntlet Challenge where you try to score points on horseback against your fellow newbies.

Your action-packed jousting experience culminates in a head to head meeting with the Black Knight - on horseback. This is your chance to shine and attract the attention of the King with your new-found mounted skills in the mini-joust challenge. Lower your visor, raise your lance and with a cry of 'huzzah' you're off!
Availability
• Selected weekdays and weekends throughout the year, with limited availability during the winter months
• Sessions start at 10am and finish at 5pm
Location
• Warwick, Warwickshire
Suitable For
• Minimum age 16
• Maximum weight 
16 stone
• Suitable for novices and non-riders as well as those with experience
• A good, general level of fitness is required
Spectators
• Spectators are welcome to come along and watch the action
• No dogs are allowed on site
Anything Else
• Suitable outdoor clothing and footwear with a flat sole (no trainers) should be worn
• Participants should bring gloves and a change of clothes
Reviews
Average Rating 5
Total Reviews 1
Recommend to Friend 1

An outstanding day out for both participant and spectator. Sir 'Randy' and his band were most entertaining!
Martyn Chorlton
{{reviews.text}}
{{reviews.user.username}} Medieval Jousting Experience
Jousting Experience Day
Total Price
£
175.00