English
Skip to main content
Light Sports Aircraft Oxfordshire
Abingdon, Oxfordshire   
REF:

AIRV13
• Lights sport aircraft flights from Abingdon
• A brilliant range of flight itineraries for lessons
• Stay local, head to France or the Isle of Wight
• Plenty of chance to get hands on with the controls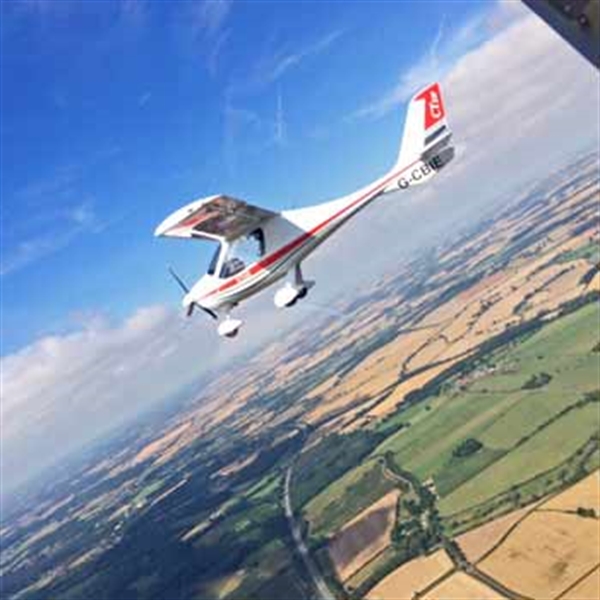 What's Included
• Air experiences flight in a 2 seater light sports aircraft
• Pre-flight briefing and introduction to the controls
• During your flight opportunity to take the controls

30 Minute Air Adventure
• Views of the Uffington White Horse and Dragon Hill

Oxford to Henley Thames Tour
• Unique views of Oxford, the follow the Thames to the Wittenham Clumps and over the Chilterns to Henley
• One hour flight duration

Isle of Wight Lunch Adventure
• Fly past the Spinnaker Tower, over the Solent
• Pub lunch on the Isle of Wight is included
• Fly along the coastline to the Needles and homeward bound via the New Forest
• Flight time to the Isle of Wight is approximately 1 hour each way

Ultimate Le Touquet Lunch
• Fly to France!
• Once you have landed in France a short walk or cycle into town for Moules and Frites before your return flight to Oxfordshire
• Flight time to Le Touquet is approximately 2 hours each way
What Can I Expect
Learn to fly in Oxford, but make it a veritable aerial adventure at the same time! That's what these flying lessons in Abingdon are all about. We think they are great fun, offer superb flight itineraries and plenty of hands-on flight training too. What more could you ask for?

Well-placed in a secluded part of the Oxfordshire countryside, this private little airfield is between Wantage and Abingdon and has passionate and dedicated instructor pilots onboard to show you how to fly one of these state of the art modern light sports aircraft.

The German designed and built CT aeroplane weighs in at under 450kg, meaning it's in the microlight class of aircraft. That doesn't mean you're 'at one' with the elements though. This plane looks just like your typical light aircraft and boasts excellent performance and safety too. That's to say, this little baby can reach speeds of 170mph and has an impressive range, hence why you can easily head to France or the Isle of Wight from Abingdon on these flights.

Indeed, therein lies the beauty of these flying lessons. Not only do you get to try your hand at actually flying the CT plane, you also get to witness some splendid views from the panoramic and surprisingly spacious cockpit.

If you opt for the 30 minute adventure flight you stay local to Abingdon, but there's so much to see! Highlights include the Uffington White Horse Bronze Age chalk carving and Dragon Hill, where legend has it St George slew that pesky dragon.

The one hour lesson sees you flying out of Abingdon and circling over those famous spires of Oxford, before following the River Thames as it winds along to Henley. Add in some stunning vistas of the historical Wittenham Clumps with its surrounding beech tree arboretums that date back to the 1740s and you've got yourself a fascinating flight!

But if you want to learn to fly and feel really adventurous, the two land away options are fab. Who could resist a hop over the Channel to wonderful Le Touquet on the Opal Coast? Hop on a bike or take a stroll into this charming seaside town, enjoy a moules frites lunch and head back to the airport for your return flight to Abingdon. Then there's the chance to take a pub lunch on the Isle of Wight - having flown their yourself (via a quick whizz around the Needles of course!).
Availability
• Weekdays and weekends throughout the year
• Flights are subject to availability and weather conditions
Location
• Abingdon, Oxfordshire
Suitable For
• Minimum age 12 (16 for Isle of Wight & Le Touquet flights)
• Under 18s must be accompanied on the airfield by an adult
• Maximum weight 16 stone (102 kg)
• A good, general level of fitness is required
Spectators
• Spectators are welcome to watch the take off and landing
Anything Else
• Onsite clubroom and toilet facilities
• Refreshments can be purchased from the nearby Farm Shop and Garden Centre (5 minute drive)
• The CT light sports aircraft used for these flight experiences is technically classed as a microlight
Reviews
Average Rating 5
Total Reviews 8
Recommend to Friend 8

Fantastic experience. The team at V1 were excellent. Flew over my house and really felt I hands on for a good portion of the flight.
Anton Williams
Very much enjoyed the experience, as the wings are above the cockpit the plane had all round visibility, it seemed effortless to sour from from cloud to cloud the scenery was stunning and Hal the pilot allowed me to take the controls and to fly the aircraft, which was so much easier then a Piper PA28 Warrior i had flown previously. My time in the air just seemed to disappear and it was time to land expertly by Hal on a grass field. I would definitely do this experience again.
Rob
I booked a flight experience and could not have asked for anything better - he went beyond our expectations. The instructions he provided to find the place were very clear and his enthusiasm and passion for what he does was so infectious. He took the time to explain different things, and made sure the experience truly was personalised according to what we wanted. I bought the gift for my boyfriend and Hal was kind enough to let me jump in the plane for a quick 5 mins at the end so I could experience it too. An absolute pleasure and would definitely recommend booking with Hal.
Sarah
A truly amazing experience that was both exciting and relaxing. Hal is very friendly and professional and willing to share his knowledge. Some stunning scenery in the area. I had the opportunity to fly the aircraft myself and got bitten by the bug. Thanks for making my day!
Thomas Rosendahl
Hal is a really nice guy, very friendly and clearly enjoys what he does. The flight was amazing and he let me take control of the plane for quite a while and go see places that I was interested in. He knows the area well and flew over some spots which he thought would be of interest to me to make it a more personal flight. Couldn't recommend this enough!!
Kyle Birtwell
{{reviews.text}}
{{reviews.user.username}} Light Sports Aircraft Oxfordshire
30 Minute Air Adventure
Total Price
£
85.00