English
Skip to main content
Master Cutler - First Class Train Dining Experience
Great Central Railway, Leicestershire   
REF:

GCRFRI
Friday evening dining departures
Travel in 1st Class dining cars
This is a steam-hauled trip
Four-course meal served at your table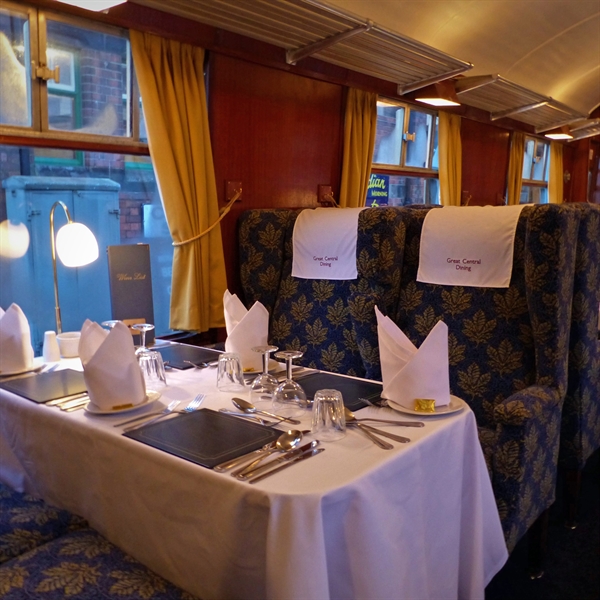 What's Included
A 4-course dining experience plus coffee and mints onboard first class dining carriages hauled by a vintage steam locomotive
First class 'runabout' tickets for each passenger providing unlimited travel on the day of your meal
The journey lasts around two and a half hours
Travel through Quorn & Woodhouse and Rothley stations before pausing at Leicester North. Follow the same route back
What Can I Expect
All aboard the Master Cutler for your First Class train dining experience! Hosted by the Great Central Railway, these Friday night dining car excursions are the perfect way to round off your week.
The Master Cutler (as in steel, as in Sheffield) was the name given to a 'flagship' train that first did a return journey from Sheffield to Marylebone via the East Midlands in 1947, on this very same Great Central Line that you'll be travelling on. The original Master Cutler left the metal-working city at 07:25 and returned from the capital everyday at 17:02. There have been many various incarnations of the route and times since then, but even today, rail commuters on the East Midlands Mainline can catch the Master Cutler service.
One of the First Class dining coaches restored by the Great Central Railway trust actually worked on the Master Cutler journeys back in the 1950s, so bringing back this famous service for a Friday evening First Class dining car departure is very serendipitous!
You will board the train at the GCR Loughborough station and staff will show you to your seat in the First Class dining car. Departure is set for 19:30 and your return into Loughborough is scheduled for around 22:00.
As you glide along the Leicestershire countryside on this historic route, a delicious four-course meal will be served at your table. A typical menu includes mains of braised lamb, honey and garlic roast chicken breast or salmon and pesto, with veggie options available too. After a tasty dessert, your supper concludes with a cheeseboard, coffee and after dinner mints.
Following in exactly the same tracks as the original Master Cutler from 1947, you'll pass through Quorn & Woodhouse station, cross over the delightful Swithland Reservoir (with the luxury of a pause in the middle), through Rothley and onto the terminus at Leicester North in Birstall. Time to stretch your legs and perhaps watch the steam locomotive 'run around' and re-couple up, before rejoining your seat for your journey back to Loughborough.
We are offering Great Central Railway Master Cutler packages for two or four people on the Friday night First Class dining train excursions.
Availability
Selected Friday evenings throughout from April - November
Depart from Great Central Station at 19:30, returning at 22:00
Due to the popularity of this experience it is recommended to book well in advance to avoid disappointment
To ensure the widest range of dates for guests, tables for four may also be available as an option for couples who are happy to share a table
Scheduled 2022 Dates:
20th May
10th & 24th June
15th July
5th & 19th August
9th September
7th & 21st October
18th November
Location
The trains depart from the Great Central Station in Loughborough
The Central station has good access from the M1 (J23) and A6
Suitable For
On booking, the operator may ask for your choice of main course in advance
Minimum age 5
Under 18s must be accompanied by a participating adult
Spectators
It is possible for friends and family to buy a platform ticket only so they can wave you off and there are things to do at the station, but the most convivial thing to do is buy vouchers so you can make a family or group day of it and all eat together!
Loughborough Central is where you will find a museum, station buffet and locomotive shed
You are welcome to visit the area outside the shed where most locomotives can be viewed, but access into the shed is restricted for security reasons
The operator can also assist and advise on local accommodation in the area
Anything Else
Additional drinks can be purchased from the onboard licenced bar
Please note that the menus and timetables are samples only and subject to change
Menu
Sample Menu
Starter
Baked Goats Cheese with a Pear and Roquette Salad (V/GF)
Or
Soup of the Day with Bread Roll (V/GF)
Main
Braised Lamb with Red Wine and Mushroom Sauce
Or
Honey & Garlic Chicken Breast (GF)
Or
Pan Fried Salmon with Basil Pesto Sauce (GF)
Chef's selection of Vegetables
Dessert
Cherry Bakewell Cheesecake (V)
Or
Chocolate & Hazelnut Tart (V)
~
Traditional English Cheeseboard Served with Celery and Grapes
~
Tea and Coffee with Chocolate Mints
* Vegetarian options are available for the Main Course upon request
* Please note that your menu choices, vegetarian options or special dietary requirements must be booked at least 7 days in advance. Whilst every effort is made to ensure that care is taken when dietary requirements are catered for on their services, they cannot guarantee that the ingredients are completely free from allergens. There is always a risk of cross contamination due to the nature of the  hazards in their kitchens Master Cutler - First Class Train Dining Experience
Friday Evening 4-Course Dinner for Two
Total Price
£
129.00