English
Skip to main content
Drive a Truck
Nationwide Locations   
REF:

SDTRKW
• Drive a 60 foot truck!
• Haul a Supercar Transporter behind you
• You get 15-20 minutes personal driving time
• One to one or small group driving sessions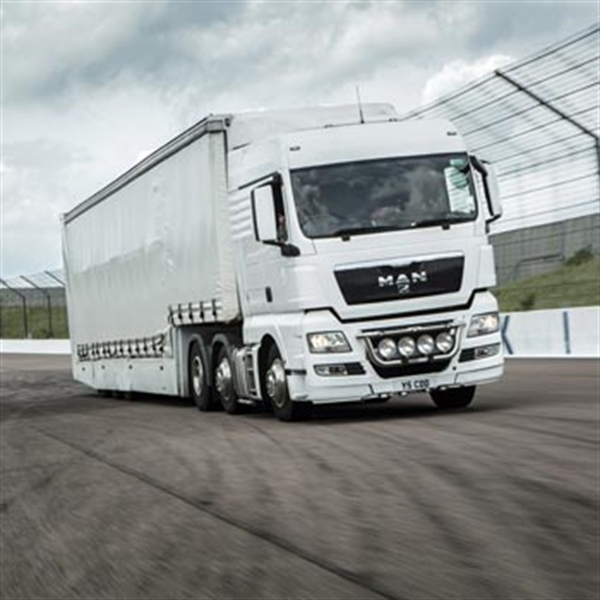 What's Included
• Drive a truck with 15-20 minutes personal driving time
• Welcome, introduction and briefing
• You may form part of a small group of 3 and will spend up to 45 minutes in the lorry riding as a passenger when not driving
• Tuition from a qualified instructor
• Experience operates on a 1:1 basis or small group sessions
• Please allow approximately one hour on site for this experience

The Truck
• 60 foot Scania P420 which benefits from a 13 lite 6 cylinder engine, producing 420 brake horsepower with 2200NM of Torque
What Can I Expect
'Take this mobile parking lot for a spin round the strawberry cornets to see just how you drive a truck!' That's the language of the international trucker, which roughly translates as 'Take this car transporter for a drive around traffic cones'! And that's just what you'll be doing.

This juggernaut driving experience will certainly sort the tailboard artists (over confident lorry drivers) from the Alices in Wonderland (those who have a tendency to get lost). As you get ready to bust some moves on the bitumen at your choice of track venues offered (all of which are well away from the public roads), it's time to see if you have what it takes to handle these kings of the road.

In today's trucking world, manufacturers are at pains to say the driver is the most precious cargo onboard, which is why, when you step into the ergonomic cab of a truck it is, quite frankly, jaw droppingly cool. First of all, you'll notice that you can pretty much stand up in the cab. That's quite useful. Then there are the overhead lockers for your overnight bag. Plenty of room for the sleeping bunk behind you and enough space for your microwave and mini fridge too. What more could you need?

But the best bit has to be the electronically operated, pneumatic, air conditioned driver's seat that these trucks have, complete with vertical dampers. If you're doing a long distance run covering thousands of miles, you'll need to be comfy, but even just learning how to drive this transporter rig around the paddock for a short while, you'll appreciate that high up driving position and the comfort, even if you are bamboozled by the array of controls on the steering wheel you're clutching!

So now you're sitting pretty in the driving seat, how do you get this baby to roll? Trucks have things like the EasyStart drive-off assistant, which makes smooth starts easy as pie, with less wear and tear on the gearbox too. After that, you're off. All you have to do now is keep your eyes peeled on the myriad of mirrors that adorn this truck and see if you can faultlessly negotiate the coned out circuit, hauling this juggernaut and that transporter trailer behind you around.

As those in the know who are about to drive a truck say: 'Keep the shiny side up and the greasy side down', which means have a safe trip!
Availability
Choose a weekday only voucher or to include weekend availability (where available) opt for the anytime voucher
Experiences operate throughout the year
Dates and session times are subject to availability at your chosen location
Location
Current available locations, subject to change 
Essex

 

Carver Barracks (weekends only)
Leicestershire

 Prestwold Driving Centre

Surrey Dunsfold Aerodrome
Yorkshire

 Elvington
Suitable For
• Minimum age 17
• Participants must hold a full, valid driving licence
• Minimum height 5ft
• Maximum height 6ft 6ins
• Maximum weight 19 stone
• Drivers must be able bodied and any medical conditions that may affect driving ability must be disclosed at the time of booking
Spectators
• Spectators are welcome to come and watch at all venues for no additional charge
• Disabled access may vary depending on location
• Children must be supervised at all times
• Pets are not permitted at any circuit
• Toilets, viewing areas and refreshments are available at all venues
Anything Else
Optional extras are offered at the point of booking your date starting from £20 including collision damage waivers and flexible cancellation policies. They are not mandatory, but the waiver is advised due to the high £5000 excess on the vehicles
Specific vehicle availability may be subject to change due to mechanical or operational factors
In cases of extreme weather i.e snow, fog or ice experiences may be re-scheduled for safety reasons
Comfortable shoes with thin soles are recommended
Reviews
Average Rating 4
Total Reviews 13
Recommend to Friend 13

Had a great time. Got to drive a transporter round the cones and reversed park into the bay. Didn't want to get out! Weather was atrocious with torrential rain but didn't spoil the fun.
Kerry
Great experience.
Manny Mistry
It was a brilliant experience however slightly disappointed that all we did was drive around a car park with nothing else to do.
Carl spruce
I did the truck experience and it was brilliant ,I loved it
Mrs Angela Sivell
We booked 2 people in a single email. But for some reason were split up and the sessions were overbooked. We did manage to get it fixed but were later than expected. The truck driving was fun but could have been better if the area to drive and reverse was better marked out.
Mike Hann
{{reviews.text}}
{{reviews.user.username}} Drive a Truck
Weekday Truck Driving
Total Price
£
49.00