English
Skip to main content
Dine Membership
Locations across the UK   
REF:

X17DIN
Discounted dining out with your Dine card
2 for 1, up to 50% off deals in restaurants
Your membership card is valid for a full 12 months
Choose from 1000s of restaurants all over the UK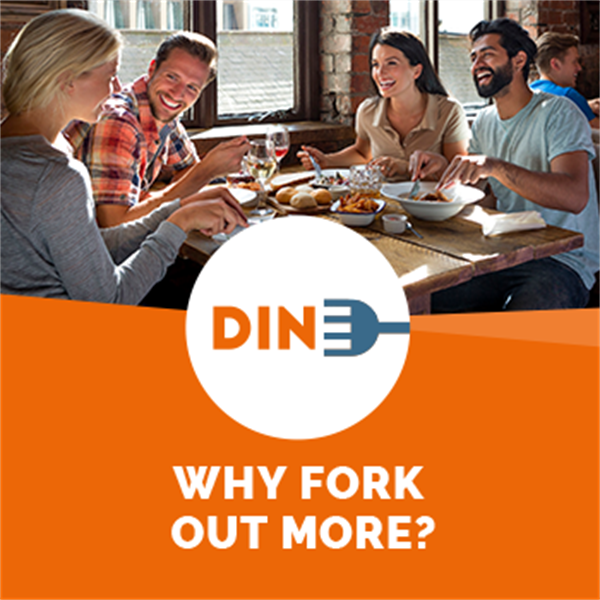 What's Included
Dine at restaurants throughout the UK for less
2 for 1 and discounted meals at 1000's of restaurants across the UK

Save up to 50% every time you show your Dine card, 7 days a week

Thousands of handpicked, quality, local independent restaurants

Get up to 40% off at over 250 cinemas across the UK with Dine Cinema

Save money on family days out with Dine Attractions as well as tickets to your favourite shows with Dine Tickets

Exclusive access to discounts on the finest foodie days out, from cocktail making classes to afternoon tea

12 month membership with unlimited use
What Can I Expect
They say there's no such thing as a free dinner - but there is with Dine! Having membership to the Dine gives you restaurant deals and meal discounts for a full 12 months. That's a whole lot of discounted dining to be done.

Dine has deals for restaurants around the country. It could be 2 for 1 on mains (where the cheapest main dish is free), 25% off your total bill including drinks, or 50% off your food bill. What makes these deals all the more attractive is that many eateries offer these discounts seven days of the week in their restaurants. And even those that don't, usually give 10 or 20% for dining out on Friday or Saturday nights.

The way it all works is easy. Once you've got your Dine membership card you're away. The website allows you to search in the area of your choice, for the type of food, the type of offer, the availability of the deal, or even the number of people who want to dine together. Once you've made your choice, it's just a case of picking up the 'phone and making your table reservation as a Dine member. Card holders can also make the most of the Dine app, which means you can even get your night out sorted on the move.

So now you know the sort of deals and discounts you can get, what kind of meals could you be tucking into for less with your diner's club? Pretty much every corner of the globe is covered in the culinary sense. Go light and casual with a weekend bistro or nice gastropub date, have hearty burgers and fries on all-American dining deal, or treat yourself to a nice midweek curry deal, to name but a few of your dining options.

As a Dine member, you get a full 12 months to make the most of your discount card. And with everyone from the big name High Street chains to family-run pubs joining the ranks, we're pretty sure you could find somewhere new to eat out every day of that year. Perfect if you wanted to take a total break from doing pretty much any cooking at home!
Anything Else
Some restaurants may have individual day and menu exclusions