English
Skip to main content
Pong Cheese Artisan Selection Box
Delivery UK-Wide   
REF:

PONGC1
The perfect gift for cheese lovers
2 x British & 2 x French cheeses
Delivered anywhere in mainland UK
Fresh & ready to eat when it arrives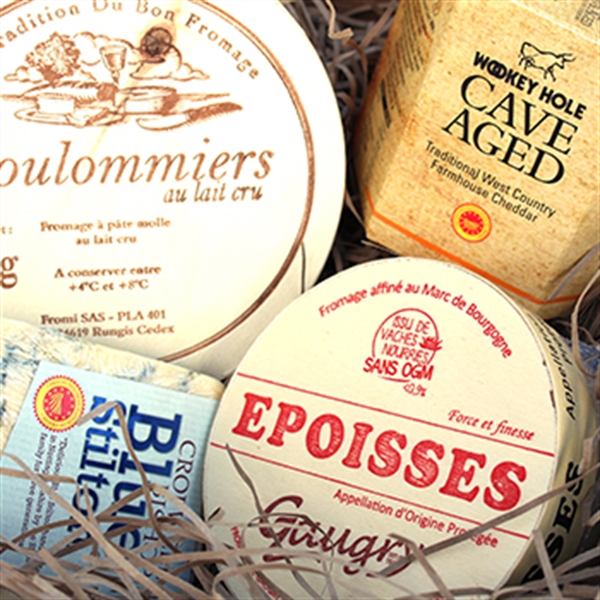 What's Included
Artisan cheese selection box from Pong Cheese
Cheeses are packaged in attractive white cartons
Frozen ice-gel packs preserve the cheeses temperatures and paper straw for protection
Delivery to mainland UK is included
Cheese Box Contents
Epoisses de Bougogne AOC - A cows milk cheese that is washed in Marc de Bourgogne to create a pungent, spicy classic (250g)*
Coulommiers AOC - Coulommiers has been described as the 'Mother of all Bries' (400g)*
Cropwell Bishop Stilton - Supremely creamy Stilton, made by Cropwell Bishop in the Vale of Belvoir South East of Nottingham (250g)
Wookey Hole Cave-aged Cheddar - A classic mellow cheddar in a black wax-coating, matured in the famous Somerset caves  (454g)
*unpasturised
What Can I Expect
A cheese gift box full of wonderful stinky, smelly, pongy cheeses! The absolute boss gift for any cheese lover, this cheese selection box is delivered direct to your door. Get the crackers opened, your cheese fest is on its way!
We've chosen to work with Pong Cheese for these fabulous cheese gifts. They love cheese and want you to taste the best cheeses they've sourced. As the Pong crew says : "Each cheese is a little masterpiece of taste and texture - and in most cases has a unique and highly skilled process behind its production".
For these cheese selection boxes, they've hand selected two cheeses produced by independent and artisan producers in the UK, complemented with two absolute classics from Europe. And we're sure you'll love them all.
The Cropwell Bishop Stilton cheese is perhaps the best-known. The production of this Nottinghamshire blue cheese has been in the same family since 1847 and it is thoroughly delicious and moreish. The Stilton is joined by a Wookey Hole Cheddar. Aged in actual caves in Somerset, it has a lovely nutty, tangy flavour.
Across the Channel we go to the spiritual home of cheese; France. The Coulommiers is an unpasteurised soft cheese (which looks a bit like Brie) that has been produced since the Middle Ages in the Seine et Marne region of France. The French eat over 100,000 tonnes of this a year!
The stinkiest of them all is the Epoisses de Bourgogne. This famously strong-flavoured cheese has had an AOC (Appellation d'Origine Contrôlée) since 1991. That means it can only be produced in the village of Epoisses and has to follow strict rules about how it's made. As you might imagine, it goes really well with a nice little Chablis blanc, one of the finest wines from the Bourgogne region.
A cheese gift box by post is the perfect gift for anyone who loves cheese. All neatly wrapped and ready to eat when it arrives, it's a delicious present that's delivered to your door. Buy yours online now!
Availability
Register your voucher and provide the recipients address
Your selection box will be dispatched within 4-7 working days
Location
Delivery to mainland UK is included
Anything Else
Best before dates: approx 7-10 days on soft cheeses, up to 3 months for cheddars and hard cheeses Pong Cheese Artisan Selection Box
Artisan Cheese Selection Box
Total Price
£
49.00