English
Skip to main content
Champagne Experience
London   
REF:

TFCEVE
A Champagne & Sparkling wine experience
Taste champagne, sparkling wines and a cocktail
A blind tasting challenge
Location is London South Bank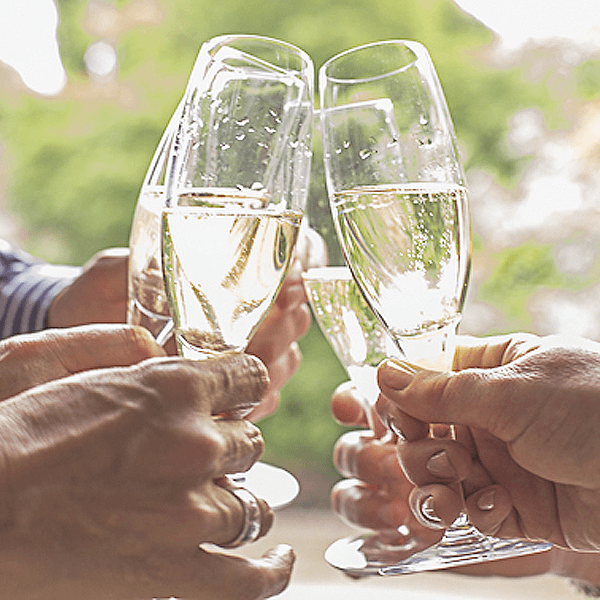 What's Included
Champagne & Wine Tasting Evening
A Champagne and Sparkling wine experience
You will taste 1 champagne, 4 sparkling wines and make a classic champagne cocktail
Intorduction to different styles of fizz
A blind tasting challenge
Fizz matched with a mystery chocolate
A selection of cheese & charcuterie to enjoy
Allow two hours for this experience
Champagne & Fizz with Lunch
A Champagne & Fizz experience with lunch
You will taste 10 wines including 3 Champagnes, Prosecco, Cava, Moscato, new world and award winning English fizz
Understand the differences between wines and how their different making methods affect their taste
Telling the difference between non vintage and vintage wines
Tips on buying, storing and serving bubbly
Matching with chocolate
Create a classic champagne cocktail
Enjoy a seasonal three course lunch with a glass of bubbly
Please allow four hours for this experience
What Can I Expect
Taste the fizz when you take part in a fun and informative Champagne experience! Enjoy a relaxed lunch or a fun evening learning about the wonders of Champers and sparkling wines with an expert. It's time to meet the bubbles!
If you like drinking Champagne, you probably already know that only those fizzy wines produced in the Champagne region in northern France have the right to be called Champagnes. As you'll discover on these tastings, there are lots of other delicious sparkling wines out there, each with its own name and identity.
This is where you'll be introduced to the likes of Italian Proseccos and lesser known, but equally tasty tipples such as the Moscato d'Asti. And then there's the award-winning English sparkling wine that never fails to surprise the tasters with how good it actually is.
In fact, with all these sparkling wines vying to topple Champagne's crown, it's definitely a good idea to taste some of them blind. This means the wines are on a level pegging, so we'll see whether the French Champers can beat the often cheaper, but often equally high quality contenders from other regions and countries.
What we also like about these experiences is that the methods of making Champagne are explained to you. So if you've ever wondered how they get the bubbles in the bottles, this is where you'll find out. Basically there are three ways of creating fizz: Traditional, Tank and Transfer. These might not mean a lot to you now, but by the end of your Champagne experience you will know all about each production process.
If you love the fizz you will adore being part of a Champagne experience. As the corks are popped, your expert host will teach you all there is to know about Champers and the rival sparkling wines. A Champagne evening is the perfect aperitif to a night out on the town, whilst the longer Champagne lunch experience has a convivial atmosphere to get you in the bubbly mood before you sit down for your meal.
Availability
Champagne & Wine Tasting Evening
Selected weekdays throughout the year
Courses start at 7pm and finish at 9pm
Champagne & Fizz with Lunch
Selected Saturdays throughout the year
Courses start at 11am and finish at 3pm
Location
London Southbank
Please note that the venue is subject to change
Spectators
Not suitable for spectators
Anything Else
Numbers are limited to 16 places for the Champagne & Wine Tasting experience